Photos by Angelo Santoro
WESTBURY, NY — Progressive rock juggernaut Yes has pegged most of its recent tours to the recreation of classic albums from its revered catalog. But what happens when the band puts the spotlight on, arguably, its two most divisive albums — 1973's sprawling, double-LP, 4-song, "Tales from Topographic Oceans" and 1980's "Drama," which found Yes doing the unthinkable and recording without its iconic lead singer Jon Anderson?
During Saturday night's intimate show at the 3,000-seat NYCB Theatre at Westbury in Long Island, the band's decision proved to be brilliant in both its boldness and its execution, despite recent lineup shifts, some out of the band's control, that have tested the fan base's loyalty. Drummer Alan White is out of commission due to back surgery, with fill-in Jay Schellen keeping his seat warm; long-time Yes associate Billy Sherwood has since last year been filling the enormous shoes of a  then-ailing bassist/vocalist Chris Squire, who eventually passed away on June 27, 2015; and some fans feel it's just not Yes without original lead singer Jon Anderson, who has been out since 2008.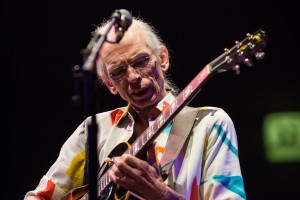 However, to an open-minded listener, any doubts should have been dashed when Yes — Jon Davison (vocals, acoustic guitar, percussion), Steve Howe (guitar, vocals), Geoff Downes (keyboards, vocals), Sherwood and Schellen — took the relatively small, circular, slowly rotating stage for Saturday's "in-the-round" performance and launched into the "Drama" opener, the dark and dense "Machine Messiah." Thanks in part to the pristine acoustics and intimate nature of the seating and stage setups, the band delivered the challenging track, complete with mood and tempo shifts, with the instrumental facility you'd expect from prog players but also a sense of nuance. It certainly helps that Howe and Downes were part of the lineup that recorded "Drama," and Davison, whose high-pitched vocals have made him a natural replacement for Anderson, might actually be even better suited to sing the material on "Drama," which was originally recorded by singer Trevor Horn who had replaced Anderson at the time. (Horn and Downes, aka The Buggles, who had a massive hit with "Video Killed The Radio Star," joined Yes for the Drama album, replacing Anderson and keyboardist Rick Wakeman.)
Downes' bright keys and Schellen's military drumming signalled the opening of the short-and-sweet "White Car," a  nice palate cleanser after "Machine Messiah," and Davison's gorgeous vocals rang through, before Sherwood plucked out the classic Squire bass intro to "Does It Really Happen?" Looking back, it's fascinating to hear the influence New Wave and synth-pop had on Yes at the time. Additionally, during certain moments, like Downes' regal synthesizer flourishes, you could hear the building blocks of arena rock band Asia, which Downes and Howe would form after Yes temporarily dissolved following the "Drama" tour.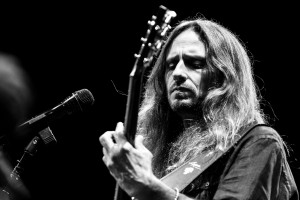 The selection of "Drama" for the 2016 tour again paid off when Yes delivered a note-perfect version of "Run Through The Light," a tune that likely would not have otherwise found its way onto a Yes setlist. As Howe's steel guitar cut through a thick, tight wall of drums, bass and synths, you could almost feel prog rock entering the 1980s. Yes closed out its performance of the transitional album with "Tempus Fugit," the uptempo, bass-driven song that it included on its previous tour; this version was quite a bit better than the one we witnessed at Barclays Center in Brooklyn last August.
The band wrapped up its first set with the classic rock radio staple "I've Seen All Good People," with the repetitive, infectious chorus and Howe's rollicking country guitar licks coaxing most of the crowd to get on their feet and clap and sing-along, and "Siberian Khatru," from 1972's landmark album "Close To The Edge." "Khatru" was funked out and weirdly wonderful, with Sherwood and Schellen — who have played together for decades in various projects — serving as a rocksteady and airtight rhythm section.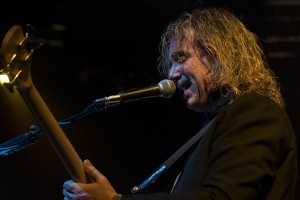 Following a brief intermission, the quintet offered another "Close to the Edge" classic before launching into the "Tales" material: "And You And I." It's one of the most emotionally arresting selections in the Yes canon, and the band did not disappoint with its reading Saturday night, as Davison perfectly expressed the romantic mysticism of the lyrics and his bandmates deftly worked through the majestic tune's various dynamic shifts. Howe, typically, bounced between several guitars during the song, and his piercing horse-whinny lines on steel guitar brought it to a dramatic conclusion.
"Tales from Topographic Oceans" is such a high-minded album, even by prog standards, with its shortest song clocking in at 18 minutes and a concept whose roots are in Hindu texts, it was divisive not only among fans and critics, but also within the band itself. Keyboardist Wakeman famously derided the Anderson-Howe concept, which many saw as an exercise in pompous prog excess, and quit the band after the "Tales" tour.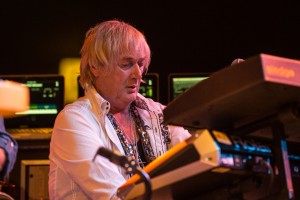 Revisiting the record on tour nearly 43 years later, Yes on Saturday served noticed that some of its harshest critics, Wakeman included, might want to pay it fresh ears. "The Revealing Science of God (Dance of the Dawn)" seemed to materialize out of thin air, with a bed of instrumentation under Davison's chanted lyrics to open the song. Later, Davison, Sherwood and Howe's three-part singing, especially on the line, "I must have waited all of my life for this moment," was particularly beautiful. Compositions like these are not for everyone, and it would be understandable if some attendees' attention wandered, but there was a sense that this crowd knew what it was getting itself into and was game for the adventure.
While Yes did not play the entirety of "Tales," which would have simply taken up too much of the setlist, it followed "The Revealing" with "Leaves of Green," a pretty segment from the larger "Tales" track "The Ancient (Giants Under the Sun)." It opened with a seated Howe playing Spanish figures on acoustic guitar.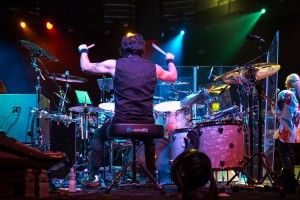 Sherwood's loud, fuzzed-out bass introduced "Ritual (Nou Sommes du Soleil)," the closing track on "Tales." Watching the band, in the round, navigate through the jazz fusion-esque melodies, was awe-inspiring; the fact that the musicians made it sound and look effortless added to the easy feel of the early parts of "Ritual." A percussion segment, with Schellen, Sherwood and Davison all banging on one thing or another, shattered that tranquility. Downes' synth squalls added to the cacophony, before Howe's lead lines gently guided the song back to its main theme.     
Yes reconvened for two more songs, the massive hit "Roundabout" and the long-time favorite "Starship Trooper." The former was jubilant, with the crowd again standing, clapping and singing, and the latter was airy and exuberant, a proper way to end the evening. During "Starship Trooper," Davison briefly ceded his mini platform to Sherwood, who played a loud, distorted bass solo, before Howe took his place, playing his familiar solo lines from the classic song from 1971's "The Yes Album," Howe's first album as a member of Yes.
Setlist
Set 1:
Machine Messiah
White Car
Does It Really Happen
Into the Lens
Run To The Light
Tempus Fugit
I've Seen All Good People
Siberian Khatru
Set 2:
And You And I
The Revealing Science of God (Dance of the Dawn)
Leaves Of Green
Ritual (Nous Sommes du Soleil)
Roundabout
Starship Trooper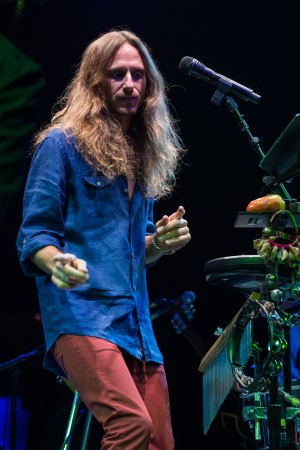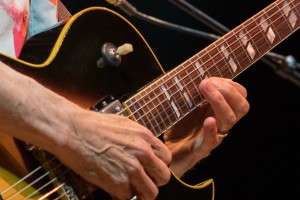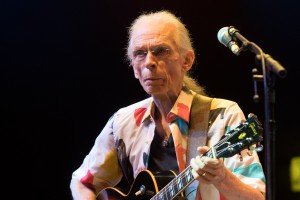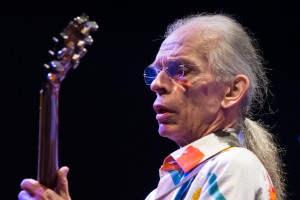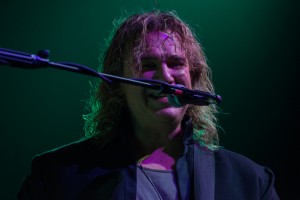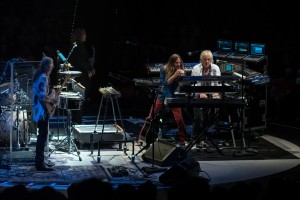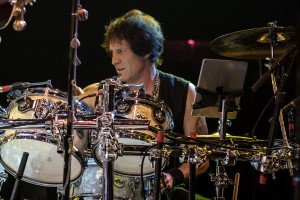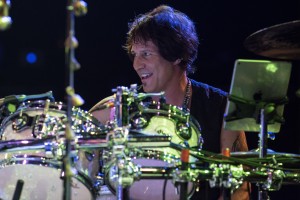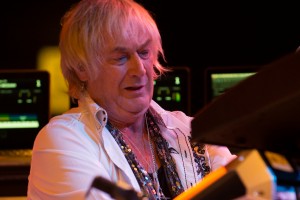 Yes tour dates
| | | | |
| --- | --- | --- | --- |
| Tue | 8/9 | Staten Island, NY | St. George Theatre |
| Wed | 8/10 | Englewood, NJ | Bergen Performing Arts Center |
| Fri | 8/12 | Port Chester, NY | Capitol Theater |
| Sat | 8/13 | Morristown, NJ | Mayo Performing Arts Center |
| Sun | 8/14 | Albany, NY | The Egg |
| Tue | 8/16 | Washington, DC | Warner Theatre |
| Wed | 8/17 | Munhall, PA | Carnegie of Homestead Music Hall |
| Fri | 8/19 | Sterling Heights, MI | Freedom Hill Amphitheatre |
| Sat | 8/20 | Chicago, IL | Copernicus Center |
| Sun | 8/21 | Milwaukee, WI | Pabst Theater |
| Wed | 8/24 | Denver, CO | Paramount Theatre |
| Fri | 8/26 | Anaheim, CA | The Grove |
| Sat | 8/27 | Las Vegas, NV | Downtown Las Vegas Events Center |
| Sun | 8/28 | Santa Barbara, CA | Arlington Theatre |
| Tue | 8/30 | Los Angeles, CA | Orpheum Theater |
| Wed | 8/31 | Saratoga, CA | The Mountain Winery |
| Fri | 9/2 | Reno, NV | Silver Legacy Casino |
| Sat | 9/3 | Paso Robles, CA | Vina Robles Amphitheatre |
| Sun | 9/4 | San Diego, CA | Humphreys Concerts By the Bay |