A full year after Prince's shocking death, fans of the musical genius and mysterious icon are still reeling. But rather than wallow in sorrow, members of The Revolution, Prince's band immortalized in the film "Purple Rain" and countless singles, including "1999," "Let's Go Crazy" and "Raspberry Beret," have reunited to celebrate their former bandleader's legacy and effect healing for fans — and themselves.
"I was kind of hanging onto him," Revolution drummer Bobby Z says of the whirlwind days of "Purple Rain." "He was one in a billion people, that's for sure."
Thirty years after they had performed together, and in advance of the one-year of Prince's death, The Revolution — Bobby Z, Matt Fink (keyboards), Lisa Coleman (keyboards/piano), Wendy Melvoin (guitar) and Brown Mark (bass) — announced in February that they would tour the U.S. On April 21, the anniversary of Prince's passing, The Revolution performed at Prince's Paisley Park in Minneapolis, before stopping in Chicago, Washington, D.C., New York's BB King's and a pair of shows in Philadelphia. In advance of the band's upcoming shows at Webster Hall (May 3) and The Capitol Theater (May 4) in Port Chester, New York , we spoke with Bobby Z.
How and why did The Revolution get back together?
In 2011 I had a heart attack and we did a show for the heart association. Prince didn't want to participate, but he said go ahead, he was very supportive. We raised a lot of money for awareness. That was kind of the rekindling of it. We had done something together for another charity in 2006.
We never really lost the magic, and of course the tragic death. We took a long time, but we ended up playing last Labor Day at First Avenue in Minneapolis. So we tiptoed back out. And here we are. We felt like playing, and I think people felt like hearing.
What has it been like playing this music again with your old bandmates?
The first time we tried to play "Purple Rain" after he died, I don't think we could get through it. It's difficult to answer your question. His DNA is all over it.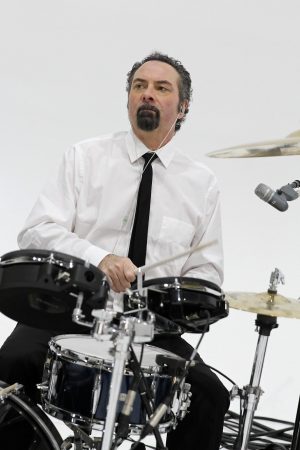 What type of setlist have you put together for this tour?
The thing about that is Matt and I go all the way back to the beginning, and Lisa goes back pretty far, and Mark goes back pretty far. We've played all these songs with Prince in concert. The short answer is The Revolution is kind of "Purple Rain" and "Around The World In A Parade." That's certainly an amazing well to draw from, and that's kind of the heart of it.
What was it like being part of the Prince phenomenon at its peak?
Well, I mean, the thing about all this that I feel the thing that separates me, again, I'm a drummer, but I'm known through the Prince land a little differently because of "Purple Rain." I think the movie adds that extra dimension because we were the movie band.
The subsequent tours with  him and the rehearsals put us in a special club. To go through something like that together, it feels very unbelievable. At the same time, I'm watching someone I grew up with flower into such an amazing genius film star. It was just something to watch. I was kind of hanging onto him. He was one in a billion people, that's for sure.
Did you know he was that good when you first started playing with him?
I did. I was 19, 18, he was 17. At that point, he had musical gifts that went past anyone I had seen on TV or anything.
How was he as a boss?
He was an incredible bandleader for the ages. Disciplined. He brought a discipline to music that you usually don't see. Sometimes during "Purple Rain" rehearsals it was 10 a.m. to 6 p.m., you'd bring a lunch. The discipline the guy had was second to none. It was unbelievable the amount of time he dedicated to his craft. It was just completely consuming, and you get consumed in it. Just beautiful things happened.
What were your favorite songs to play with him?
My favorite song that we did was "Purple Rain." Just magical, the meaning to it, the way it was recorded live at First Avenue. And it was always fun to get into some of the classics like "Do It All Night," Let's Work," "When You Were Mine." As a drummer, it doesn't get any better.
Do you remember the first time you met Prince?
I do. He was at MoonSound Studio in Studio A in front, and I was in Studio B in the back, and I heard the music and immediately turned around and got that kind of side-eye smile that we all know so well and kind of broke the ice with laughter. I said down next to him, and he played this amazing stuff.
Did you stay in touch after The Revolution ended?
Yeah. When the jet went down I had some interaction and he said he was OK. We were in touch pretty recently up to the end. Never really lost touch with him for 43 years; in the '90s we drifted apart a little bit. I always cared about him. I had two roles: a professional role and I really strived to keep that friendship.
What was your initial reaction to the news of his death?
Disbelief. Just complete disbelief. That's wrong, that's not possible, it's just not possible.
What made Prince so unique?
He really was one of a kind. I don't think there's anyone else that did what he did. To go from zero all the way to the end is a pretty remarkable story and I feel very honored. But you know, at the same time, it's said that he's gone. It's just such a profound loss. A remarkable loss.