Words, photos and videos by Keith Perks
Practice spaces are in buildings, warehouses and homes, and they are where bands create and perfect what you see and hear on stage every weekend. I want to show you where bands practice and delve into what makes them tick. It's a warts and all documentation of sweaty, smelly loud rooms with lots of posters, chords and beer cans.
The focus of Session One is Sean Flynn, who performs as American Buffalo Ghost.
KEITH PERKS: To start off, for people that don't know, fill us in on your background and music experience within our local scene. Where did
you begin and how did it lead you to start American Buffalo Ghost?
SEAN FYLNN: I started in college with a band called Echo Whiskey Charlie and on paper, we were awesome. Our main influences were The
Strokes, The Stooges, The Jesus and Mary Chain, Black Rebel Motorcycle Club. It did not translate well to the actual music. It was devolving
into noise riff rock and we just went to a whatever band at the end. Then I started a band called Those Clever Foxes and that did the opposite, where we started really bad and then turned into a really tight and locally successful band. From there I am still doing a fun rock band called Old Charades. So I drifted from here to there for several years and all the while I had a real love of deep American folk, blues, old timey, and bluegrass music. And I think I remember at the time seeing around 2017 all these guys and girls doing all new projects in the scene and it was like a whole new wave of acts in the NEPA area and I just thought it was the right time for me to try my hand at really finally playing the music I know and love.
KP: Compared to Those Clever Foxes and Old Charades, how is your writing process different? How is it similar?
SF: For American Buffalo Ghost, it is just me with an acoustic guitar. And in the true "folk tradition" you cannot help but filter all the old
stuff and see it come out into something new but still rooted in the old. It is very easy to take a riff from a bluegrass or blues album and
take a lyric that has been used 100 times already and tweak it slightly and put it all together into something new. So instead of being in a
punk indie band where you have super loud guitars and drums and you have guys ripping out pages from their journals (a lot of Those Clever Foxes
and Old Charades lyrics came from doing that) and shouting them into mics, I can just make up a story about being on the Texas plains and
just feel it out while doing a Lightning Hopkins riff and then bring in a Big Bill Broonzy lyric. It's an endless possibility of stuff.
KP: Where did you record your new album and who contributed to it?
SF: I went back to the Windmill with Eric Ritter. And on this album, 90% of the album is just me and my acoustic guitars. On the drums I had my
friend Steve Werner, who has become a steady go-to guy for me when I need drums. He gets what this is and knows how to do it. Jen Fracas sang
on the first single on the album and did a fantastic job on it. JP Biondo from Cabinet played mandolin and sang as well on two tracks and
really elevated the material. The bass and electric guitar was done by myself or Eric when he felt like jumping on a song he liked and had an idea.
KP: How was the recording of this ABG release different than the previous albums and how has the pandemic affected the recording and
release of it?
SF: I wanted to make, in my mind, what is a hardcore folk album, so I didn't worry about writing all these songs when I knew that I wanted to
have Woody Guthrie and Robert Johnson songs on it. So I just wrote exactly what I wanted to write, songs about cowboys, psychedelic lyrics
that reach back to old world stuff with the backing music very homedown and sparse but filled out. I had a whole other album of songs where
there were huge arrangements and spent a lot of time working on it and when it was done I hated it and had a whole tour that was scrapped by
the pandemic. So I decided to completely start over and make what I really believed in. And my very good friend Tim McDermott decided to
make a whole documentary about the thing and filmed it in the studio as I made it. So, it was a really wild project that took maybe 9 to 12
hours from start to finish.
KP: Since your first ABG release, how do you feel your music progressed and changed? Any key elements you kept the same throughout? Any things
you outright ditched and for what reasons?
SF: I think when I started this project, the passion was there but the chops and direction were not exactly in line yet but I could tell there
was a fire for this and so did everyone who saw me. As I progressed I kept chipping away at what this should be and how it should be. I can
say, truly now I am at the start of being very comfortable and confident in my passion and songwriting and playing for this. And since I feel I'm
just now getting started off on the right foot, I can only (hope to) get better from here.
KP: You and I have spoken before at length about our love for folk and Americana music. Name a few influences from the origins of folk, the
folk revival of the '60s, and any bands from today's scene that you listen to or draw inspiration from?
SF: That list would be massive because you take something from everywhere. Like, I have a record of a field recording of chain gang
being recorded doing all prisoner songs acapella. How can something like that not get into you if your ears are open? So you can have that, then
a guy like Cisco Houston, who was a guy that played and traveled all over with Woody Guthrie on the trains and back of trucks in the
Depression, and he gets half the credit and is sometimes forgotten but his voice is shockingly smooth and clear. His stuff always got to me.
Big Bill Broonzy and Mississippi John Hurt completely changed the way I looked at acoustic guitar when I was a teenager. Woody Guthrie, Robert
Johnson, even the old time jazz guys out of New Orleans. I learned so much from all that. Moving up through the '60s revival, there's Bob
Dylan… and I don't have to say much more on him, clearly. There was another guy named Dave Van Ronk who mentored Dylan in the Village in the
early '60s, he really truly is the bedrock of my whole thing here. He does it all and makes it all sound like him. He would be at the mountaintop for me. Neil Young is another guy who I just completely worship and I more often than I realize end up ripping off a riff of his or a lyric but I can't help it because it comes out that way.  The late great Tony Rice, who took bluegrass flatpicking and made it be IT, I breathe him. As for current acts, Gillian Welch and David Rawlings, they are up there the best of the best as far as I'm concerned. I scored a record in the early 2000s by an American/goth band called Blanche and the record called "If We Can't Trust The Doctors…" that was a really big album for me in this world of music. Acts like Noam Pikelny from The Punch Brothers, The Milk Carton Kids and guys like Pokey LaFarge, Colter Wall, Sturgill Simspon and Tyler Childers, who are more on the country side, but they started going into a bluegrass type of thing and when they do their stuff stripped down and raw, you see how direct it is, and that is what I want to do.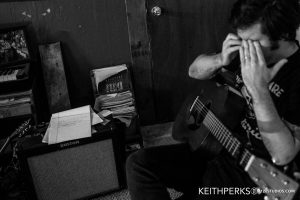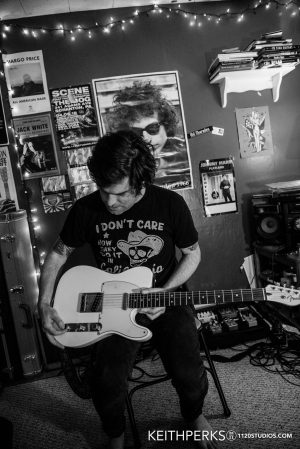 KP: Years ago when we first started talking about folk music, our conversation led to one specific release that you and I connected on.
"Anthology of American Folk Music." That is a brilliant piece of history. What are some of your favorite songs from those records and
why? What modern folk artists today do you think genuinely pull from those songs and that era and maintain that distinct sound?
SF: That is a really good question. The Anthology is a massive work but thinking back on it, I really liked the whole third disc of it for some
reason. I just think there was a little more blues stuff or weird little banjo riff songs on that one. The song "Sugar Baby" I play from time to
time, I got from that disc. There is so much on that album that, you can't call rabbit holes you will go down, you go down some winding roads
going everywhere. Acts today, Gillian Welch and David Rawlings are good starts to get into that world. Colter Wall, even though he is more
cowboy-ish, he could have been on there. Jack White, who is the reason I play guitar and my all-time favorite, he at times points directly at the
blues and stuff from that album and does not hide it.
KP: Over the past decade or so, there have been many that dabbled in folk and Americana by stepping away from their rock, hardcore and punk
origins. What do you think the attraction was and how do you feel folk influences the heavier and more aggressive genres?
SF: I think because if you get into the trenches of this kind of music you see that it is just heavy as some of the punk/hardcore stuff,
lyrically. There is a famous song by Reverend Gary Davis called "Death Has No Mercy In This Land," that song is as serious as a heart attack.
And it's just a guy with an acoustic guitar. Guys like Brian Fallon of The Gaslight Anthem, he openly admits his love of Woody Guthrie. And I
think another reason is, you start to really, really cut your teeth and put the work in on learning to play with no loud amps or 50 pedals.
That was a big reason for me. Going from loud power chords and weird chords, to just me with nothing, you start to see what you are made of.
And you have to make that choice of, do I have what it takes to put the hours in to get to where you want to be with no safety net, or just be
another indie punk guitar player and get by with chunky cowboy chords.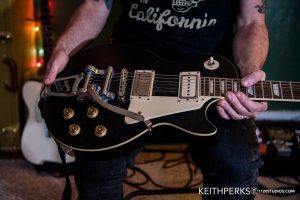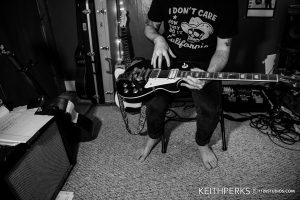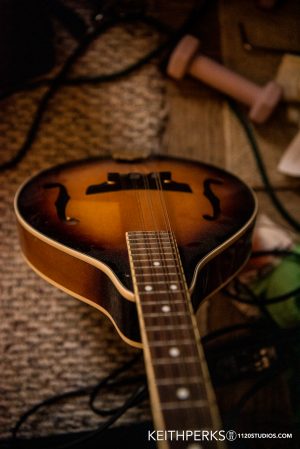 KP: We have a pretty cool folk/bluegrass/Americana scene in NEPA. I've slowly watched it emerge and I started seeing kids from rock shows show
up and support our finger pickin' folk friends. Who are some locals that you follow and feel contribute to our scene and carry on the tradition?
SF: Well Cabinet clearly, they have done so much. When The Coal Town Rounders were around, I saw them as much as I could and even then Chris [Kearney] and JP did shows together, or the Cabinet guys did solo shows, I went to see them not just because they are cool dudes and the hang out is fun but you learn from watching guys like that. Dave Brown and The Dishonest Fiddlers are another great group. The Mule Team, who are fantastic in every way. Drew Kelly who I knew back when I was in the punk scene, he was doing his folkie thing and I'm glad he is back. I still consider
myself a new guy on the block doing this and want to just keep getting better to be at the level all those dudes are at.
KP: How has the pandemic affected you on a personal level and how has it affected you musically? I ask this because I've seen many rethink their
methods. It's brought life realizations to them and I'm sure that's affected their writing and I see reinvented ways of performance and release/distribution. While some have decided to take the hit and maybe slow down, others have stepped up and learned from the challenges and
adapted. How has it all affected you and how did you transition and what have you learned?
SF: Musically, I needed the break. It gave me time to really reflect and take stock and become centered. I lost a lot of gigs but I am glad
because I know they wouldn't have been anything worth seeing. I used my time wisely to focus and get better on all levels. It made me go, in my
mind, from a guy who has guitars, to a guy who plays them. And I have been a "weekend warrior" for 10-plus years. So when I had to spend my
weekends on my couch with my wife and dogs, I didn't know how much I needed that.
KP: What has the pandemic derailed for you this year that you had planned for prior, and where do you see ABG in a year from now?
SF: There was a tour planned that got scrapped and I have to eat that. And I'm honestly OK with it, because I wouldn't have been enjoying it if
I had put out the original album I had planned. Maybe a year from now, I'll get to some of the places that I had planned but right now, it's
all about just getting a good bedrock at home before going on the road.
KP: Many bands, venues and labels took a beating in 2020 and 2021. What do you think will come from the industry now? What changes have you seen during the last year or so and what do you think might stick around as we move forward?
SF: I think you are going to see, sadly, prices for shows go up and stay at a new level. They all need to make up for that money that was lost
last year, and it's understandable but you'll have a lot more people second guess going to shows now, because before they could go $135 for
two tickets at a decent spot and date. They will think twice when it's $183 and you're in the back rows on a Wednesday. I think that will be
the new normal. The other side of that, the artists that have the say over where and what they play, they will go that extra mile now and
really pull it all out because they missed it just as much as the fans and play the extra five or six dates this year with a great line up. It
will be a good while before we are back to a healthy medium, I think.
KP: What are the positives and negatives of playing in the NEPA music scene? What would you like to see changed, if anything?
SF: The positive is the talent and diverse music we have. Our scene is special. Period. Some great bands have come from our area and we get the
spotlight on us every so often because of that and pushes all of us to get better. We got some damn good musical talent in this area and great
people playing it. The negative is the most obvious though is the real lack of places to play. Lots of acts don't like doing the bar thing and
the bars don't want to hear the original music as much, and only want the cover bands. So that really cuts it down right there. Places that
open and house original music struggle because it is a hassle to get people to go out of their element and check out the local original
talent. And a not-so-kept secret in the scene is it can be cliquey. I am guilty of that with shows and bands but I know bands that don't play
with other bands because of whatever reasons. You'll have that anywhere. I kinda outed myself out of the scene a little when I started doing the
folk thing and a lot of bands wished me well on it but didn't want to book me because they didn't get it or are not into this kind of music,
and I totally get that. That is fair. But stuff changes when an indie rock band asks me to open for them and they see it and give a fair day
in court. The scene is strong though and it will never be a big unified thing but it is a collective group that knows it's all of us against the
world. That's what makes it a cool thing.
KP: Tell us a little bit about your "practice space." How did you choose it? Where is it located?
SF: The space is a spare room I took over at my house. The "man cave." My collection of amps and guitars was getting too much to have all over
my house and my wife just gave up and let me take over the room.
KP: What music gear, memorabilia, posters, or personal items make your space special to you and why?
SF: All my guitars and amps are in the room. My wife has a gorgeous electric piano that is in there as well as a drum kit. I got amps
stacked on each other and pedals all over those. My record player is in there which has stacks of whatever I want on there for when I want to
listen to my vinyl. I decided to put concert posters on just the one wall so I got Jack White, Sturgill Simpson, Jason Isbell, The Menzingers,
Cabinet, Billy Strings and others all together. Other cool posters of Bob Dylan and The Beatles and Miles Davis up there. I got a bookshelf
with guitar and amp books along with songbooks. Two vintage American flags, Christmas lights all over.  An area for strings, 9 volt
batteries, guitar amp tubes and other little projects.  Pictures of friends who are not with us anymore I keep in there just so I can see
them and listen to records with them. Simple stuff. And an air conditioner that does not work.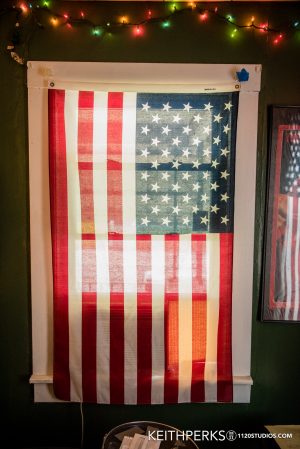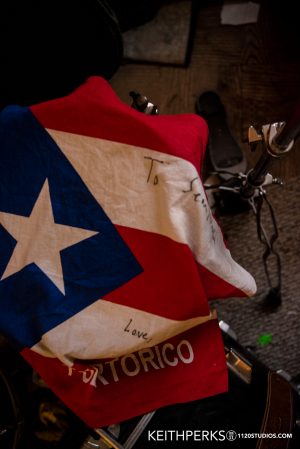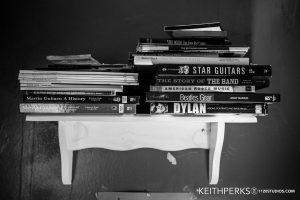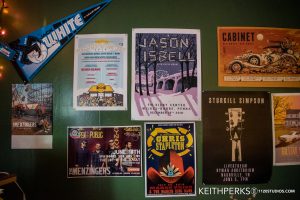 KP: How often do you practice?
SF: I force myself to play guitar, electric or acoustic, at least two hours a day. I either play along with blues albums or Neil Young albums
with my electric stuff, or play along to Tony Rice bluegrass records on my acoustics. And that is my release and I don't think about writing or
shows. I just love playing guitar and I just dig into it.  If I know I have work to get to, I sit and work on my own songs or get covers down
that I want to do. If I don't get to play guitar in a day, I make sure that the next time I pick it up, I get something out of it because I
don't waste time.
KP: I find practice spaces interesting because 99% of the time, they are not fancy by any means and they usually are free or cheap spaces, they
don't have a ton of amenities, and are very stripped down so there's no distraction. They are raw and simple. Some with restrictions or
difficulties that arrive at the behest of surrounding neighbors or businesses.
SF: My neighbors are actually cool with me playing all the time because I respect the time and don't go all night, plus my wife will kill me.
And usually, it's just me and acoustic. I play with windows open to get fresh air in there. They know I do this and every so often they will
stop me and say "what was that one song you played yesterday, that was cool." So that is nice. There is a FedEx guy who always comes to my
street and is like "Love the Neil Young!" which is funny. The mailman too, he will be like,"good shit man!" They all hear it because it's a
first-floor room and I can see the street right outside the window. When the bands are in there, then it's a little different. It gets crowded
very quickly and very loud so everything has to be done in only a few hours during the day and done right because it's very easy to forget
that you are playing the same part of one song nine times and your neighbors are trying to cut the grass or something. They put up with
that but don't want to hear it all day. But the cool part is hanging out with the guys. It is a small clubhouse that is in my house so it's very
easy and relaxed. We take breaks and just grab beers from the fridge and they go play with my dogs in my backyard. It's a nice feeling than being
in the basement-type place at 1 a.m. when you are 24 or 25.
KP: At the time of doing this interview, we've already shot at your practice space, and let's just say it's cozy, in a quiet neighborhood
section of Scranton, and small for a band of four to cram into, especially on hot summer days. How do you think the room/location adds
to or takes away from your practice time together? Has it held you back from anything and what difficulties if any, did you have to overcome to
make work for you?
SF: I think in a weird way it cuts down on the bullshit when you have the guys in there. Guys and girls in bands know what I mean. Someone
starts playing something goofy or a wild weird cover song and suddenly you are twenty minutes into that. That gets taken down to like, 5
minutes in my space because it sinks in, "it's hot in here, we are on top of each other and the guy working on his car does not find what we
are doing funny or cool. Let's get to work." But again… I play folk music, it's just me in there 95% of the time. And I love it. It is really a closed-off thing and I can sit on the floor with a beer and paper in front of me and just work. And I have all my "toys" all around me. I can try any idea however I want. I look at it like my tiny little version of the Basement from Big Pink or the Loft with Wilco. And that is a dream for sure.
KP: What's one thing you'd like to fill fans of ABG in on that they may not already know?
SF: I think weirdly that someday with this, I would love to be able to do a theater-type show and not play any of my own stuff. Only do the
covers of the folky, bluegrass, blues type stuff. That is a weird little goal but that music is important to me. I am not in love with the idea
of writing songs. I am in love of playing the guitar to music that is already great and keeping it alive.
KP: Do you have any events coming up that you would like to mention?
SF: As of now, the shows are starting to come in more and more for the fall and winter. I am at the Jazz Cafe on Aug. 6 and Jack's Draft House in
Scranton on the 12th. Some bigger things are being worked out for later this year and hopefully, they get to happen.
KP: I'll leave the last one up to you. Any final words or thoughts?
SF: This kind of music is not for everyone but this kind of music is important and there is a whole little world to it. And I hope as I keep
doing this, people begin to see that and understand that. With that, I hope people say I am doing a damn good job of playing it and keeping it
alive. And I hope I am.