Spin Doctors frontman Chris Barron intended his new solo album, "Angels and One-Armed Jugglers" — out Friday, Oct. 20 — to be a relatively stripped-down affair, maybe vocals and acoustic guitar and not much else. But after Barron, producer Roman Klun and company got out of the studio, they had something entirely different: a sonically rich and diverse album fleshed out with traditional rock instruments as well as curiosities like accordion, slide trumpet and a steel tenor guitar from the 1920s.
"Roman is a really accomplished producer, and he's also a great manager of personalities," Barron said in a phone interview in advance of his album-release show Friday, Oct. 20 at Rockwood Music Hall Stage 3 on Manhattan's Lower East Side. "He has this very unassuming approach to producing where the next thing you know you're just kind of easing yourself into doing something that he's suggesting. …
"The big move was initially I came in, and I'm thinking I want to go just write this stuff solo acoustic, so the first thought was to make a record that would reflect that," he said. "When it doubt, leave it out, stripped-down. He was like, 'OK, sure.' But I could tell there was a touch of skepticism there. Absolute openness and skepticism at the same time. It came off to me that he believed in these songs and wanted what was best for them, but I could see he had a larger vision without him saying anything."
Before there was time to cut tracks, though, Barron was silenced by a paralyzed vocal cord — his second such malady in 15 years, a very rare recurrence, his doctor says. When he regained his voice, he decided to go for the bigger sound his producer had envisioned and hired "Saturday Night Live" drummer Shawn Pelton.
"I've been playing with [Spin Doctors drummer] Aaron Comess for 29, 30 years, so I'm a super drummer snob," Barron said. "And when you're making a solo record you also want to work with different people."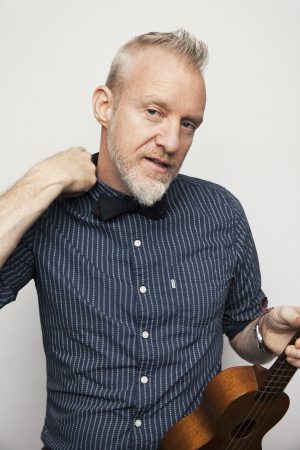 The next puzzle piece was found when Barron went to Rockwood to see Comess play with bassist Jesse Murphy.
"The way he grooved with Aaron, and I groove with Aaron, made me think I could groove with Jesse the same way," Barron recalled. "So I had a couple beers and sent Roman a text and said, 'Do you know this guy Jesse Murphy?' I also knew it was their first time playing together. Roman texted back, 'Are you kidding? I suggested him for that gig tonight.'"
Barron wasn't looking to write a thematic album, either, but the imagery in the title track ended up recurring in several other spots throughout.
"I wrote the track on the steering wheel of my Crown Victoria Police Interceptor on the 59th Street Bridge, doing 50 or 60 miles per hour," he said with a laugh. "Don't try this at home, I'm a professional songwriter. It's dangerous."
He had been thinking about his first New York apartment "that wasn't a dump," on 11 Waverly Place in the Village. His elderly neighbor would regale him with tales of her performing on Broadway in the '50s or '60s.
"She'd be like 120 now, there's no way she's still alive. And this line, 'Angels and one-armed jugglers/ sword-swallowers and smugglers/ Good ol' Adelaide, she must be long gone.' I kind of latched onto the line and it struck me as a really cool album title."
Similar circus and sideshow motifs pop up in songs like "Till The Cows Come Home," and he self-deprecatingly refers back to the title track in the guitar rocker "Saving Grace": "I'm tired of songs about angels/ I could use a punch in the face."
"I find that when I write that way, I don't think a lot about themes," he shared. "If I just write from my gut, these themes tend to emerge, and when I look at them later on I realize I am making these natural, organic connections. Way later, I'm recording coming off this vocal paralysis where I had one vocal cord and realizing I'm the one-armed juggler."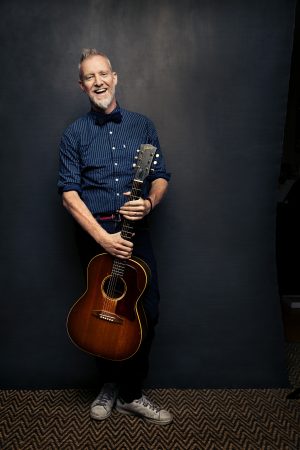 Barron — who stressed that the Spin Doctors' original lineup, behind massive '90s hits "Two Princes," "Pocket Full Of Kryptonite" and "Little Miss Can't Be Wrong," is still very much together — grew up in Princeton, N.J., where another future rock star, John Popper of Blues Traveler fame, was a close friend.
"Knowing John, I was lucky enough to have the rare experience of seeing a 16-year-old boy that was just destined…everyone knew he was going to this famous musician," the singer says. "He was in the Princeton High School jazz band, and every time he would play, the vice principal would say you have to behave yourself or we'll shut the concert down. People would tear the room apart when he would play the harmonica. Everyone would go berserk.
"So in John's case, it was kind of a foregone conclusion he'd be a rock star. We had a pact that when he was famous and playing at Madison Square Garden, if we weren't in touch, I would come and sit in the front row, and he'd wave and pull me up on the stage, and I'd sing, and I'd become famous too."
Barron continued: "He and I were really good friends, and we'd just drive until we were lost, and we'd smoke pot, and I'd get him so high he didn't know where he was, and we'd just play music until we came down."
And what about Trey Anastasio of Phish, who also grew up in Princeton at the same time?
"Trey used to knock the shit out of me playing hockey. He was a good hockey player," said Barron. "We didn't meet in a musical context until later. I think we had the same guitar teacher briefly. He went to Princeton Day School, private school, and I went to Princeton High School, where the bad kids went. Trey and I didn't really meet up until like the Phish and Spin Doctors days, but I'm tremendously fond of Trey, and I just think he's a wonderful, wonderful musician and an amazingly expressive guitar player. And [Phish bassist] Mike Gordon and I are friends. We just exchanged a couple of emails. 'How are you and the old lady?' 'Oh, I have a record out too.' 'Oh, I have to check that out.'"
Chris Barron will perform Friday, Oct. 20 at 8:30 p.m. at Rockwood Music Hall, Stage 3 (196 Allen St., New York City) at 8:30 p.m. Tickets are $15.
Photos by Jesse Dittmar