UPDATE: The Animal Collective show has been canceled due to a band member illness.
Highway 81 Revisited would like to send you and a guest to Output in Brooklyn to see DJ sets by Animal Collective (Wednesday, March 4) or Holy Ghost! (Thursday, March 5). Simply e-mail info@highway81revisited.com with the subject line OUTPUT ANIMAL COLLECTIVE or OUTPUT HOLY GHOST! Please include your full name. There will be one winner for each event, and we'll be notifying the winners via email.
The Animal Collective DJ set will feature AC members Avey Tare and Deakin. AC has been performing DJ sets in various incarnations as of late, including a February set at Brooklyn Bowl with Geologist, Avey Tare and Deakin. DJ Dogsmyth is also on the bill for the March 5 show.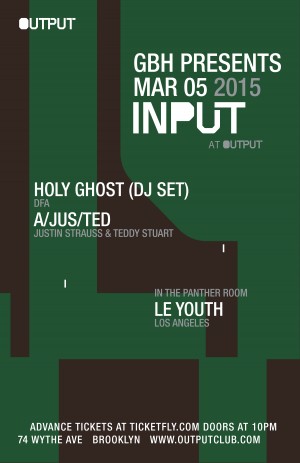 Holy Ghost!, the synthpop duo, is coming off a New Year's Eve show at Irving Plaza. In a late-2015 interview with The Aquarian, Nick Millhiser, one-half of HG, spoke about a wide range of topics, including the group's DJ sets. Also on the bill at Output on March 6 is Le Youth.
Here is all of the pertinent info for both shows:
Animal Collective (DJ Set)
Billing: Animal Collective (DJ Set) feat. Avery Tare and Deakin/ DJ Dogsynth at Output
Date/Time: Wednesday, March 4th // 10pm – 4am
Venue: Output // 74 Wythe Avenue Brooklyn NYC
Tickets: http://ticketf.ly/1zPdnVt
Facebook: https://www.facebook.com/events/780144818743615/?ref=5
INPUT
Billing: Holy Ghost! (DJ Set) at Output with Le Youth in The Panther Room
Date/Time: Thursday, March 5th // 10pm – 4am
Venue: Output + The Panther Room // 74 Wythe Avenue Brooklyn NYC
Tickets: https://www.ticketfly.com/purchase/event/781331?utm_medium=bks
Facebook: https://www.facebook.com/events/1595304244033094/?ref=5