Rock and Roll Hall of Famer Brad Whitford, one of the two guitarists from Aerosmith, and Derek St. Holmes, who supplied the vocals for many of Ted Nugent's best known songs, got together and released a self-titled album in 1981. It's been a long time coming, but Whitford/St. Holmes have reconvened 35 years later and released the appropriately titled sophomore album "Reunion."
In between shows to promote the new record — a mix of headlining dates and opening slots for both Whitesnake and Lynyrd Skynyrd — Whitford spoke to Highway 81 Revisited about his newly rekindled venture, the latest Steven Tyler rumors and what's next for the duo of Whitford/St. Holmes.
How did you and Derek St. Holmes meet and what drew the two of you together musically?
We did a lot of touring way back in the '70s. Ted Nugent, Aerosmith did a whole lot of touring together, so we became friends during that and have been friends ever since.
When did you guys realize it was more than a friendship and it was more a chemistry that was worth pursuing on stage?
A lot of times we'd get together, we'd sit down and be playing guitars and the music just started to come, and we saw that we had a very good musical chemistry – and we still do.
This is your second album tour for Whitford/St. Holmes. How did the fans react to the early shows (on the first tour)?
We had a terrific response!
Why was Whitford/St. Holmes the band so short lived? Was there more to it than you going back to Aerosmith?
No, not really. I went back to work with Aerosmith and Derek had to go back on the road with Ted. We both got very busy and you know, we lived in different parts of the country, so it wasn't so easy for us to get together. For many years, we'd see each other every one in a while.
What cemented the idea that Whitford/St. Holmes would be coming back?
We both ended up living in the same town. (laughs)
That helps!
We just get together in the morning, we have a cup of coffee, and the next thing you know we're playing guitars, so music just starts to come.
Did you have any trepidation getting back into this project?
Never.
Never?
Never.
Have you and Derek changed since the first time around? Or changed as writers?
Oh, I think so. Yes. We're better at it. Better as musicians, better writers and a lot of experience between the two of us.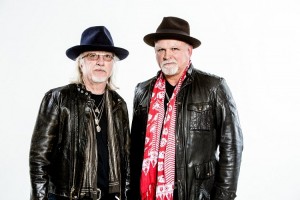 How would you describe the writing process for "Reunion"?
A lot of it is just sitting around the living room with the guitars and just developing ideas. No secret formula there. (laughs) We start playing guitar and the rest of it happens.
It might have been the coffee.
The coffee always helps!
What was your intention going into the album? Were you just focused on the album or did you have other ideas for the two of you?
We had some material. As musicians, the only way you can kind of move on to the next stage of whatever you're gonna to do, you kind of have to commit it to – one way to get a song officially done – to say, "That song is done" – is recording it. (laughs) And in a way putting it to bed so you can go on and make new music, so we just felt like we had to get in the studio, get the stuff recorded 'cause we were just starting to write too much material.
How have the live shows been going?
Oh, so great! We're having a great time and getting a fabulous reaction. All is good.
What kind of set lists are you playing? Are you playing new, old or covering songs from your other bands?
It depends. If we're opening for Whitesnake, that is a much shorter show that we do. On the nights we're not with Whitesnake, we do more, like, an hour and a half and actually play songs from the new album, songs from the old album, and we throw in a little bit of other stuff and little surprises here and there.
How did you link up with Whitesnake? Had you worked with any of those guys before?
I've known David Coverdale for almost 30 years and they were going out on tour and he heard about this thing and invited us to come out with them. We graciously accepted that invitation. (laughs)
After all these years, is it strange to be an opening act?
Um… no, not really. It's all about the same thing. (pauses) No, not strange at all. (laughs)
When you're hitting a stage that is primarily there to see Whitesnake or Lynyrd Skynryd, besides having a shorter show, do you approach it differently?
No, not at all. We do our thing. So far, so good.
In addition to the tour dates, what will you guys be doing to promote "Reunion"?
We're working on that all the time, and anything we can do to do that we will. The best kind of way to do what we're doing is the way I started out in Aerosmith: very grassroots, get out and play and see what it's all about.
Have you and Derek made a commitment to stay together and do another album?
We're already working on another album.
Anything you can tell us about that?
Ummm… no. (laughs) I have no idea when it'll be coming out or what it'll be called or anything like that, but it's already in progress.
Is the vibe similar to "Reunion"?
I don't know. We certainly have a sound. We listened to our old album recently and our new album and went, "Oh look! Thirty years later and we have some sort of a… " There's a style and sound to it that's kind of unique, so I'm sure the next one will have a similar kind of feel to it.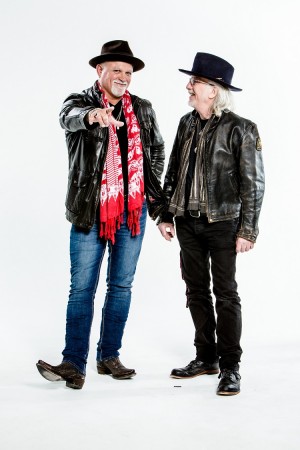 Besides Whitford/St. Holmes, do you have any other projects in the works?
Between this and Aerosmith, it's pretty busy. I do the Experience Hendrix tour quite a bit as well. So, yeah, I stay pretty busy.
Do you do any Aerosmith songs with Whitford/St. Holmes?
We do a special little thing. We do a little bit, some stuff.
How do you feel playing with a singer that isn't Steven Tyler?
How do I feel about that?
Yeah, what's it like?
It's totally different. Two different guys. Two different personalities. Two different types of singers. Mostly, it's just a lot of fun. I'm glad I found an alternative to playing with Aerosmith all the time.
Have you heard Steven Tyler's country album?
I have heard a little bit of it. I haven't heard the final thing yet, so I don't know what's going to be on it.
What do you think about it so far?
Well, I heard it sounds great.
Have you seen Joe Perry with Hollywood Vampires?
Oh, no I haven't seen it yet. I think they're in Europe right now, so we haven't crossed paths yet.
What do you think about everyone having a side project right now? Does it help when you guys get back together?
I think it helps tremendously.
In what way?
It just brings a different energy back to Aerosmith.
In May, according to Rolling Stone, Aerosmith denied rumors that it's going to replace Steven Tyler. Is Aerosmith going to do an album without Steven Tyler?
Uh, I don't see that happening. (pauses) And if the band ever did something like that, I don't think it would be called Aerosmith anyway, but you know, how do you replace Steven Tyler? It's not possible.
[Editor's Note: H81R spoke to Whitford on June 21. On June 24, Rolling Stone published an article quoting Steven Tyler calling the 2017 a "farewell tour." "I love this band, I really do, and I want to squash every thought that anybody might have about this," Tyler said. "We're doing a farewell tour, but only because it's time. We've never done that."]
What are your hopes for Whitford/St. Holmes this time around?
I'm hoping a lot more people get to see it and get to hear it! It's good stuff, so I'm just hopeful it gets to a broader audience this time around.
If you want to see Whitford/St. Holmes live, check out the remaining tour dates:
July 7: Exit/In – Nashville, Tenn.
July 8: The Masquerade – Atlanta, Ga.
July 26: Old Rock House – St Louis, Mo.
July 27: Shank Hall – Milwaukee, Wisc.
July 28: Limelight Eventplex – Peoria, Ill.
July 29: Route 33 Rhythm & Brews – Wapakoneta, Ohio
July 30: Grand Victoria Casino (with Lynyrd Skynryd) – Elgin, Ill.