By Chris Krepich
Photos by Alex Seeley
WILKES-BARRE — Ex-Kiss Spaceman Ace Frehley landed at the F.M. Kirby Center in downtown Wilkes-Barre Friday night to deliver fan favorite Kiss classics, but his show was cut short when he wound up in a hospital due to dehydration and exhaustion.
After a solid, straightforward set of Kiss hits and his own solo music, the 65-year-old ax man and company failed to reemerge for a much-anticipated encore, which, during this tour, has included rocking Kiss staples "Detroit Rock City" and "Deuce." Frehley was admitted to Wilkes-Barre General Hospital after he experienced "exhaustion and dehydration," according to Frehley's Facebook page.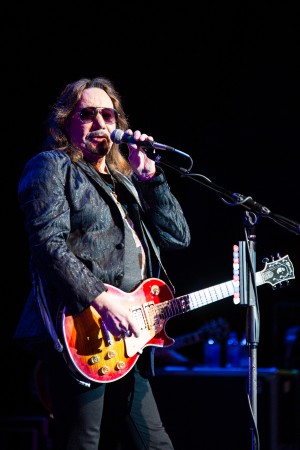 Frehley's show scheduled for Saturday in Poughkeepsie, N.Y., was canceled to allow him to recuperate and recharge for a September tour, which is expected to include a rescheduled Poughkeepsie date.
While fans seemed disappointed by the truncated show, they were still enthusiastic throughout to witness the former Kiss lead guitarist perform a handful of Kiss-fan favorites.
There was no makeup, tongue gyrations or inciting pyrotechnics, but there was that signature Ace sound.
Earlier in the day, Frehley was at the FYE music store near Wilkes-Barre to sign autographs and promote his new album, "Origins Vol. 1," released the day of the Kirby show. The album is a collection of cover songs from artists such as Jimi Hendrix, Cream and The Rolling Stones, and Frehley and his band included a cover of Thin Lizzy's "Emerald" from the album at the Kirby.
Despite having last played with Kiss 15 years ago, it was the classic Kiss songs that resonated most with the aging crowd at the Kirby, along with Frehley's own solo tunes recorded during the Kiss era.
Frehley opened the Kirby set with his popular "Rip it Out," followed by "Toys," the only song he performed from his 2014 album, "Space Invader."
He followed that up with a trio of Kiss songs — "Rocket Ride," "Parasite" and "Love Gun," the third of which featured drummer Scot Coogan on vocals.
The Kiss covers were as well done as you'll see at any Kiss show, possibly better given the musicians on stage.
"Back in 1976, I recorded my first solo album," Frehley said before launching into "Snowblind" and "Rock Soldiers."
A bass solo from Chris Wyse included a "God of Thunder" tease — minus the blood spitting and elongated tongue.
"New York Groove" and Ace's anthem, "Shock Me," satiated the crowd leading into a Frehley guitar solo on his signature smoking Les Paul guitar — minus the flames he employed with Kiss.
The guitar icon ended the night with a rocking version of Kiss's "Cold Gin."
Then, the crowd was left to wonder why there was no encore.
That said, for any Kiss fan, the show was not a washout.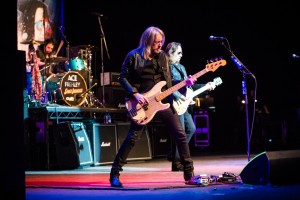 Ace showed few signs of struggling on stage during the show, although, at one point, he seemed to wobble and took a seat briefly. A song or two seemed a bit slow on tempo, leading one to wonder if Ace was having a hard time keeping up or if he had consciously sedated the pace.
Either way, he soldiered on, delivering the blazing guitar and straightforward rock he's known for in a solid set with long-time guitarist Richie Scarlet by his side.
New York's Kill Code opened the night with a solid, tight set of rock.