Scranton celebrated the Irish with its annual St. Patrick's Parade on Saturday, March 14 and Highway 81 Revisited's newest base of operations, New York City, will continue the march that started in 1762 – 14 years before the Declaration of Independence – today. While everyone knows "bigger is better," Highway 81 Revisited believes in rooting for the little guy – in this case, the "World's Shortest St. Patrick's Day Parade," at An Beal Bocht in the Bronx.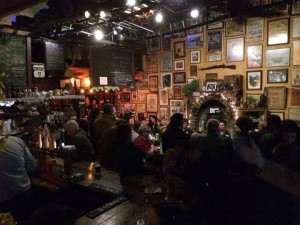 An Beal Bocht is a cozy bar that originated as a café in 1992. Home to a weekly open mic night, An Beal Bocht is owned by Tony Caffrey and Dermot Burke, who also own Le Cheile in Washington Heights, The Scratcher Sessions in Manhattan and the famous Lower East Side venue, Arlene's Grocery.
On March 17, 2013, the merry folks gathered at An Beal Bocht had a 10-person parade that basically went out one door and in another. The proclamation of being the shortest sparked a friendly competition with the parade in Hot Springs, Ark., where "The First Ever Twelfth Annual World's Shortest St. Patrick's Day Parade" will take place today.
Highway 81 Revisited spoke to An Beal Bocht's 2013 grand marshal, Pat Harper, about Irish music, Irish pride and why being short isn't such a bad thing.
H81R: When An Beal Bocht opened, was there an immediate interest in music or is it something that just happened over the years?
PH: Initially it was readings, not so much music. As it evolved, a liquor license was obtained and music started to be a big part.
H81R: How did the parade get started?
PH: In 2013, as a joke we decided to have it as a little thing. My only involvement was to be the grand marshal and the entire event lasted five minutes and had about 10 marchers. I saw greater potential.
In 2014, I suggested that we make it a charity event, and that we promote it as a tongue-in-cheek conflict with the Hot Springs folks whose long-running parade was 98 feet long, hosted by celebrities and attracted 25,000-plus. This is a big money-maker for their community. In contrast, the World's Shortest St. Patrick's Day (so named as part of the challenge to Hot Springs) was 47 feet, from one door of the café (to the other).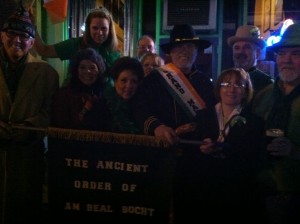 H81R:  Starting with the second year, the parade raised money for charity?
PH: Yeah, we raised $2,300 for an organization based in Yonkers (adjacent to Riverdale, Bronx) who was well known for their community outreach. They are focused on the Irish immigrant community but have expanded to serve the community as a whole. One program they have run since 1990, The Irish Volunteers, comprises of 40 to 45 volunteers. They prepare food and beverages at the Aisling Irish Center every Monday night. Transport is very kindly donated by Break for the Border. The food is then taken to various locations in the city every Monday night and handed out to approximately 300 homeless people.
H81R: How are the funds raised?
PH: Last year I came up with the idea that we could sell sponsorships for each foot of the parade route. We printed up "feet" and sold them for $25 a foot, but to entice everyone to donate, we offered the ability to purchase a "toe" for $5.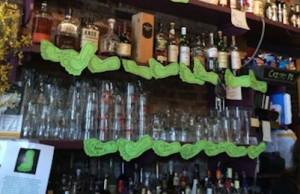 In addition, An Beal Bocht donated.
H81R: Who participates in the parade?
PH: We welcome all comers, but mostly it becomes a bit of the day's party with everyone in the bar invited to march. A group of core regulars and parade organizers are highlighted with sashes and such.
H81R: When is the parade and how can people get involved or view it?
PH: The day-long festivities will begin at noon on March 17, 2015, but the parade kicks off at 8 p.m.-ish. People can purchase the sponsorship of feet anytime up to and including March 17. People can just come to the bar for the party and, if they desire, they can join the parade.
H81R: Is there music during the party?
PH: There is always music, that day even more so. There will be live entertainment provided by Mary Courtney's Morning Star. This is a traditional Irish trio. While all members are Irish-born, they are now Bronx-based. The trio includes world-known and world-class musicians. They will be playing from 6 p.m.-ish until late.
Mary is a friend as well. She plays solo at An Beal Bocht every Friday from 6 p.m. to 8 p.m.  No joke, she is one of the most talented singer/guitar players I know – and a wonderful human being besides.
In addition, there are various bagpipe, fife and drum groups that are expected to make an appearance.
H81R: How did you find out about the parade in Hot Springs?
PH: Simple Google search!
H81R: How was it settled that An Beal Bocht has the shortest parade?
PH: We settled it! (laughing) And, until challenged, it will stand as such!
(According to a 2014 article in New York Daily News, CEO of Visit Hot Springs Steven Arrison said, "What they [An Beal Bocht] did was wonderful but we still hold the title." Doesn't sound very settled!)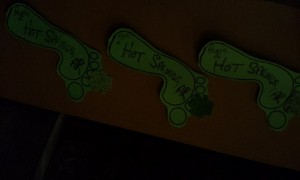 H81R: Any interest in making it official, like with Guinness World Records? 
PH: As this is only the second year that we've been a bit more serious, we have not gone that route yet, and there are many folks who use the title. But stay tuned for next year, as an attempt to get certified might be a press-worthy event in itself!
By the way, City Councilman Andrew Cohen (D-Riverdale) commended the good work of the watering hole with a proclamation from the city!
For more information about An Beal Bocht's parade and party, check out the event page on Facebook.