Drive-By Truckers and Bob Weir are both streaming their upcoming albums via NPR First Listen. The Truckers' 11th album, "American Band" and Weir's "Blue Mountain" will both be released on Sept. 30.
Writing about "American Band" on NPR, Lars Gotrich says:
American Band lives up to its name in how it digests, understands and challenges the notions of what it means to be American. In short, it's complicated. In the band's ambition to be current, to speak hard truths without metaphorical tangles, American Band is still remarkably nuanced in its quiet and not-so-quiet anger. This is and has always been Drive-By Truckers' creed. Now, it's time to challenge the audience that always took "the duality of the Southern thing" for granted.
Click here to stream "American Band" on NPR.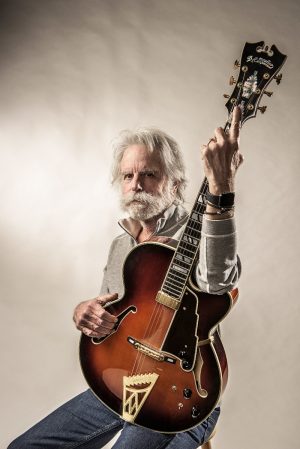 The legendary Grateful Dead singer and guitarist Bob Weir's "Blue Mountain" is his first album of original material since 2000's "Evening Moods," the lone studio album he's released with his group Ratdog. The new album is a self-described collection of cowboy songs inspired by Weir's teenage years working as a ranch hand in Wyoming. While the album draws its character from a bygone time, the 68-year-old partnered with some much younger musicians, including Josh Ritter and members of The National, to record "Blue Mountain.
Writing about "Blue Mountain" on NPR, Felix Contreras says:
Now, fans can take a step back and admire Bob Weir for the extremely gifted songwriter he's become. Hiding behind that post-Dead beard is a poet laureate of deep thinking and whimsy. His voice has taken on a character that finally replaces the forever-young, fresh-faced heartthrob fans knew so well, but even with age, he sounds as good as ever.
Click here to listen to "Blue Mountain" on NPR.
Stanley "Buckwheat" Dural Jr. Passes Way
Stanley "Buckwheat" Dural Jr., the leader of the band Buckwheat Zydeco, died at age 68 early Saturday morning, according to The Advertiser. He had lung cancer.
From The Advertiser:
For more than 35 years, Dural exposed zydeco to more people on the planet than any other artist. His band's music has been heard by millions, from high-profile gigs that included the Olympics, presidential inaugurations, national TV shows and hit movies, like "The Big Easy," "Fletch Lives" and "The Waterboy."
Ted Fox, Dural's personal manager since 1968 and a frequent musical collaborator with him, told The Advertiser:
"Many people in Louisiana know that Buck was a musical legend and the preeminent ambassador of zydeco music," said Fox. "For others around the world, if they got into zydeco music, or felt its influence, or watched the world celebrate this great aspect of Louisiana culture over the past 30-plus years, it's likely been because of Buckwheat Zydeco.

"Whether performing on the final episode of 'Late Night With Jimmy Fallon,' or on the Letterman show many times, or in the closing ceremonies of the Atlanta Olympics, or at President Clinton's inaugurals, or with Eric Clapton, Paul Simon or Willie Nelson, Stanley Dural Jr.'s musical genius and genuine warm, welcoming personality carried the banner for zydeco and Southwest Louisiana's Creole community.
Read the full piece on The Advertiser by Herman Fuselier here.
On Highway 81 Revisited
In case you missed it on Highway 81 Revisited….
The inaugural Outlaw Music Festival, headlined by Neil Young + Promise of the Real and Willie Nelson, hit Montage Mountain in Scranton last Sunday. By all accounts, including Highway 81 Revisited's Michael Lester, Young's fiery set was the highlight of the day.
'OLD MAN' NEIL YOUNG'S EPIC SET HIGHLIGHTS INAUGURAL OUTLAW FEST
J. Alan Schneider, who recently released his first solo EP, "Lo & Behold," debuted a Proving Ground Sessions video of the EP track "Arkansas" via Highway 81 Revisited.
EXCLUSIVE: J. ALAN SCHNEIDER PREMIERES 'ARKANSAS' VIDEO IN ADVANCE OF EP RELEASE SHOW AT PIANOS