A glance at Stuart Bogie's resume reveals a musician willing and able to take on any genre, highlighted by a broad range of recordings with everyone from Taylor Swift to Arcade Fire to Run The Jewels to Medeski Martin and Wood. The Brooklyn-based composer and multi-instrumentalist, however, had a specific goal for The Bogie Band featuring Joe Russo and its soon-to-be-released debut album, "The Prophets in the City," out March 25.
"I felt compelled to make music with winds and drums," says Bogie, known for his work on saxophone and clarinet.
The city in the title is New York, Bogie's adopted hometown after growing up in Illinois and attending University of Michigan. In the nine tracks with titles like "We Met Them By The Water," "Walking with the Holy Fools" and "The Struggle," he says he was trying to express "essentially things that I can't say in words that you will find in the music."
"There is a saturation of movement. And the interlocking rhythms of different parts and different musical themes, and by saturation I mean there's this feeling like you cannot cram anything else in the song."
The seed of inspiration to write instrumental music that evokes a specific place was planted decades ago, when Bogie studied the William Schuman piece "George Washington Bridge," which was inspired by Schuman's drives over the bridge to Julliard, where he taught.
"It had a tonality and approach to sound that never left me. I didn't go back and listen to the music since I was 15, but after the music of 'Fela!' and all the different kinds of music I had worked on, I came back to it and I found that it had never left me," says Bogie, who was a featured soloist in the Fela Kuti Broadway show "Fela!" "It had influenced all kinds of work that I had done."
Bogie has known Russo, who leads the Grateful Dead tribute band Joe Russo's Almost Dead (JRAD) and first gained attention with the Benevento-Russo duo, for more than 20 years. As Bogie put together material for "Prophets in the City," he knew he needed Russo to realize his vision.
"I definitely overworked my pitch. I was scared to play it for him," Bogie says of his early demos. "I knew that if he was into it, he'd be perfect for it. I felt like a director. I felt like I was Coppola, and I gotta get Brando, I gotta get Brando! Meanwhile, Joe would have said yes, but I worked myself into this. We were backstage at a JRAD show and I played it for him. Thirty seconds in, he said, 'All right, let's do it, book the studio.'"
The 9-piece band will perform Thursday, March 24 at Brooklyn Bowl Philadelphia and Saturday, March 26 at Brooklyn Bowl in New York. Chris Harford and Band of Changes are on the bill both nights.
For the album, Bogie reached out to some of New York's best horn players he knows form his membership in Antibalas and his various session and live work. They include Michael Leonhart (Steely Dan), Dave Guy (The Roots, The Dap-Kings, Antibalas, Amy Winehouse), Ian Hendrickson-Smith (The Roots, The Dap-Kings), Cochemea Gastelum (The Dap-Kings), Dave Smoota Smith (TV on the Radio), John Altieri (St. Vincent), Eric Biondo (Antibalas), Jordan McLean (Antibalas), Adam Dotson, Matt Bauder (Arcade Fire) and Colin Stetson (Arcade Fire).
Bogie and Stetson, one of his closest friends, go all the way back to college orientation at Michigan. "There's lots of band at that school," he says with a laugh.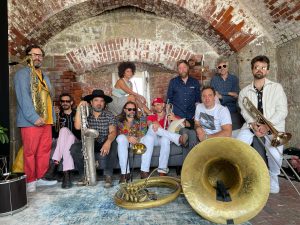 A few hours after we spoke with Bogie, we saw him perform with Arcade Fire during the band's first pop-up Ukraine benefit show at Bowery Ballroom. He says he sent some music for the band's upcoming album, "WE," but doesn't know if it's on the finished product.
"I met over half the band when they were on their first tour of America," he says. "They were the first of three (acts), it was them, then Chromeo, then The Unicorns. This was all happening in a small room, and upstairs was a bigger room where Anitbalas was headlining. I came down during soundcheck, and they seemed cool. I stayed for a few songs. Man, the first song they hit just blew my hair back. They were opening up with 'Wake Up.' I was just like, holy shit, I knew right away. I felt it in my heart — I may not be going upstairs, I want to join this band right now. I put this wish in the air."
Years later, he played on the band's "Reflektor" album and on the tours for "Reflektor" and "Everything Now."
"It was unique, and I'm deeply grateful to have that experience, and I miss it and I can't wait to do it again," he says. "They have such a wonderful, smooth artistic and business operation that needs are met. In our business, we have to bill every single day we work. We have to be specific, it's ridiculous. But when you work for a group like the Arcade Fire, things are taken care of. To not worry about it is huge. Also, they can take the time to work on things the way they work on things. To get to be a part of that process — they are brilliant. Each person contributes very special things. Win (Butler) and Regine (Chassagne) head the thing up, and they're brilliant people, and it's wonderful to be near them. They've shown me a lot of love."
Last October, Bogie had another revelatory musical experience when he performed as a member of Grateful Dead bassist Phil Lesh's band Phil Lesh and Friends at the Capitol Theatre in Port Chester.
"Everybody's relationship with Grateful Dead music is a long story, but it took me a couple decades to get it," he says. "I started out like a lot of people: I kind of liked the songwriting aspect of it, but the improvisational stuff didn't really click with me until I met my girlfriend, who is a total Deadhead, and I listened to show after show after show." He says he became particularly enamored with Lesh's playing, so he was thrilled to play the gigs when Russo, who played those shows as well, made the connection.
"I wish that we were doing more," he says. "It was wonderful. The music can play out in so many different ways. The dice roll as they do, and you find yourself saying, 'Let me roll one more time.'"
Photos by Mark Dershowitz