In 2005, Hurricane Katrina battered the South, Pope John Paul II died and Kanye West released "Late Registration." Meanwhile, six teenagers in Delaware who had been writing songs together for some time released their first proper album as The Spinto Band, "Nice And Nicely Done." The indie-pop record became a fan and critical favorite, led by the catchy, mandolin-driven single "Oh Mandy."
On June 16, venerable independent label Bar/None will release a 2-LP deluxe edition of "Nice And Nicely Done," including a bonus disc of outtakes from the album sessions. You can hear the debut of the outtake "Kind Of A Girl" below.
The band's primary songwriters, Nick Krill and Thomas Hughes, have been keeping busy since the group's last official show in 2013. Krill has co-produced and toured with Clap Your Hands Say Yeah and recorded with The War On Drugs on its new album, "A Deeper Understanding"; you might have seen him performing with the latter band last week on Stephen Colbert's show. And the group Teen Men, which includes Krill and fellow Spinto member Joe Hobson, recently completed a new album. Hughes and Gretchen Lohse, meanwhile, released a debut "bedroom pop" album as Carol Cleveland Sings. With the imminent re-release of "Nice And Nicely Done" and coinciding Spinto Band shows on July 14 at Boot and Saddle in Philadelphia and July 29 at Rough Trade in Brooklyn, we chatted with Krill.
Tell me about the process of putting together the re-issue.
The whole band was involved. The main sort of spark for the idea was that the record never came out on vinyl in the States, it only came out on vinyl overseas. And then we started talking to Bar None about, man, it would be cool to do like a bonus deluxe anniversary edition. From there we were spitballing ideas, mostly ideas to do the bonus rarities outtakes disc. One the idea was in the cards, we all just sifted through old stuff and picked out songs.
What was it like going through the outtake material?
There was definitely a lot of, "whoa, man," as soon as you heard it. If you asked me the day before, I'd say I don't know what you're talking about, but the minute it came on… A lot of those songs, almost all of them from the outtakes, even some from the actual records, had been written as far back as high school. It's kind of crazy hearing those songs again.
How old were you guys when you recorded "Nice and Nicely Done"?
I was 17. Other guys were younger, like ages 13 or 14 to 16 and 17.
What memories does revisiting this album bring back?
It's actually funny, the biggest memory coming back when we got back together to rehearse for some concerts was playing thru the songs, I realized, oh man, you could tell I was insp by this guy or that guy, but back then I don't ever remember thinking that. Oh, this reminds me of a Nick Lowe song, but I know back then I was listening to Nick Lowe but I definitely never in my mind was thinking this is a Nick Lowe tribute. But it's funny, now I can hear that. It was seeping through even though I wasn't admitting it to myself.
Listening back, are there any things you would have done differently?
Oh yeah. Totally. Lots of 'em. Particularly there on the outtakes, there is a lot of that. Some of it definitely felt like it didn't fit or felt very high school, and even on some of the stuff that made the record. Just playing it through again, I don't feel right singing some of this stuff. I can't; me now singing this feels weird. To hear a mid-30s guy singing that, no one needs to hear that.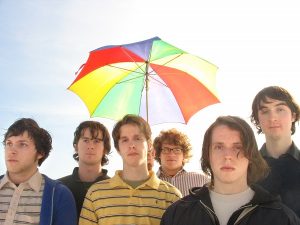 This really was a pivotal album in The Spinto Band's career. What did it change for the band?
It definitely made music a full-time thing. I mean, I guess in hindsight, I can definitely see how that is the pivotal. At the time, it felt like a natural progression. We were in a band, playing in basements and then clubs and then bigger clubs and touring. This is what's supposed to happen. Obviously, it was a lot bigger jump than it felt like then. …
Maybe more than anything, it just pushed me. It was like, now it's time to hustle.
Did you realize "Oh Mandy" would be a special song when you wrote it?
(Laughs) Yeah. I remember really liking it. I remember recording the demo and listening back and thinking, wow, awesome, this feels really great. I never in my wildest dreams thought it would be as big as it was. I didn't think about that. But I do remember feeling good about that.
Are you sick of playing that song?
We play it every show. I don't think I'm sick of it. That one holds up. I like playing it. And it's kind of fun to relearn it. I feel like I'm playing it a little differently. I don't know if anyone else has noticed. Just changes in how I'm playing the chords. I'm happy to be playing that one.
Are there new Spinto Band recordings in the works?
Not at the moment. We'll see about that. For right now, we're just focusing on these shows and the reissues.