Sonny Smith is certainly a polymath: Musician. Playwright. Multimedia artist. A guy who can seamlessly work the phrase "Edward Scissorhands of the wang" into an interview.
His current endeavor is "Moods Baby Moods," the sixth full-length release from his band, Sonny & The Sunsets. It's a collection of tunes ranging from the socially conscious ("White Cops on Trial") to the absurd ("Well But Strangely Hung Man"). The San Francisco-based Smith worked with producer Merrill Garbus (aka tUnE-yArDs) on "Mood Baby Moods," which was released in May on the Polyvinyl label. (You can stream the entire album on YouTube, via Polyvinyl, here.)   
We recently interviewed the San Francisco-based Smith via email in advance of Sonny & The Sunsets' upcoming show at Baby's All Right in Brooklyn.
TICKET GIVEAWAY: Want a chance at a pair of free tickets to see Sonny & The Sunsets on Friday, July 15 at Baby's All Right? Email info@highway81revisited.com with the subject line SONNY'S ALL RIGHT. Please include your full name in the body of the email.
What was your goal going into the making of "Moods Baby Moods"?
To make some new shit and surprise ourselves, stretch new ideas…
Were you looking to consciously incorporate more dance/New Wave-type sounds this time around?
Sorta. More we just wanted to play with drum machines, and so it comes out a little more dance. But yeah, Nile Rodgers, Orange Juice, ESG, we have lots of influences.
Were you writing with those new sounds in mind, or was it more a matter of writing the songs and then taking them in that direction?
Stories come first, and a few skeletal chord ideas, maybe a melody or two, then the musicians bring it to life.
What impact did Merrill Garbus have on the album?
She had a great impact. She reigned in a lot of scrappy ideas and provided some clarity when I would get a little lost. Really great help.
What inspired "Well But Strangely Hung Man"?
Just found myself writing a story about a kind of Edward Scissorhands of the wang. I was writing a comic book character, and it came to life through song.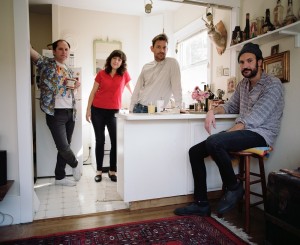 What was the intention behind "White Cops On Trial?"
To make a basic indictment of our racist judicial system.
With "White Cops," was part of the idea to set serious subject matter to very upbeat music?
It wasn't an idea going in, it's just one type of song. It's sarcasm, and irony, slapstick. Many artists have tread similar waters, from Mark Twain to Randy Newman.
How would you describe your current live show?
It's more sped-up punk versions of our tunes
Tell us about the current band lineup.
The undeniable Shayde Sartin on bass, the unequaled Richard Gowen on drums and the ever- elegant Tahlia Harbour on guitar and harmonies.
Has the band's revolving lineup been by design, or is that just a product of who's available at the moment?
Meh, perhaps I get bored easily or perhaps I am a searcher and also I have supported musicians to go on to other projects when they need to.
How has your theater work influenced your songwriting?
Dialogue, narration, space.
The 100 Records project was really unique and interesting, and also quite a bit of work, I'd assume. What was that process like for you? What did you get out of it? And would you be interested in revisiting/adding to it at some point?
It was the best two years of my creative life, every day I hacked away at it, and everything I touched, saw or felt had a place to be expressed in that project.
I will do a sequel someday!
Learn more about Sonny Smith's 100 Records project here.
Describe the process of working on the "Well But Strangely Hung Man" video. How involved were you with the creation of the video?
Me and Loren [Risker] banged it out, we made it up as we went.

What other videos will you be releasing from "Moods Baby Moods"?
"White Cops" has a vid about all the SFPD shit going down in SF.
Are there any other projects or collaborations you're working on, or will be working on, in the near future?
Next record.
Who are some people you have not worked with yet that you'd like to collaborate with?
Angel Olsen, Dick Diver, Pusha T.
What type of music did you listen to growing up?
Def Leppard, Thompson Twins, shit like that
At what point did you realize you wanted to do this for a living?
I never realized it yet.
What's the best album you've heard in the past five years?
Frank Ocean, "Channel Orange."
What the best show you've been to in the past five years?
Os Mutantes reunion in Australia.