Review and photos by Keith Perks
Primus set out on tour recently paying homage to one of rock's most influential bands, Rush. With almost 50 dates on the tour, the band is making its way across North America with stops in Texas, Florida, Pennsylvania, Ontario, Vancouver and ending in Las Vegas. Opening on various dates are Battles, Black Mountain, and The Black Angels.
Starting in 1984 in El Sobrante, Calif., Primus became a power trio of alternative, funk, progressive and pretty much anything weird. The band had a significant rise in popularity in the '90s, releasing six albums including fan favorites "Frizzle Fry," "Sailing the Seas of Cheese" and "Pork Soda."
With bassist and frontman Les Claypool admitting the late '90s was an "unhappy" time in the Primus camp and his own "creative stagnation" affecting the writing, the band took a hiatus. Each member went on to do their own creative projects including Claypool's Oysterhead with Trey Anastasio of Phish and Stewart Copeland of The Police. Luckily, that hiatus didn't last too long and in late 2003 Primus reunited for a 5-track EP. Since then Primus has released three LPs, "Green Naugahyde," "Primus & the Chocolate Factory with the Fungi Ensembl," and "The Desaturating Seven."
In the 2000s the band had several successful tours, including stints with Tool, Clutch and Mastodon. Primus always had a love for Rush. Primus was planning to set out on its "Tribute to Kings Tour," which would find the fellow power trio playing Rush's fifth studio album, "A Farewell to Kings" from 1977. This was the release that found Rush breaking into the US market with the success of the single "Closer to the Heart."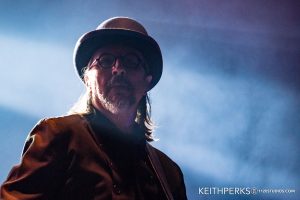 Rush was considered heroes to the members of Primus since their teens. They opened for Rush in '92 and during that tour, they became friendly with the influential prog-rock Canadians. Originally scheduled for 2020, the pandemic forced Primus to reschedule its Tribute To Kings to 2021, with the second leg in 2022, which made a stop in Bethlehem, Pa., at the Wind Creek Event Center on May 25.
Battles, an experimental rock group founded in New York City in 2002 by Ian Williams (Don Caballero, Storm & Stress) and John Stanier (Helmet, Tomahawk, The Mark of Cain) opened on this portion of the tour. Battles are considered one of the most innovative "math rock" bands of the '00s and '10s.
Both Williams and Stanier impressed the crowd with their experimental rock set playing songs such as "The Yabba," "A Loop So Nice…," "Sugar Foot" and "Atlas." Their set was energetic, colorful and surprising, and it showcased the members' technical playing and precision. These two sounded like a digital rock circus performing songs that made you feel like you were in a video game or movie…or acid trip.
Primus hit the stage to a ferocious crowd starting off its first set with "The Heckler." Primus — Claypool, guitarist Larry LaLonde and drummer Tim "Herb" Alexander — played eight songs, including "American Life,"  "Conspiranoia" (its first new single in five years) and "Shake Hands with Beef" before taking a brief intermission.
Primus came back out for the second set playing all six songs of "Farewell to Kings." It takes a talented and technical band to play Rush songs, and Primus executed it with ease. Claypool did comment about hitting some of Rush singer Geddy Lee's high notes and requested a little help from the crowd, to which they happily contributed.
The encore consisted of "Wynonna's Big Brown Beaver," "Follow the Fool" and ended with a medley of three fan favorites: "Welcome to this World, "My Name is Mud" and "Jerry was a Race Car Driver."
Thousands showed up to support a band paying tribute to one of their favorite bands and it was as fun as you would expect it to be. It was loud, it was weird, it was chaotic…it was Primus in full glory. It was a culmination of where they came from, what influenced them, and it also highlighted the talent they possess and how truly important they are to our generation's music. From their early days of the Kennel Club, to Lollapalooza, to its own headlining tours, Primus are gods of the avant-garde and the strange, and they'll go down in history as one of the most influential bands, just like the one they paid tribute to on this tour.