Words, photos and videos by Keith Perks
Practice spaces are in buildings, warehouses and homes, and they are where bands create and perfect what you see and hear on stage every weekend. I want to show you where bands practice and delve into what makes them tick. It's a warts and all documentation of sweaty, smelly loud rooms with lots of posters, chords and beer cans.
The focus of Session Two is Clyde Rosencrance, who performs as Sleeplore. Click here for Session One with American Buffalo Ghost.
Keith Perks: For those that don't know you, fill us in on your background and music experience within our local scene. How did you start out and what lead you to Sleeplore?
Clyde Rosencrance: I've been involved in music for quite a while. Back in high school I had a few garage bands, one of which got pretty serious and grew really quickly called The Magdalyns. We were sort of college rock and influenced by a lot of early alternative and grunge stuff. We did a national college radio campaign and ended up charting on the CMJ charts. I began recording music on my own sometime in the early 2000s on a 4-track cassette recorder really because I was writing music and forgetting it by the time I'd get to the practice space. I did some demos for local bands and ended up working as an assistant at a local commercial studio. That was a lot of fun and I learned a lot, but it was also a bit draining creatively. I did get a few really great gigs out of that, however. One was a band called The Collective, which was one of the biggest cover bands on the East Coast, playing hip-hop and R&B. Another was a band called OurAfter, which I was asked to join after playing a big role creatively in the studio while recording the first album. Notable members from that also played in that group include Aaron Bruch and Chad Szeliga from Breaking Benjamin.
Since then I've freelanced and produced/recorded dozens of bands. I have done a lot of that either in other studios or "found spaces." Several years back I decided to set up a home base for my production work and called the studio Republic Audio, where I've worked with tons of artists from around the world, and even won "Studio of the Year" and people's choice for "Producer of the Year" at the 2020 Steamtown Music Awards, a local awards ceremony.
KP: Since those early days, how has your writing style changed? Both lyrically and musically.
CR: I like to think it has gotten better, but sometimes I have doubts when I go back and listen to early recordings. There's something charming about approaching songwriting from a more guttural place as opposed to a place of experience. Regardless, I think one major change has to be in terms of production style. I've learned and experimented a lot over the years, and while I still try to approach everything as open as possible, I think it's easier for me to achieve a certain sound if I'm after something specific.
Lyrically, most of what I write has very little intention behind it from the get-go. I usually will just hum out something or find some words that are phonetically pleasing to start. Many times they actually stick. I will say that this year I've written a few songs with a lot more intention behind them, really trying to push myself to be a better songwriter. Those will be in a new batch of songs, but I'm incredibly excited to share them.
KP: You play several different instruments. Which is your favorite and why? Which is is the most challenging?
CR: Guitar is definitely my favorite because it's the first instrument that stuck with me, and I feel I can get the most expression out of it. I'd say the most challenging is likely keyboard/piano. I really never learned how to play properly and do it all by ear. I usually play some simple ideas I have in my head, but anything elaborate I'll usually call on a friend for help with.
KP: Did learning a new instrument make you change the way you played any others?
CR: Definitely. I think understanding how the instruments can fit together, complement or contrast each other really helps. It's also a really great skill producing music as well, even if I can't play the instrument the artist may be using. Knowing how it's going to fit into the overall production really gives great perspective and helps me see the end before it's fully realized. Understanding arrangement and composition is so important.
KP: You've been working on these songs little by little for quite sometime. Your upcoming single was written 15 years ago. What was it like revisiting that song after all that time?
CR: It's a lot of fun actually. Some of these tracks sound very different from how I'd approach things today. I could certainly redo them, and I've done a small amount of that where I felt it was an improvement, but some of these different sounds and imperfections are what make the music, so I like that they are there and I'm letting them live as that. It's also fun to see how far I can push some of these tracks to see if they'll conform to what I hear in my head. For example, the drums on "Ten Summers Ago" were recorded in my parents basement with really cheap equipment. I think they sound great! Really different. There's also a shaker on that song that was actually a container of quinoa, because at that time I didn't have a shaker – so I improvised. It became one of my favorite elements.
KP: We've spoken before about this project and '90s bands were brought up as reference. People have also commented that your songs have a '90s feel. Why do you think they get that comparison?
CR: I think part of it is that I was heavily influenced by a lot of bands from the '9's or bands that influenced those bands. But I also think another part of it is the approach I take to the production. I don't default to "correcting" everything I record. There is a completely different expectation that exists today with many newer artists that it will get fixed in the studio by the producer or someone in a technical role. A lot of the music being released today is very sterile to me. I think when you take away all of those rough edges, you are taking the life and the uniqueness out of the music. I tend to like at least some of that because so many of the records I grew up on had it, and that's what made them what they were. Having said that, I'm not completely against using the tools at your disposal either. As an artist you should do what works for you to help you achieve your sound. I personally don't care for the perception that everything needs to be "perfect."
KP: How long has Sleeplore been in the works and how did you come up with the name? How does it represent your music?
CR: The concept of this music has been in existence for years. When I was recording a lot of this music I never had a specific intention. It was really just an outlet at any given moment. The idea of putting some of these tracks out there under a name or a project really started to get some traction a few years ago when I pulled out a few of the tracks and started to make a list. The list has changed so many times, and there are many songs that haven't appeared yet, or maybe never will for this project. I think the songs I've chosen so far do have a commonality.
Coming up with the name was one of the hardest parts. I really wanted something that was one word and didn't really have a specific literal meaning. I wrote names in a notes app for years. Sometimes I'd come across something that struck me and I'd add it to the list. Other times I'd sit and think about it. One day last year I sat down and decided that I had enough to chose from I just needed to pick something and go with it. There were a few contenders, but Sleeplore ultimately won.
To me it can have several meanings. The lore of sleep, as in I don't get a lot. Sleeplore like a dreamy state. Or really whatever you make out of it. I think it's open for interpretation and I like that. Like a good book, it leaves the listener room for their own creativity.
KP: The last year or so is a blur, but I believe we first spoke about this project around the time of the pandemic starting. Did you purposely get more serious with it then to give you something to do, or was this the plan for 2020 no matter what?
CR: I had the idea for quite a while, but it really did come to life during the pandemic. I stopped taking clients in person at my studio and was only working on remote mixing, mastering, session playing or other remote work. Because of that I had a bit more flexibility in my schedule. I decided to grab one song as a starting point and just see what would happen. I chose the song "Let Go" because it was really simple. As the first song, I sort of looked at it as a throwaway that I'd use to establish a presence. It turns out people really liked that one and I still get messages or people tagging me with references to it regularly.
KP:  How did Sleeplore act as an outlet for you during the pandemic?
CR: Well, I think that everyone needs a creative outlet. Music in general is my biggest. To have an outlet to be the main writer and be responsible for the overall vision is really the ultimate outlet. It is what you make it. Without the pandemic, I'm not sure I would have started releasing music and putting in the work that I did so I look at it a bit like a silver lining. I think we all have had those through out this time if we can just take a moment to slow down and realize it.
KP: In what ways was it beneficial to be doing this project during the pandemic and were there any ways that made it difficult to be working on it?
CR: It's been beneficial to have more flexibility in my schedule. Having regular 10-hour-plus sessions always made it hard to put in real time. Sometimes you need a large block of time to get into the mindset and find your flow.
What's been difficult is coordinating remote collaboration. It is easier than ever, but not everyone has the luxury of having a studio within arm's reach.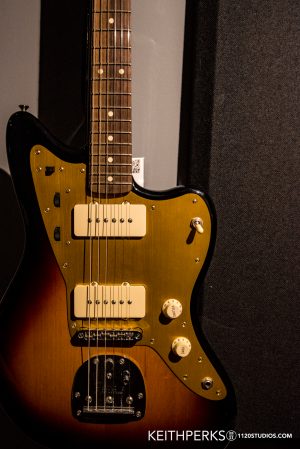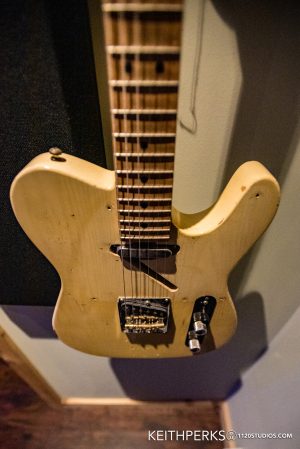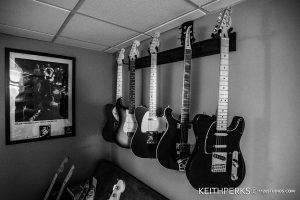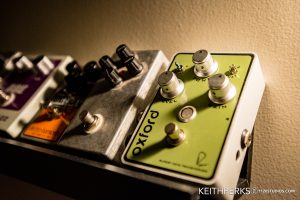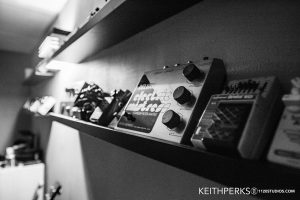 KP: This has basically been a solo project. You've played many of the instruments but have had some guest musicians. Any plans to play live with a full band at some point?
CR: It's funny I never really had the intention of playing any of this music live. So much of it really does depend on the production elements. However, I have had a number of people, ask and it's something I'd consider for the right audience and venue.
KP: Since these were mainly written, performed and recorded by you, what do you foresee as being the biggest issue transitioning these recordings into a live performance?
CR: I think the biggest challenge would really be getting the right people together to fill out the sound in the right manner. None of this music is overly complex, but there are a lot of subtleties that are intentional.
KP: How long has it been since you played out somewhere and where was it?
CR: I usually find a way to play at least a few shows a year, usually for more unique events. Last year I didn't play at all live. This year, I've done a few small events. I actually played bass a few weeks back at a beautiful outdoor venue in a remote location in PA that I've never been to before. It was just nice to be out and to play outside at such a cool location.
KP: Tell us a little bit about your "practice space." Where is it located? How long have you been there?
CR: My space is in Clarks Summit and it's my home base for all of my production work since 2017. It's set up as a functional recording studio with a ton of fun analog outboard gear and modern software, vintage microphones, guitars, drums, amps, pedals and a banana shaker. Pretty much everything you need to make a record.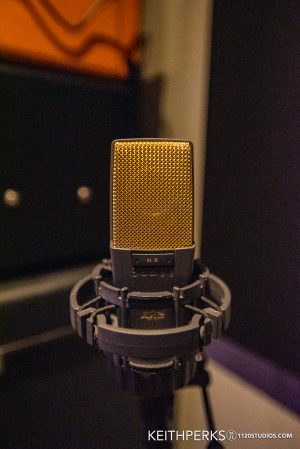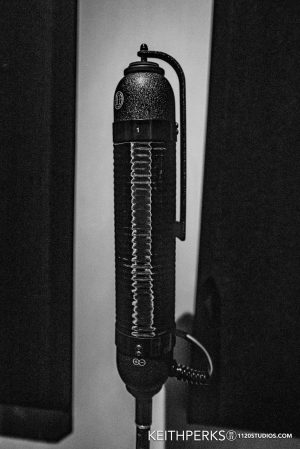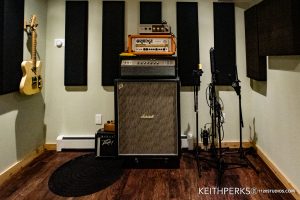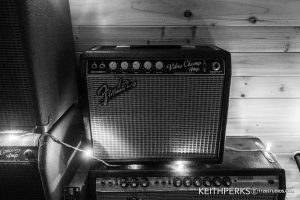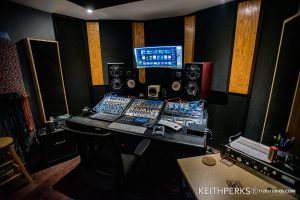 KP: Any memorabilia, posters or personal items that make your space more special to you and why?
CR: Honestly, most of it is just piles of equipment. I like to have things at my fingertips for when inspiration strikes. There are a few pieces that are special to me or that are my go-tos that I keep nearby. Aside from that, there are a few items around that are really neat, like a signed photo from when I met Brian Wilson, CDs from bands I've produced (when they were releasing physical products) or was in, stacks of old demo CDs that I'll pull out for inspiration, a print of an old Lackawanna Railroad train that belonged to my grandmother, and a poster of Billie Holiday that an artist I work with had framed for the studio for inspiration when she works here.
KP: How often do you practice?
CR: I don't typically sit down with the intention of practicing. It's usually more just playing for whatever production I may be working on. If there's a a part I'm trying to execute and can't quite get, I may work on it for a few days or a week to land it the way I want. I do practice for live performances usually though, but that's been a while.
KP: I've been in a many practice spaces and this is one of the nicer ones and that's because it's also space for your business, Republic Audio Studio. So you practice there, record Sleeplore there, and record other bands there. How long have you been offering recording?
CR: I've been working as a freelance engineer since around 2005. I've worked at other studios as well as a lot of remote or "found" spaces that I've setup for different projects. I decided that I needed to have a home base for a lot of the mixing work I was doing and decided to build a proper studio to use so I didn't always have to be carting equipment around. I had another space prior to this, but I built this space in 2017.
KP: What does the future look like for Sleeplore? Do you see this being more than a one release project?
CR: When I began this project I didn't want to be restricted to any specific plan. I will say that I have written a lot of material over the past year that I'm dying to share. Everything I've shared so far has been older material that I feel like I need to get out there to sort of feel liberated in a way. I don't see any specific end in sight, but I can say I have a lot to share and I think people will be really excited by what they hear over the next six months or so.
KP: Right out of the gate you started to get noticed and received great feedback. You were named one of the "100 Artists You Need to Know" by Alternative Press Magazine. That was the first time they featured that list in a few years. It was great they brought it back. What was it like hearing you were going to be on that list and how did you initially get word out there to get noticed so quickly?
CR: It was surreal, honestly. I just put one song out, that I thought was going to be a throw away, and it caught on. That first song, "Let Go," was also featured by Alt-Press earlier in the year, and when I saw that I was tagged in the author Elena's story on Instagram I sat there for what felt like an eternity trying to figure out if it was even legitimate.
Fast forward a few months and I received an email directly from their editor-in-chief, Paige, asking if I remembered their old "100 Artists You Need To Know" issues and if I'd be interested in being featured, and I was completely shocked. The wake I created with a few really simple songs that I had been sitting on was really starting to look like something. I still don't know exactly how they discovered me, but I'm so thankful that they did.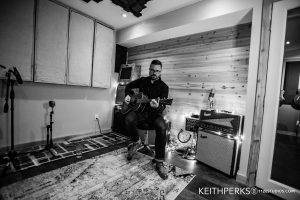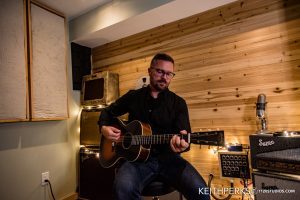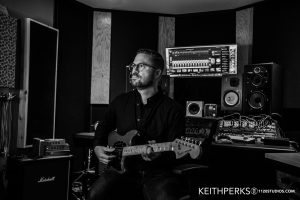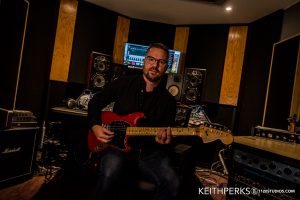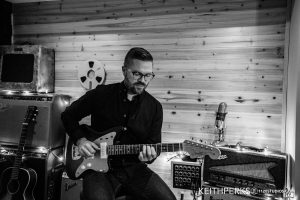 KP: A few people worked on this project. Who can we expect to see and how did they end up being a part of it?
CR: Yes, while I have been at the core, there have been several collaborators along the way.
Alan Hanczyc played bass on "Waited" as well as an unreleased song called "Easy." He and I have been friends and collaborators for many years. We're also working on a project called the Seventh Sea that will feature songs that he wrote along with a few collaborations. He played the bass on "Easy" when I first wrote the song and I remembered him having some ideas for "Waited" when I wrote it so asked him to write a part for that as well.
Timothy Zieger played piano and euphonium on "Waited." Tim and I started working together back in 2017 when he asked me to mix a beautiful record for him that he recorded in his shed called "North Light." With all of it's rough edges and technical imperfections, it's such a great record. I asked Tim to help me out on "Waited" partly because I wanted him to be a part of it, but also because I thought what he does would be a great addition.
Jeremy Twist played drums on "Ten Summers Ago." He was my drummer in The Magdalyns. He's an incredible drummer and some of the things he did on those Magdalyns records I still can't wrap my head around.
Anthony Resta played guitars, modular synth and some other fun things on "Just My Head," "Ten Summers Ago" and "Easy." Anthony, or "Ajax," is an incredible producer and writer. He has a litany of credits, including Duran Duran, Collective Soul, Megadeth, Elton John, Letters to Cleo and so many more. We became fiends out of a mutual admiration of each other's work. We first met out in Los Angeles a few years back on a trip I made out. I had an immediacy in the appreciation of his work. He has an incredible gift for taking a piece of music and making it sound like a great production by adding in subtle elements.
Stephen Martin played drums on "Easy." I've done a few collaborations with Stephen, and him being on this track was a byproduct of that. We were working on some of Alan's songs and since we were set up I asked him to play on a few of mine as well. The drums that are on "Easy" are from those same sessions.
Piotr Stanisz played strings on "Waited." I collaborated with Priotr and his bandmate Julia on a track they were releasing for a new project called Kare Lai earlier this year. I played some additional guitars and also mastered the track. Piotr reached out when he saw that I was working on strings for "Waited" and asked if I was interested in hearing what he might be able to add. The tracks that he sent really brought the mix to life. They brought a depth to it that really made it feel like a film score.
KP: What subjects do you like to tackle lyrically and why?
CR: I don't typically write lyrics with a specific subject in mind. Having said that, I think most of the songs I've released so far have an element of self-reflection. Some of it may be real-life experiences, but a lot of it is just what seemed to fit. I am a thinker so it makes sense to me that somehow that would come out in my lyrics.
KP: You've released four songs with one on the way. How many more songs will you be releasing as singles before the full length?
CR: Hopefully, not many more before you see the physical product. My intention was to get a few out as teasers and then get the group of them out together, but there have been a few delays along the way. Everything happens for a reason, though. Because of delays I've been able to go a bit deeper on some of the final tracks and also write a lot more new music that I'm working ahead on a bit as well.
KP: When can we expect a release date?
CR: For the EP, once the artwork is finished I'll be submitting it to production and it will be at the mercy of production timeline at that point. I have considered doing a pre-order as well, so that may come soon.