The sound of the Jersey Shore doesn't begin and end with Bruce Springsteen. Just ask singer/songwriter Nicole Atkins. Like the Boss, she takes '60s influences and makes them sound epic. Atkins' 2007 debut album, "Neptune City" (named after her hometown), introduced fans to her rich, elastic vocals and wistful songwriting. On her new album, "Goodnight Rhonda Lee," she dives headfirst into the sounds of pre-hip hop r&b. Fans of Shelby Lynne will love songs like "A Little Crazy" and the title track. Dreamy songs like "Sleepwalking" and "I Love Living Here (Even When I Don't)" would be a splendid fit on late- 60s/early-70s radio. "Goodnight Rhonda Lee" the work of an artist in command of her talents yet unafraid of baring her soul.

"A Little Crazy" was co-written with Chris Isaak. How did that collaboration come about?

I was working as a host on Sirius XM Spectrum. Chris was in the studio to promote his new album, and my supervisor knew we toured together, so she asked me to interview him. I hadn't seen him in seven years, and we picked up right where we left off. Afterwards he invited me out to San Francisco to write songs with him!

The song is reminiscent of Dusty Springfield. Are you a fan of hers?

I'm definitely a fan. Even more so of her songwriters like Dan Penn and the Brill Building writers.

"Goodbye Rhonda Lee" is described as "vintage soul." Can you give some background on the writing and conception of the album? Were you consciously aiming for a vintage flavor?

When I was writing with Chris Isaak, he told me that I needed to play to my strengths, which is mainly my voice. I also am inclined to write songs that have more of a classic vibe. Songs that you could imagine Sinatra or Orbison singing. So I took three years to really hone in songs that sounded timeless.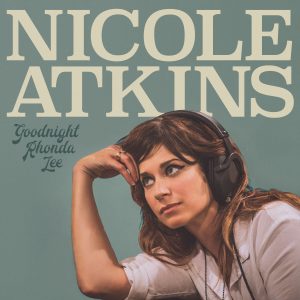 The album is quite diverse. Some songs are country-soul. Others recall Motown or Philadelphia International Records. Is there a particular era or sound in r&b that you're especially fond of?

I've always loved listening to '60s-era country, soul, and rock. Nuggets garage rock, Candi Staton, soul music that had a bit of a darker and more urgent bent like the Temptations. I love almost everything from that era. It stands the test of time and makes you feel.

"Colors" is a piano ballad that is very different from the rest of the album. Could you give me some background on that song?

I wrote the words and melody for that song after a particularly hard relapse from quitting drinking. It just felt like everywhere I went there was alcohol. Even the eye doctor was offering champagne with your visit. The seductive glow of the bottles. It was taking up too much energy in my brain, and that scared me. I wrote it while I was on the train and sent the VoiceNote to my pianist friend Dave Sherman. It was one of the quickest songs that came together on this album and definitely one of the most personal.

In recent years, you've put music out on your own label, Oh'Mercy! This album came out on an outside label, Single Lock. How did that come about?

When I moved to Nashville I was invited down to Florence, Alabama, to play at Mobile 116. I really loved it down there and felt connected to the place. Matt, the venue manager, told me that John Paul White and Ben Tanner from the Alabama Shakes had started Single Lock Records and it was an in-house grassroots operation. I considered how great it would be to be part of a musical family like that down there. After meeting the owner Will Trapp and the label manager Reed Watson and seeing our visions were in line with each other, we happily decided to team up to release "Goodnight Rhonda Lee."

You've been on a major (Columbia) as well as indie labels. If you had to do it again, do you think you would've remained on an indie?

It was tough at times to navigate my time at Columbia, but I wouldn't trade that time for anything. There's definitely some other outside factors I would've changed in my life or within my team then, but I had so many great experiences there.

Your voice has been compared to Patsy Cline's and Roy Orbison's. Were they influences on you as a singer? What other vocalists inspired you?

They were the first voices I remember hearing that I was really drawn to. When I first started singing, I was godawful because I thought I was supposed to be a soprano, having grown up in Catholic school and doing musical theater. My voice was thin and weak. Then I started singing Roy and Patsy and Robert Plant, Mama Cass and Joe Cocker, and realized I was an alto and a belter. I love a lot of voices. Lee Hazelwood, Scott Walker, Merry Clayton, Bobby "Blue" Bland, Magic Sam, Mark Lanegan, Judy Henske, I could go on for days.

At South by Southwest this year, you took part in a panel on crowdfunding. You were definitely in favor of it. Can you see other artists turning to crowdfunding as you did?

Absolutely. Most of them are.

You mentioned doing comics at the panel, too. Could you tell me more about that?

I've always drawn comics. It's my way of journaling. Also a great way to pass time.

Originally, you were an illustrator, yes? What drew you to music? Are there skills you developed as a visual artist that you found were transferable to doing music?

Definitely. They're very similar. You start with an idea, build the bones, layer up, take away, destroy it, build it back up, add color, take it away and on and on.

"Neptune City" is, IMO, one of your finest songs. Could you give some background on the writing of that song?

Thank you! I came up with the melody cooking pasta with my sister. Just joking around, I sang, "We're cooking pasta in Neptune City." Then my sister said "Make a song for Neptune!" So I wrote it from the perspective of my Uncle Dom, who passed away at 13 in a freak accident. His death really affected everyone in the town. People talk about him to this day. He was really special.
Speaking of Neptune, how did growing up there shape your identity as an artist?

Neptune is a sleepy, grimy little beach town that lives in the shadows of Asbury Park and Bruce Springsteen. Growing up there by the river, I had a big imagination and lots of landscape to play out crazy ideas in my head. Also, on the shore, being a musician or a visual artist is seen as a viable trade. Even if you don't grow up to be the next Springsteen or Dali, you can still play in bars or sell art at all the local galleries and shops. So I felt a lot of freedom there artistically.

Do you follow current artists? Is there anyone you'd want to collaborate with?

Definitely. I'm happy I haven't grown up grumpy about new music. I definitely have certain tastes, but even off the road there's nothing I'd rather do than go see live music or collaborate with people.
I'd love to collaborate someday with Nick Cave, the Dap Kings, the Black Angels, Josh Homme, Jack White, Nico Muhly, Chilly Gonzalez, Mark Lanegan, an orchestra, Michael Kiwanuka, Candi Staton, Alex Turner, Springsteen, Heart, Dungen, Tame Impala and on and on.