Photos and words by Keith Perks
The Menzingers came home. This time instead of their NEPA Holiday Show in December, they were back to the Scranton Cultural Center at Masonic Temple with openers The Dirty Nil and local James Barrett the day after Thanksgiving.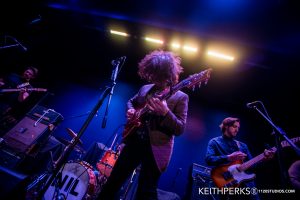 Scranton singer/songwriter James Barrett released his newest album, "A Series of…Mostly Nothing," in September on the Refresh Records label. His new album is intimate and indie all while also being spacious and epic sounding. Tracks like "A Series of…" and "Oh My God" are very Angels and Airwaves and The Dangerous Summer, while tracks like "Uhaul," "Master Plan," and "Mostly Nothing" remind me of Big Thief, Arcade Fire and The National. Barrett and band brought every subtle and gigantic sound that they captured on the album and were a hell of a choice to warm up the crowd for the evening.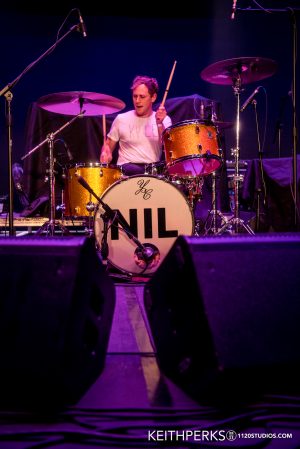 Next up were The Dirty Nil, a rock group from Ontario, Canada. I spoke with the band via Instagram and they were excited to "rip it" in Scranton and they certainly did. While being labeled generally as a "rock group"…they shred. There's hints of punk and metal throughout. They are energetic, and lead singer and guitarist Luke Bentham has some major rock swagger on stage. While only being a three piece, they have a big sound and are very interactive with the audience. I know for a fact they left the stage having made more fans. They 100% delivered a fantastic performance.
The Menzingers. You just can't have a bad time at their shows. It's impossible. Their live performances are energetic and cathartic. There's a special relationship between the band and its fans, especially when they're home. They're one of us. They're up on stage singing songs we relate, too. We've been there, we've felt it, and that's why they are a great band. They write words and play notes we feel in our guts. NEPA needed a Menzingers show in the worst way.
They kicked off their set with "I Don't Wanna Be an Asshole Anymore" and worked their way through their set checking off fan favorites such as "Good Things," "Your Wild Years," "The Obituaries," "Thick as Thieves" and "America (You're Freaking Me Out)."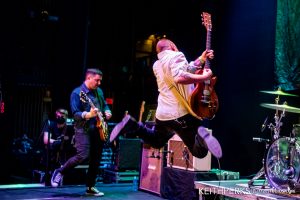 They ended the night with a three-song encore of "Lookers," "Gates" and "In Remission." They then went on to three  sold-out shows at The Crossroads in Garwood, N.J., and a show at HMAC in Harrisburg, Pa. Up next for the band is a spring tour with Oso Oso and Sincere Engineer with Hot Water Music on a few select dates.