Photos by Angelo Santoro
NEW YORK, NY — During a recent stop at Terminal 5 (capacity 3,000), one band showed you don't need an arena to effectively play arena rock, and another proved you don't need a musty, makeshift basement venue to retain your DIY roots and intimate connection with your audience.
Manchester Orchestra, the epic-minded indie rock band from Atlanta, might as well have been playing Madison Square Garden, and Tigers Jaw, the indie/emo/pop punk band from Scranton, Pennsylvania, might has well have been on stage at Cafe Metropolis, the defunct, back-alley, all-ages venue it used to frequent down the highway from its homebase.
Taking the stage to Tears For Fears' "Everybody Wants To Rule The World," Tigers Jaw, the main support act for the evening, launched into the crunchy and catchy "Follows," the first song on the band's 2017 album, "spin." The big harmony vocals by founding members Ben Walsh (guitar) and Brianna Collins (keyboards) were instantly recognizable, as were the anthemic chord progressions the band has made part of its calling card. "The Sun," dating back to the group's 2008 self-titled second album, drew a vociferous crowd response. A bit rawer than the band's current sound, the song at once illustrated Tigers Jaw's origins and retroactively gave clues about its more polished yet still emotionally driven approach on recent material. The slowed-down chorus was a nice dynamic shift — the song isn't quite as simple as it might appear, but that didn't dampen the audience singalong.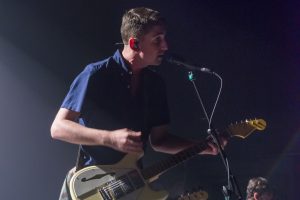 Following the sugary, mid-tempo "Hum," Walsh ceded lead vocal duties to Collins on "Brass Ring," another track from the latest album. After Walsh noted that Terminal 5 is a bucket-list venue for the band, he led it into another 2008 tune, "Chemicals," a ragged, emo song that the crowd lapped up with approval. An instrumental breakdown was nearly power ballad-esque.
"Teen Rocket," from 2014's "Charmer," was light and breezy; "June," from the new album, was quintessential Tigers Jaw, all driving rhythms, clanging and catchy guitars and unison vocals; and "Window," the last song on "spin," was also the last song of the set, with poignant lyrics like "These days it's hard not to feel alone." The band brought the song to a furious finish, with touring guitarist Pat Benson and Walsh leading the way over crashing drums, pounding bass and grinding organ filling the room before fading out.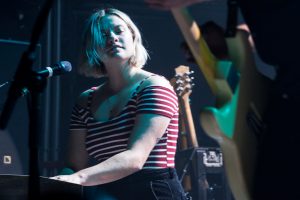 In contrast to Tigers Jaw's bare-bones production, Manchester Orchestra played a production-heavy show, with arena-worthy lights, effects and video screens. It suited the music, from opener "Maze," which emerged from eerie lighting, to final encore "100 Dollars."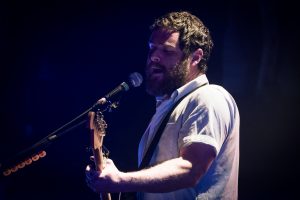 "The Gold," with its jittery drums, throbbing bass and dynamic piano-plus-a capella vocals chorus, was an early highlight, as was "The Moth," which brought to mind fellow epic rockers Muse. "Shake It Out" was a more aggressive song, with heavy metal guitar riffs. "Pensacola" was pure pop punk, while "Pale Black Eye" was more progressive, but the tricky arrangement did not detract from the dirty groove or Andy Hull's impassioned vocal delivery.
"The Alien" — one of six songs Manchester Orchestra played from its July release, "A Black Mile To The Surface" — was an arena rock spectacle, with strobe lights and piped-in wordless female vocals. Over drummer Tim Very's tom-toms, Hull sang, "Do you need me?"
After closing out the set proper with the one-two punch of "Cope" and "The River," Manchester Orchestra reemerged for a two-song encore of "I Can Feel A Hot One" and "100 Dollars," both from the band's 2009 sophomore album, "Means Everything To Nothing."