The beatniks and hippies made indelible marks on American life. But what about the unnamed cohort in between, those too young to be contemporaries of Kerouac but too old to be driving the Summer of Love?
Ken Babbs, a member of the Merry Pranksters, played a vital role in that lesser-known group, serving as a lieutenant to author Ken Kesey during the Acid Tests and the tripped-out, cross-country journey aboard the bus Furthur. And Babbs, like many of the Pranksters, was well educated: He earned an English literature degree from Miami University in Ohio and studied in the graduate creative writing program at Stanford.
Babbs, who recently published his latest book, "Cronies, A Burlesque: Adventures with Ken Kesey, Neal Cassady, the Merry Pranksters and the Grateful Dead," recognizes the significance of his crew in retrospect. But while it was all happening?
"Well, no, because when you're in it, you don't think about that kind of stuff," he tells us over the phone from his home in Oregon. "You're totally into it." Later, "you realize that this is still important, let's keep it going. With the threat to the earth now with climate and change and these useless millionaires and government, we need to wake up to what's going down."
Babbs, who turned 86 in January, said his wife's career as an educator gave him a push to write the book.
"Well, my wife is a grade school teacher, and she taught Kesey's books, and every time she'd teach the books, she'd have me come in and talk to the class about Kesey. I found my notes."
Rather than writing a straight memoir, "I decided to do it with stories," he says.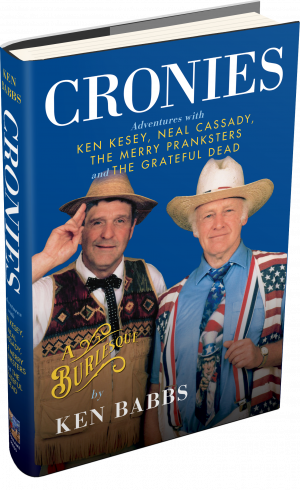 "That's why I called the book a burlesque. I didn't want to write a memoir, and I'd hated memoirs, and it would be too hard to fictionalize."
The approach, he said, was partially inspired by "Knickerbocker's History of New York," "a burlesque making fun of a lot of stuff in New York City."
"Turned out [the author] was Washington Irving," says Babbs. "So I thought, 'Oh, this is good.'"
The Pranksters' first trip aboard Furthur, a 1939 International Harvester school bus, left Kesey's home in La Honda, California, on June 17, 1964. Neal Cassady, already famous as Dean Moriarty in Jack Kerouac's 1957 novel "On The Road," was the driver. ("There was Cowboy Neal at the wheel of the bus to never ever land," as Bob Weir put it in the sprawling, incendiary Dead tune "The Other One.") When they arrived in New York, they'd cross paths with Kerouac, Allen Ginsberg and Timothy Leary. En route, they'd play music, blast recordings and wire for money when they needed it — the main source of funding came from Kesey's profits from "One Flew Over the Cuckoo's Nest" and his advance for "Sometimes a Great Notion," Babbs says.
"It was total improvisation," Babbs says of the voyage. "We would just say, 'Let's do something.' But we had no plan."
Despite that lack of a centralized plan, Kesey was the clear leader of the Pranksters.
"Absolutely, people gravitated toward him fairly regularly," Babbs says. "Telling stories and making up stuff, and he was always the head guy, and of course when we went to New York on the bus, it was his bus, his book, we were going to the launch of his book. He was always that guy. We were close together and kind of like partners in a lot of stuff.
"I lived only 8 miles from him and he had a farm, and I go over there practically every day and help him with his farm and do crazy things. He bought a bus and built this building called The Bus Barn. The Merry Band of Pranksters, we all played instruments, when we first got on the bus we brought trombones and trumpet and saxophone and a clarinet, then drums and flutes and we moved into electrical bass and guitar and taping everything we did. Actually started the bus trip making reel-to-reel tapes lying on the flatbed at night. George Walker brought a 16mm camera and was filming the whole thing."
LSD was not illegal in California until October 1966, and possession in the U.S. was made illegal in October 1968. In the prelude to the government catching up, Kesey and the Pranksters were lysergic evangelists, throwing parties known as the Acid Tests in the Bay Area.
The first Acid Test was a Halloween party at Babbs' house in Santa Cruz.
"We were all there, getting high and had our gear all set up, and while we were communing with the moon, guys were playing our instruments," he recalls. "People call that the first Acid Test because there was a sign in the Hip Pocket book store in Santa Cruz that said, 'Come to the Acid Test at Ken Babbs' place.' I don't know who made the sign or came up with that, but we did start the Acid Tests. When we tried to move it to Kesey's house and we did some Saturday nights, it got out of hand. We started renting halls. The band that played at my house in Santa Cruz showed up, they were first the Warlocks and they became the Grateful Dead."
LSD, Babbs says, is something "I did for a while but not anymore."
"Like Kesey said at one point, it opens the door, you go into the door and have a great time, but you don't have to go back into that door. For me, with LSD, I could see what a jerk I was. And it was also great trips, wild space trips, out in the paths, fighting armored guys and being a cowboy. You could do all kinds of weird stuff. …
"I don't think kids should be doing it. I don't think people in high school should be doing any of this stuff. I think it's better as you grow up to have a natural experience, as you do with sports and music and camaraderie and all that you grow up with as you become more mature."
Kesey stays in touch with the surviving Pranksters, including Mountain Girl (Carolyn Garcia, one of Jerry Garcia's ex-wives). "They all live here, I see them all the time," he says.
And he's still tied into the Dead music scene.
"I saw Dead and Company when they were at Autzen Stadium [in Eugene], they filled the place. We have a lot of music venues and you can walk to them. There are a lot of good groups. One group from Chicago, Terrapin Flyer, is a Grateful Dead group I play with when they're in town."
To keep up with Ken Babbs or order "Cronies," visit his website.
Photos courtesy of Ken Babbs