"Off" Week. 11/8-11/16
After the New York run of shows, I was able enjoy a few days of downtime as well as play some gigs with other folks. On Tuesday, I played a gig in Burlington VT at Nectar's with "Dead Set"….a longstanding weekly residency that includes a house band with some of the best players in Burlington. Needless to say, that was a ton of fun. It was also a great way for me to warm up some of the Grateful Dead material that the American Babies were planning on playing for our final masquerade ball show the next week. I also managed to sneak in a couple shows in NEPA..including shows with Tom Graham at Turkey Hill Brewing Company in Bloomsburg PA on Thursday and Chris Kearney at The Bog in Scranton on Friday. Both were super enjoyable and it was nice to see so many familiar faces after having been out of town for what seems like an eternity. Also I turned 27…but no one cares about that.
I didn't have to be in San Francisco until the following Wednesday for an American Babies rehearsal, so I decided to capitalize on my trip out west by flying out a few days early to LA, where one of my best friends and longtime musical collaborators Jason Gallagher resides. Jason and I used to play together in an NYC based rock band called Leroy Justice. Leroy Justice is a band I joined when I was 21, and spent a good portion of the following 5 years playing and touring pretty heavily. Jason currently scores music and sound effects for the SYFY show "Z Nation". Another NEPA buddy of mine, AJ Jump( drummer extraordinaire) happened to be in LA as well. Highlights of the week included the three of us hanging with comedian Marc Maron (a personal hero of mine), recording a bunch of music, sitting in on a mixing session at Producer Jim Scott's studio in Santa Clarita (if you don't know who Jim is, look him up), as well as playing a really great gig with Jason at LA's Hotel Cafe.
On Wednesday morning, I linked up with Al and we hopped on a bus to San Fran. I knew I had some exciting (and also long) days ahead, so I had to force myself to quickly shift from vacation mode to work mode. I woke up in San Rafael on Thursday eager to play and get back to work. My day began with the usual hotel workout and some breakfast. In the early afternoon, the band headed over to Terrapin Crossroads (Grateful Dead bassist Phil Lesh's venue) for an all day rehearsal. The general plan of attack was to get some rehearsing with Holly Bowling and Dave Schools (of Widespread Panic) who were our featured guests for Saturdays show. In addition, we needed to fine tune some of the material we had planned to play with Bob Weir on Friday. After a nice post rehearsal dinner and hang, I turned in pretty early to allow myself to be well rested for the weekend ahead.
Friday, 11/18 Sweetwater Music Hall night #1 (with Bob Weir)
The weekend kicked off with our much anticipated final masquerade ball which featured the music of the Grateful Dead. We had the honor of being joined by Bob Weir for the duration of our GD set. I had met Bob once before briefly backstage at Lock'n festival last fall in Arrington, Virginia. Bob is a man of few words with an incredibly witty sense of humor. We got to know Bob a little better during an extended soundcheck. The soundcheck alone was almost two and a half hours. We ran every song we had planned to perform with Bob as well as a few others that didn't end up making the final set list. After some great dinner and about 5 cups of coffee, it was finally time to hit it.
We opened the show with a couple of our own songs before welcoming Weir to the stage. At age 69, Bob still steps on stage with the same open minded exploration philosophy he has had for the last 50 years. Leading up to the show, I tried to internalize all of the music we had planned to play with him so that I could put more of my attention on stage to listening and being mindful of the moment musically….and it paid off. No one plays guitar like Bob. To be on stage with a guy like that forced the rest of the band and I to play with a level of concentration and open-mindedness that we have never had before. We kicked things off with three songs from Weir's recent studio album "Blue Mountain". Those are all wonderfully crafted country songs which were more centered around vibe and space then improvisation. After that, we launched into a series of Grateful Dead classics which saw some great moments of musical exploration. After about 75 minutes, Bob stepped off stage and we closed the show with a few of our own songs. We played for nearly 2 and a half hours straight. Blissful exhaustion.
Saturday 11/19 Sweetwater Music Hall night #2 (with Holly Bowling & Dave Schools)
I really enjoy doing two consecutive nights at the same venue. You walk in the next day and your gear is already unloaded and set up. You know how the room sounds and what to expect. If ticket pre-sales are good, that's always a bonus too. It's like hosting a weekend-long party. Our second show featured pianist Holly Bowling playing with us for the entire show as well as Widespread Panic bassist Dave Schools Joining us for the 2nd set. This show in its entirety was one of the most fun shows i've ever played. Having Holly with us was a real treat. She is largely known for performing (awesome) solo piano arrangements of Phish and the Grateful Dead songs, but her ability to play and improvise with a band is equally as impressive.
I remember going to the Bonnaroo music fest as a teenager and seeing Widespread Panic on stage in front of 60,000+ people, so it was quite humbling to be sharing stage left with Dave in an intimate venue. All I can say about that dude is that when he steps on stage, he is totally in command of everything. Occasionally, when the band would get into some heavy parts/jams, he would look over at me and give me a nod…I think he knew I was a rock n roll guy at heart after we discussed our love for Led Zeppelin and Sabbath backstage in detail before show time.
Sunday 11/20 San Francisco, CA Boom Boom Room (with AB/CB)
One thing I have tried to get better at doing in the midst of heavy traveling in recent years is capitalizing on my time spent out in certain locations that I don't get to on a regular basis. The west coast is definitely one of those places. A few months back after the tour was announced, Holly (Bowling) contacted me about possibly throwing together a show while I was in the bay area. We put together a band that consisted of Holly, Al (of American Babies), Dylan Skursky (of Cabinet) and I. The four of us have all played together a couple times and Dylan was just finishing a tour with Cabinet in Denver and was only a short plane ride away, so things came together quite nicely. We billed the night as "AB/CB" (american babies/ cabinet/ bowling). We focused on groove-oriented music leaving lots of room for improvisation.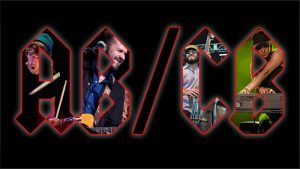 The night ended up being a great success. We pulled in a really nice crowd and I thought we played great together especially for all of us running on minimal sleep (this seems to be the theme of my blog). After the show, the Bowlings (Holly and her husband Jeff) took us out for great Vietnamese food as well a scenic lookout which allowed us to see the entire bay area at night. Dylan, Al, and I had a 5:50am flight to catch to Denver..which allowed us to all get a 45 minute "nap" in before shuttling to the airport around 3am.
Monday & Tuesday 11/21-22 Boulder, CO Owsley's Golden Road
Needless to say, I woke up around 9am as our plane touched ground in Denver in a bit of a haze. After grabbing our gear and luggage, Dylan, Al and I were picked up at the airport by our buddy Charles Havira who we were set to perform with that night. I'm pretty sure we all fell asleep within minutes into the hour long drive back to Boulder. We spent most of the afternoon recharging at Charles's hotel before heading downtown around 6pm. For the last couple years, I typically have ended up in Denver/Boulder about 5-6 times a year to play shows. One aspect I have really grown to enjoy about traveling is when you revisit a certain area enough times that you really get to know the town, people, places and landmarks. Boulder is easily one of my favorite towns in the country and it was good to be back to hang and play for a few days before heading home. We played at Owsley's Golden Road…A grimy yet charming little venue located right in the heart of downtown Boulder.
The shows were good….slightly lighter but attentive crowds. These gigs were kind of a last minute thing that came together quite nicely. I'm glad we did them. After our little stint in Boulder, I can wholeheartedly say that I am ready to get home for the holidays and catch a little break. On Wednesday, we caught an early flight back from Denver to Philadelphia and successfully survived I-76 Thanksgiving eve traffic to get back to NEPA in one piece just in time for Turkey Day.
Friday 11/25 Wilkes-Barre, PA. River Street Jazz Cafe (tour closer)
I'm not going to lie, I get excited to play my hometown. I get excited to play music anywhere… but especially in my hometown around the holidays. Over ten years ago, I got my start playing music in NEPA at the Jazz cafe when I was a teenager, so when the band I have been touring the country with for years comes into what I consider to be my home base venue, it's a bit of a "worlds colliding" kind of feeling. I joke with Tommy (Hamilton) that the Jazz Cafe is probably the only venue in America I have played more then him (which is still up for debate as the Jazz was the stomping grounds for his old band Brothers Past for many years). When the band comes into WB, I feel obligated as a native of NEPA to treat them to the best thing this area has to offer-the pizza. Sabatini's is always my go to…and it's always a home run. One of the many things I've learned in my travels is to never get pizza outside of the northeast US..or you could be in for a world of pain and dissatisfaction. I was really pleased with all aspects of how the evening went. The place was packed with family, friends, and familiar faces. I could not think of a better place to close out a 7 week tour.  For once, I am 15 minutes away from sleeping in my own bed.
Final thoughts
The tour seemed to fly by as it always does. It usually takes me a few weeks to readjust to normal home life afterwards. Touring is a lifestyle. Being in any band is like being in a complex and occasionally dysfunctional relationship with anywhere from 3-10 different people. Unlike friends, family, or significant others…you spend virtually every second of the day with these people when you are on tour. You laugh together. You fight together. You know virtually all aspects of each others lives whether you want to or not. You have a majority of all of your meals together……All for the greater good of pursuing art. You sacrifice everything-health, home life, financial stability to do what we do. It's important to check yourself in the midst of the chaos and exhaustion of van touring to remind yourself that it is a privilege to make music in any capacity…let alone being able to make a living and see the country doing it. Music has allowed me to see places I would not have been able to see otherwise. I love my bandmates and I am very lucky to be able to do what I do.
Take your shit seriously and make good art and be grateful that you are able to do it.
"The moment you expect anything from music, you are expecting too much"
— Josh Homme