Photos and review by Andy Jillson
Judas Priest and the Metal God himself, Rob Halford, fired up fans with a set of classic heavy metal songs in Oxon Hill, Maryland, last week. The "50 Years of Metal" North American tour was postponed, but the band is back on the road and showing no signs of age. Top-notch musicians playing unapologetic heavy metal music. Truly amazing.
If you are unfamiliar with Judas Priest, you must not be quite the hard rock or heavy metal fan you thought you were. Judas Priest is the archetype of hard rock and metal.
Judas Priest is touring across North America and wowing fans along the way. Priest's stage production, lighting, sound and performance is one of the best packages in the business. It's a heavy metal sensory overload.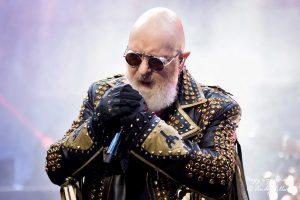 The audience consisted of hard rock and metal enthusiasts from all walks of life. The second Priest took the stage, the crowd went absolutely insane. Fans headbanged, played air guitar, and screamed along for nearly two hours. Denim and leather gear far as the eye could see.
Priest left no room for duds in the setlist. The legendary British band played a mixture of its most well-known and loved songs from the 1970s, '80s and early 90s. Some of the highlights were performances of "You've Got Another Thing Comin'," "The Sentinel," "Rocka Rolla," "Victim Of Changes" and "Painkiller."
Without a doubt the best part of the night was when Glenn Tipton surprisingly took the stage for Priest's first encore. It was easy to tell that is what the fans wanted. Tipton flawlessly played Priest classics "Electric Eye," "Hell Bent for Leather" and "Breaking the Law." The band reappeared for the final encore of the night with a large inflatable bull, which apparently had been absent from the past several shows.
Judas Priest is one of Britain's most iconic musical artists for a good reason. The band formed in 1969 but didn't really find its signature heavy metal sound until the late '70s. That signature sound literally changed the music world and has influenced countless musicians around the world.
Halford (vocalist) and Ian Hill (bassist) are the only two original members left in Judas Priest. Andy Sneap stepped in for Tipton, who had been diagnosed with Parkinson's disease, in 2018, and founding guitarist K.K. Downing was replaced by Richie Faulkner in 2011. All current band memebers are accomplished musicians and still able to play exciting rock music.
Below are more photos from Judas Priest's performance at The Theater at MGM National Harbor in Oxon Hill, MD on 3/31/2022.
All images copyright and courtesy of Andy Jillson