By Michael Lello
Photos by Joe Russo
Backstage at Webster Hall, James trumpet player Andy Diagram is slumped on a sofa, wearing a knit winter cap topped with a tassle while he's trying to fight off a late-October cold. "Don't get too close to sick boy," Tim Booth, the vocalist for the UK indie/alternative legends, warns us with a laugh. "I'm sorry about the chaos back here," the band's tour manager offers, while Booth is interrupted by bandmates asking for the password to his tablet so they could write tonight's setlist.
Sickness, humor, chaos and recovery. It's not a stretch to apply these concepts observed at the New York City venue to the whole of James' career and its music. The band's new album, this year's "Le Petite Mort," the Mancunians' 14th album and third since reuniting in 2007, is, in typical James fashion, at the same time deeply sad, danceable and defiantly triumphant.
"For me, it's always been about getting in touch with your deepest emotions," Booth tells us before he'll lead James through a magnificent, emotionally charged, sold-out concert, the band's only U.S. show scheduled for this year. "I was sent to a British boarding school, and to survive a place like that you bury all your feelings, you bury your fear, because if you show it, you're gonna get the shit kicked out of you. I've really spent the past 30 years trying to figure out where the fuck I buried them, and I think it's probably why I'm a singer and a musician to get more in touch with my feelings."
Booth's lyrics on "Le Petite Mort" (translated to "the little death," and also a euphemism for orgasm) were inspired by the death of his mother – she died in his arms at 90 years of age – and the passing of a close friend. The friend died two years to the day before the Webster Hall show, and her husband was in the audience.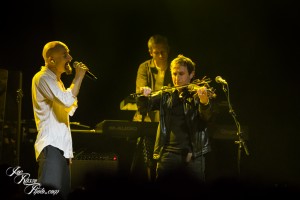 Formed in 1981 in Manchester, the same Northern city that spawned The Smiths, The Buzzcocks, New Order, The Stone Roses and The Fall, James was at the forefront of the industrial town's thriving and influential "Madchester" scene and broke through in the U.S. with "Laid," its fifth album with the title track that became an MTV regular and, even today, a bar band staple. The band's success in Britain carried on through to sold-out farewell arena shows in 2001 and the 2007 reformation of the classic 7-piece lineup and continues with "Le Petite Mort," an album which deserves to be mentioned alongside the most beloved entries in the James catalog.
Amidst the chaos in the buzzing backstage area above the Webster Hall stage, we spoke with Booth in a wide-ranging and characteristically thoughtful and profound conversation about the making of "Le Petite Mort," why the band broke up and reformed and why the band's commercial dropoff in the U.S. after "Laid" had nothing to do with James or its music.
H81R: Because of the events that inspired it, was writing this album more difficult for you than previous albums?
TB: It was a bit easier in some ways. It's so powerful, the emotions were so alive.
H81R: Was the writing cathartic or therapeutic?
TB: I didn't think it was, but it's proving quite therapeutic and challenging singing some of them (on stage). I may not be able to sing some of them. We might start one, and if you're crying, you can't sing (laughs), so everyone's looking at each other and thinking, "OK, we'll go round the song a few times and wait for Tim to get his shit together," and then we sing it. Or the audience sang it to us the other night, well about half the song, which was quite beautiful. They're proving a challenge, probably a cathartic challenge.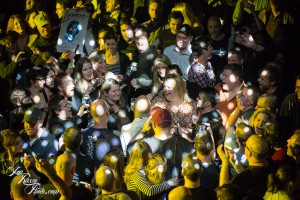 H81R: For this album you brought in producer Max Dingel (The Killers, Muse) who pushed the band in some new sonic directions. Is James a band that always tries to do something new and challenge yourselves?
TB: We make weird records, if you listen to them properly. You know, like "Gold Mother," at the end of it has a mad, 8-minute improvised song about giving birth with crazy trumpet and harmonies. And "Whiplash" has got bizarre songs toward the end of it, I mean "Greenpeace" and "Go To The Bank." Do you know those records? We were actually learning how to play and having huge problems (laughs) trying to play those things because they're so industrial and strange. And then we did "Wah Wah" with (producer) Brian Eno which we recorded at the same time as "Laid," and  that kind of shows you the variety that's always gone on in this band between the kind of, the almost folky sound of "Laid" to the German industrial sound of "Wah Wah."
So we always had this very schizophrenic nature of wanting to … Yes, the singles, you could say, "Yes, that's a James single," but that's really not in our power. To some degree, you don't release a single that you know isn't going to get played on radio; there are parameters you have to conform to. And we do it naturally, we don't have to do anything but there's certain songs we write that sound like a single. So yes, if you're just listening to our singles, you might say that James has a sound and a predictability, but if you hear our albums, you go, "These people, they're fucking bonkers!"–  I hope. That would be my highest aspiration of your critical reaction.
H81R: In 2001 you announced that you would leave the band, and the band broke up after two farewell shows. What caused the split?
TB: A number of things. We had a lot of addiction issues and we weren't getting on well. We kind of just about started to get civil again actually. We had been through the worst of it, and we made "Pleased To Meet You" with Brian, and we thought it was a great record, and I thought, "We're not going to make a record as good as this for a while. We just got through the worst period of James we ever had. This is a good time to leave on a high." And so I left.
H81R: What changed that you would go on to reform the band in 2007?
TB: People got in touch with each other and found that it had been long enough. Everyone had gotten their lives together and families and cleaned up and there was healthier communication between us. So it was like, "Oh, OK, let's see. If we can do this and enjoy it and learn to communicate with each other, then we can do it." And it really came from that impulse.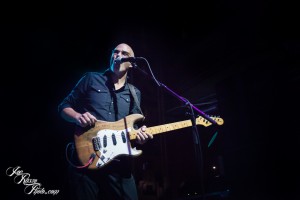 For me, it was watching The Pixies reform. Not many bands had reformed at that point, and The Pixies, I saw them do a great gig, but it was all old material. And I saw Springsteen reform The E Street Band and do a killer concert, where he really changed the material, or his clod-hopping songs I didn't like, he turned into great songs, and I was like, "That's the way to do that." I love The Pixies, but Springsteen did it right. Reforming no longer becomes a dirty word and it becomes a creative choice, creative possibility, and I think we've held to that since we've been back.
H81R: To most U.S. listeners you are known only for "Laid." Has "Laid" been a double-edged sword?
TB: No. It was very simple. At the time of "Laid" (the album), there was a guy in charge of the record company (Mercury) called Ed Eckstine, and he loved us, and he supported us. He released "Laid" and put everything into it. Unfortunately we wanted "Laid" to be released with "Wah-Wah"; they were made as a double album, and the record company refused to do that. So they released "Wah-Wah" a year later, and I think fans here thought it was our follow-up album, and instead it was improvised doodles, but still doodles.
Then Danny Goldberg came in and Ed Eckstine was fired, and Angelo Badalamenti, who I had just done an album with, had fired Danny Goldberg from a David Lynch movie, and Danny Goldberg sent the message out that he didn't want James to work in America. His No. 2 told me that. Took me in a room and said, "Look, I love 'Whiplash,' we love 'Whiplash,' but the word is out from Danny Goldberg to put nothing behind James." And she said, "You can't quote me on that, but that's what's happening, and you've done nothing wrong." So it was one of those moments of fate where a new head comes in and wants to sweep out the old stuff and bring in the new, and that was it.
H81R: How would you describe James' relationship with its fans?
TB: It's always been amazingly personal. We asked in the VIP soundcheck, and half of the people have flown in from all over the world, and half are New Yorkers. We get to meet fans from all over the world, and you get some very personal stories, especially with this album, which is about death and losing people and loving people. … We've always had an intimate relationship with our fan base. They're the most incredibly loyal people. I think some of it is because we change the songs every night. They don't know what they're going to get. Some people come for years, and they go, "I've seen you 20 times and I still haven't fucking seen you play 'Johnny Yen,' please!'"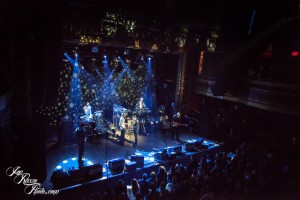 H81R: Why is this the only U.S. concert you're playing this year?
TB: Money. We'll lose enough on this one. Touring is hard. You have six weeks and you hardly make a penny. People now in the band can't do that. I can do that because I live here. I'd be up for that. It's just too much to ask of people. That's why our fans have to be evangelical to get us back here. We've been looking for like a gig with another good band that we can share with for a long time.
H81R: Do you have anything else you'd like to add before you get ready for the show?
TB: I want to transcend the glass ceiling of ageism. I mean kids do it. They hear the music online and they love it and they don't give a shit, but radio stations and TV is still skeptical about stuff. Is it vital? Is it alive? Leonard Cohen, they wrote him off for years. We (contributed to) an album,"I'm Your Fan," in 1989, because Leonard Cohen had been slagged off so much by the critics that musicians got together and said "Look, this guy's a genius, and we're with that." We feel – we're not Leonard Cohen – but we feel we're something that lasts and has vitality still. And that's all you can do.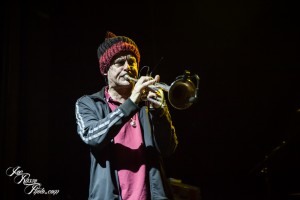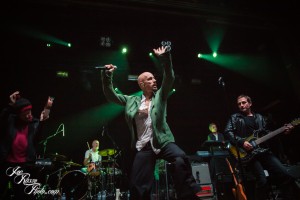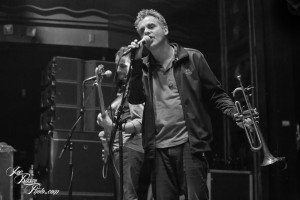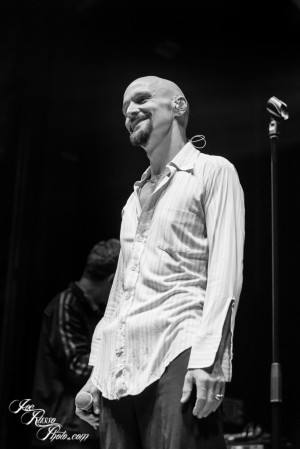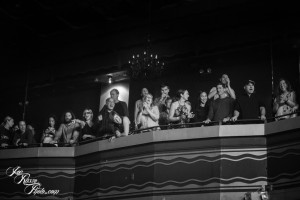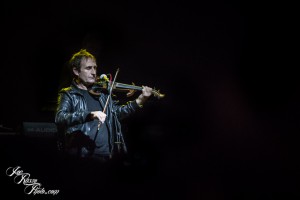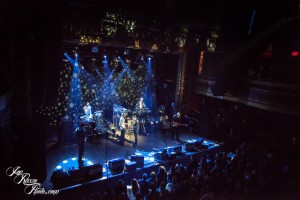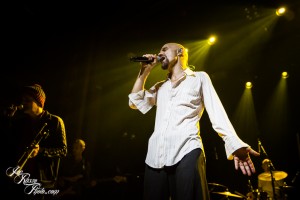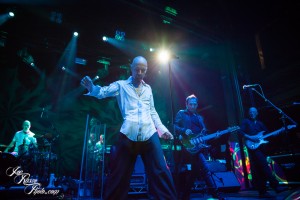 See the entire photo gallery from James' show at Webster Hall here.