Singer and guitarist James Barrett had been playing your typical solo gigs around the Scranton area, but he wanted more.
"I always wanted to be in a band," he says. "I always listened to heavier stuff growing up, but it never seemed to work out whenever I did anything under a different name. Eventually I figured I could keep my name as a solo artist and was getting bored of playing alone."
So last summer he started prepping full-band material and got some musicians together to record it. Working with his drummer brother, Tyler, Doug Griffiths (guitar, trombone) and Philadelphia's Jack Checkoway, who recorded the tracks, Barrett created his first solo album, "The Price of Comfort," which will be released Oct. 11.
The single "My Anxious Soul" makes its debut here. A pre-order for the album, which will be released on Checkoway's Honest Face Record, launches today.
"It's just been a really important song to me for a while," says Barrett, 22. "I was pretty much home alone for a week when my family went on vacation. I was going through a breakup and found out a friend passed away all within the same 24-hour period. It was the most crazy emotions I could feel in 24 hours, and no one was around. Somehow I feel that is one of the most upbeat and somehow uplifting songs on the album. It's one of the first songs I wrote for the album."
Barrett says he "didn't really know the sound I wanted to go for" on the album.
"The whole album kind of goes up and down, where it will swing from an alternative rock sound and go into something a little heavier. It's all over, and that's kind of how I wanted it to be, because that's how I felt."
Growing up outside Scranton in Clarks Summit, where he still lives, Barrett would listen to his dad's classic rock albums and, like his father, started playing guitar as his older brother Tyler was learning the drums. His older sister's taste for punk interested him too, and he kept his interest in '60s and '70s rock. He played his first show when he was 12 and started writing songs by sixth grade — "the songs were totally garbage, but I started writing them," he says.
When Barrett was in fifth grade, he saw The Menzingers play "in a tiny room," and he eventually started playing shows with area bands like A Social State, A Fire With Friends and Those Clever Foxes. Griffiths was a member of Those Clever Foxes.
"When I was younger I used to idolize his band, and now I'm playing with him, which is awesome," says Barrett, who also has performed on a bill with The Menzingers at the band's annual Holiday Show.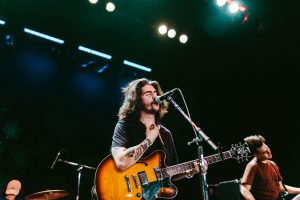 The first big concert he saw also had a heavy impact: Rise Against with Gaslight Anthem, Thrice and Alkaline Trio at the Electric Factory in Philadelphia, also when he was in fifth grade. "Gaslight Anthem and Alkaline Trio became some of my biggest influences for the rest of my life," he says.
Barrett's live band features his brother, Griffiths, Chris Kirby (bass) and Angelo Maruzzelli (guitar, keyboards, vocals). He's planning a release event for Oct. 26 at a venue TBA.
His most memorable show, he says, was at the venerable Scranton Cultural Center, "by far the biggest and most beautiful place I've played." He has a show scheduled for Aug. 29 at The Pharmacy in Philadelphia.
If Barrett becomes the next Scranton-area artist to achieve international success, he'll be the latest in a line of groups including The Menzingers and Tigers Jaw. And he knows it's not an easy road.
"I feel like Scranton is divided," he says. "A lot of people are supportive of the music scene, and a lot of people are discouraging, and I feel like seeing bands come out of Scranton and be very successful is awesome, because I think a lot of people think if you want to do something big you have to leave this area. You do have to leave to tour, but there's so much amazing music coming from Scranton that it gives me hope."
Photos by Ashley Gellman at the NEPA Holiday Show