Things are very much alive in the world of the Grateful Dead, with a slew of exciting news for fans coming down the pike this week: Bob Weir's upcoming solo album, Warren Haynes getting a little help from his friends — including Jerry Garcia's revered Tiger guitar — and at long last, Garcia's catalog from outside the Dead making it to the major streaming services.
Here's a rundown of what you need to know:
Cowboy Bobby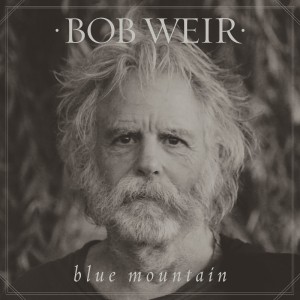 It's been no secret that Weir has been working on an album of cowboy songs, but on Wednesday many more details emerged: the album is called "Blue Mountain," it will be out Sept. 30, and there will be a solo tour, which he's calling the Campfire Tour. Weir will be joined by The National's Scott Devendorf, Bryan Devendorf and Aaron Dessner, as well as Josh Kauffman. There are several dates in the Philadelphia and New York City markets (complete album track listing and tour dates are below).
According to a press release from Columbia/Legacy, which Weir has signed to:
The album was recorded at a variety of locations on both coasts, including studios in Woodstock, NY and San Rafael, CA over the spring and fall of 2015. A host of fellow musicians appear alongside Weir on Blue Mountain including Ray Rizzo (drums, harmonium, harmonica, backup vocals), Joe Russo (drums), Jon Shaw (upright bass, piano), Rob Burger (keyboard, accordion, tuned percussion), Sam Cohen (electric guitar and pedal steel), Nate Martinez (guitars, harmonium, backup vocals), Jay Lane (drums, vocals), Robin Sylvester (upright bass, vocals, hammond organ) and Steve Kimock (Lapsteel). Providing backup vocals are The Bandana Splits, comprised of Annie Nero, Lauren Balthrop and Dawn Landes. Kaufman produced the record with engineering by Dan Goodwin.
BLUE MOUNTAIN TRACK LIST
1. Only A River
2. Cottonwood Lullaby
3. Gonesville
4. Lay My Lily Down
5. Gallop On The Run
6. Whatever Happened To Rose
7. What The Ghost Towns Know
8. Darkest Hour
9. Ki-Yi Bossie
10. Storm Country
11. Blue Mountain
12. One More River To Cross
BOB WEIR LIVE
October 7—Marin County Civic Center—San Rafael, CA
October 8—Fox Theater­—Oakland, CA
October 10—The Wiltern—Los Angeles, CA
October 12—Tower Theatre—Upper Darby, PA
October 14 & 15—Kings Theatre—Brooklyn, NY
October 16—The Capitol Theatre—Port Chester, NY
October 19—Ryman Auditorium—Nashville, TN
Warren, Tiger, Marco & Krasno
The Jerry Garcia estate announced on Thursday that Warren Haynes will play Garcia's iconic Tiger guitar on Monday, Aug. 8 at Central Park on the last night of Haynes' run Jerry Garcia Symphonic Celebration concerts. What's more, Marco Benevento and Eric Krasno will join Haynes and the band for an "extended encore" following the symphonic performance.
All Good Things in All Good Time
Trixie Garcia, one of Jerry's daughters, took to Facebook on Aug. 1 (what would have been her father's 74th birthday) to offer several hot news items for Garcia fanatics, most notably that the music from his solo career will finally be available via all of the major streaming services online:
I am most proud to let you know about all of the music that we are getting out to y'all! Our team has been working tirelessly to re-issue 34 albums of Jerry Garcia music across your favorite digital music services. That means that you are now able to stream your favorite Garcia songs on your music service of choice (currently available through Apple Music and Google Play and available on Spotify beginning on August 5th). You will also be able to download these releases through iTunes and Google Play. This means that you are able to pull up your favorite Pure Jerry releases or dive into "Run for the Roses," or sit back and enjoy the classic "Tangled Up in Blue" from the "Jerry Garcia Band" set from the Warfield '90 shows that has not been available in years! We really hope that you take some time to enjoy all of this wonderful music that is now available once again alongside the more recent archival releases.
Top photo: Bob Weir performing with Billy Kreutzmann at Peach Festival 2015/ Pati Bobeck