By 1998, Oasis were "bigger than f—ing God," according to Noel Gallagher, and the Britpop giant's chief rival, Blur, wasn't that far behind, with its anthemic "Song 2" making an inescapable noise worldwide.
How, then, did Gomez, an upstart group of music nuts in the coastal town of Southport, fit into this movement?
"I think the correct answer to that is our place was no place at all, you know," offers Gomez singer and guitarist Tom Gray, on the phone from the back of a Brighton barbershop after getting a haircut from good friend Milo. He's calling to talk about the 20th anniversary of Gomez's beloved debut album, "Bring It On," and the tour dates in support the deluxe reissue of said 1998 album — including a June 7 gig at Brooklyn Steel.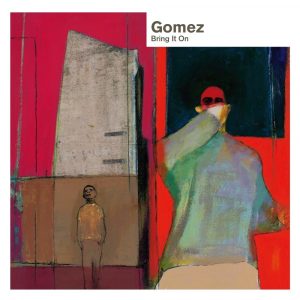 "We kind of almost went out of our way to kind of magpie stuff from everywhere in such a way that our music didn't relate to any scene or any moment historically," says Gray, who is joined in Gomez by fellow vocalist/guitarists Ian Ball and Ben Ottewell and bassist Paul "Blackie" Blackburn and drummer Olly Peacock. "We were kind of going our long way to create something that was ours, that's what we wanted. We thought we needed something, not least because we were a bit bored of what was happening. We felt like music had become quite conservative in the mid '90s in the UK, and that felt wrong."
Calling the group "total musos," Gray says the young players would have discussions about albums like The Beatles' "Revolver" and inevitably come back to the question: "Why don't people make records like that anymore?"
"Why don't people make records where every song is different but it works together because every song is different but that's the thing that's happening? We were taking our cues from that but not trying to copy that music, you know what I mean?" enthuses Gray. "We can take from like British trip-hop, and we can take from Captain Beefheart, and we can take from Tim Buckley, and we can take from Talking Heads, and we can borrow a little bit from Beck and all these different things, and if we sort of cook it right (laughs), we'll come up with something that's just us."
The "cooking," as it turned out, was just right. In a music scene increasingly dominated by bloated stadium acts motivated by tabloid headlines more than experimentation, "Bring It On" sounded at once like a bit of everything under the sun and nothing listeners had heard before. Noticeably, in addition to the electronica and alternative rock flavors the band was applying, there was also a healthy diet of Americana in the mix.
"I was personally raised on blues and Dylan and early folk, and Ben was raised on Joni Mitchell and Neil Young and all of that stuff, Paul was massively into Hendrix and like California rock and stuff, the other guys had been into sort of American rock," Gray says. "That was always what we were kind of about anyway. It was just part of who we are. …
"British bands have been taking from American music for as long as anyone can remember; that's just what you do (laughs). Britpop I think was a strange moment because Britpop was about recreating this kind of faux Britishness, which isn't a real thing, because rock n roll isn't a British art form, it's just not (laughs). It felt very natural for us. If you were raised on Led Zeppelin, you weren't going to say, 'Hey, we can't play a blues progression here' or whatever. So it was coming from all different directions, whether it be the more soulful elements of hip-hop or Tom Waits or whatever. Like I said, everything felt like fair game to us. We didn't think about it. We were young and no one had even mentioned the concept of cultural appropriation to us yet (laughs)."
Gomez, which celebrated the 10th anniversary of "Bring It On" with a similar tour, is again playing all of the album in its entirety. Twenty years on, "I feel more comfortable than ever" playing those songs, says Gray.
"It's a funny thing when you're making music. A lot of the time when you make music, the thing that's closest to you is the thing that you like the least, because that's how you move on: all right, next. Whereas playing these songs [now], it's hard not to say that I'm sort of immediately transported back to where we made them, when we were just sort of becoming a band and finding our feet and experimenting and sort of realizing what Gomez was or what Gomez was going to be. It's definitely the case that that's what's happened when we're playing these songs. There's a lot of sense memories tied up in the songs."
The May 18 release of the deluxe reissue of "Bring It On" — available in a 4-CD or 2-LP set via Universal — is a Gomez fan's dream, boasting 35 previously unreleased tracks.
"There's some live stuff and stuff that's from the original tapes that we found and the demos from the album," says Gray. "There's a set of songs that we recorded and sent to the record company to try to get them to sign us in the first place, there's all kinds of stuff on there. There's a very early BBC session on there that's never been released, there's unreleased songs on there even. It's a cool package and it has like a 10,000-word essay in it by Paul Stokes, which is really cool, because I don't think anyone's really told the whole story of how it happened, and I think it gets close to that and gives people a sense of the serendipitous events that led up to Gomez's coming into existence."
New material, too, is on the way.
"Yeah man, we're already talking about releasing a record later in the year and trying to figure out how to do that. … The best thing is we're coming to America and we get to play those songs, and it's interesting, in America we'll play probably more stuff from 'How We Operate' and 'See The World' as well as playing 'Bring It On,' and I think it's going to be playing both of those sets of songs together, because they were kind of written nearly 10 years apart but they're very different, and that's probably going to give us some sort of insight into where we need to go next."
The North American shows kick off June 5 in Toronto and include stops in Boston, Chicago (two nights at the Vic Theatre) and the Arroyo Seco Weekend festival in Pasadena, which features bold-faced names like Neil Young + Promise of the Real, Robert Plant and Jack White.
"The thing is, we've been away for a while, hopefully people remember in America that the reason why we sort of embedded ourselves in American touring is because we're a bloody great live band, and if people haven't seen Gomez, they should come and see Gomez," Gray says. "Doing these gigs, the most inspiring thing about it is seeing how people lose their shit when we play music (laughs). It's a really great thing."
Gomez Bring It On 20th Anniversary Show, Thursday, June 7, Brooklyn Steel (319 Frost St., Brooklyn). Doors 7, show 8 p.m. Advance: $39.50-$139.50, door $40.