Grammy-winning saxophonist Jeff Coffin was on break from touring with Béla Fleck and the Flecktones July 1, 2008, when his manager called breaking the news that Dave Matthews Band sax player LeRoi Moore was seriously hurt in an ATV accident. DMB needed an emergency fill-in.
"I said, 'OK, when do they need me?'" Coffin, 49, recalled of the unexpected and saddening call about his horn-playing friend. "They said, 'Right away. Tomorrow in Charlotte (N.C.).' At the time, I was in New York at a friend's wedding and I was driving to my grandmother's in Massachusetts to visit for a few days."
Those quiet family plans were quickly derailed. Coffin rerouted himself to Charlotte and asked his stepson for a favor — hauling his gear from Coffin's home base in Nashville to Charlotte for the next night's show.
"There was too much going on to be nervous," Coffin recalled of being on stage for his first gig as DMB's saxophonist, performing for a crowd 10 times larger than the much more intimate audience for which he typically plays.
Coffin will play to a smallish crowd Tuesday night at the River Street Jazz Cafe in Wilkes-Barre, Pa., as leader of Jeff Coffin & the Mu'tet, a quintet that mixes funk, jazz, folk and electronic — among other genres — with Coffin's Flecktone buddy, Roy "Futureman" Wooten, on drums. (For this lineup, Futureman plays a traditional drum kit as opposed to the trademark, hand-held Drumitar he invented.)
When Coffin spoke to Highway 81, he acknowledged his invitation to play with DMB theoretically meant an impossible task of learning a catalog of some 150 tunes in less than 24 hours. But Coffin, who comes across as a calm, grounded and insightful man, simply trusted his musical instincts and — as he likes to stress, "the fundamentals" — to get him through those first few uncertain and tense DMB gigs.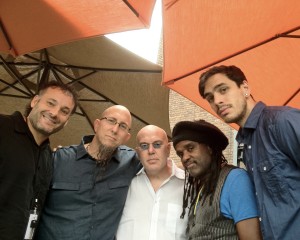 "It was just like, 'Here's where the rubber meets the road,'" Coffin said.
Coffin, who has been a regular performer at Umphrey's McGee's New Year's Eve shows for about nine years, said he feels different levels of intimacy with a crowd whether he's playing with Umphrey's, the Flecktones or DMB.
"It's a different connection to (a much larger) audience. It's not as personal in some ways (with DMB). It can't be. But we do make connections with people in the crowd. Eye contact, a nod. 'I know you. You've been to a lot of shows.'
"And some fans become friends. It's just a different chemistry that exists. With the Mu'tet, we play for much smaller crowds. There's a different intimacy. We travel in a van together. I enjoy that. For the most part.
"After a few days, you feel your age, for sure. I'm not a young man anymore. My body's letting me know. I just love playing music so much that I'm willing to do whatever it takes. As long as the intimacy is there."
Coffin spoke to Highway 81 Thursday morning, a couple hours before presiding over a music clinic for students at Reading (Pa.) High School. Later that night, he would host a gig at a club in Reading where 50-60 of those students would get to jam with him and Futureman. Coffin has hosted more than 350 such music clinics at schools across the country.
"It's not unusual for a (former) student to come up after a gig or after a clinic at a college or at a festival to say, 'Hey man, I met you 10 years ago at a clinic, and now I'm playing professionally,'" Coffin said proudly. "It seems like it's been successful. People staying in touch. It's telling me what it meant for someone to have us at their school."
Being unexpectedly thrown into a situation as he was with DMB was really nothing new for Coffin, dating back to two decades earlier, when Fleck first invited him to sit in with the Flecktones.
And it reinforced those fundamentals. Coffin maintains that any musician who knows the basics of his craft can improvise at a moment's notice with any group, regardless of genre.
Back in the mid-1990s, Coffin was hosting open jam sessions in Nashville, where a drummer friend, Tom Pollard, a mutual friend of Fleck's, would sit in.
"He heard me play and called Béla," Coffin recalled. "He told him, 'There's a tenor player in town I think you guys should connect with.' I met Béla in Aspen (Colo.) a couple weeks after that. I was out there with another band from Nashville. Béla said, 'I have a message to look you up when I get home.' We talked about education and what music I was into. He said, 'Look, when I get home, let's do some playing together. We've got a couple dates in Nashville.' We just hit it off.
"I was terrified. It was around Christmas. Stuart Duncan (a bluegrass string player) was supposed to sit in with them (but he backed out). Béla said, 'Just sit in with us the whole night. We'll do some Christmas tunes.'"
Coffin recalled nervously handwriting the notes to Fleck's "Sunset Road" on a napkin and taping it to his microphone stand so he'd know how to play it for one of those initial Flecktones gigs.
After one of those first shows with the band, Coffin, unimpressed with his performance, figured he was bidding farewell.
"I said, 'I really appreciate it. The opportunity. You can just send me on a bus tomorrow. This music is just too difficult.' (Béla) said, 'No, you were great.' They're my family. I'm sure we'll make more music together."
That began a 14-year run for Coffin with the Flecktones, a band that's been on hiatus since 2010, while each of its members pursues other projects.
Coffin acknowledged his decision to part ways with the Flecktones, whom he refers to as his "family," was a difficult one.
"Everybody is doing other projects," said Coffin, who has two stepsons from a previous marriage. His second wife, Ryoko, plays harmonium on The Mu'tet's latest CD, "Side Up," which will be released this week.
"I miss those guys a lot," Coffin added of the Flecktones. "Béla and I are very, very close as friends. We would hang out a lot on the road. I do miss that. I miss everybody. Being on the bus together and listening to music on the bus together and talking. I do miss it. But there's a progression in life, and I trust in that progression. I'm sure we'll make more music together."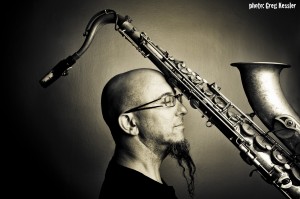 Unexpectedly and reluctantly, Coffin became a permanent member of DMB after LeRoi Moore's stunning death from injuries he suffered in the June 30, 2008, ATV accident.
"They're my family now," Coffin said of DMB. "You go through the trenches with people like that. It's a terrible way to get a gig with the way it happened. It was a tragedy, nothing any of us expected. People say to me, 'It must be difficult for you for you to do this gig when 'Roi just passed.' As difficult as it must be for me, just think of what they're going through. Suddenly, there's somebody else at the dinner table every night.
"You can never replace somebody like him. They were supportive and are still so supportive. The fans have been amazing. It's been so great."
Coffin got to know Matthews and his band on tour while the Flecktones were opening for DMB. So, after Moore's accident, there were no tryouts. Coffin was the first sax player dialed up by the band.
Coffin said he and Moore developed a close bond on the road. So much so that Coffin insists he feels Moore's presence every night on stage.
While on the road with DMB, Coffin travels with a photo of him and Moore. The photo is part of his stage setup. Coffin keeps it on a shelf inside a plexiglass rig at his spot on stage.
"His face is very animated (in the photo). He's up there with me every night. I think about him a lot. I listen to him as much as I've listened to any (sax player)," Coffin lamented. "I know he's there."