Photos by Angelo Santoro
FLUSHING, N.Y. — There's something to be said for ending your career while your skills are at their peak, guaranteeing you won't have a chance to sully your scorecard. Jerry Seinfeld walked away from his sitcom when he surely could have made millions and millions more for as long as he wanted. Legendary NFL  running back Barry Sanders played his last snap at the youthful age of 30.
The surviving members of the Grateful Dead have taken the opposite approach. When Jerry Garcia battled addiction and health issues, they kept playing. When he died in 1995, they kept playing, in various incarnations, sometimes together and often apart. And while they risked tarnishing the legacy of what should be considered the greatest rock band in American history – and some traditionalist fans would say, often did just that – the music of the Dead has proven to have a life of its own, inspiring generations of musicians from several genres. So why should the original members deny themselves the joy of reveling in that material, with a little help from their friends?
What makes Dead and Company, the latest in a long line of post-Dead reunion projects (see also The Other Ones, The Dead and Furthur), work so magnificently is the magical balance struck between core Dead members Bob Weir, Bill Kreutzmann and Mickey Hart and non-GD members John Mayer, Jeff Chimenti and Oteil Burbridge. The X-factor, it seems, is Mayer. While the core members have over the years brought in some of the jam band scene's most talented and beloved lead guitarists (Trey Anastasio, Warren Haynes, Steve Kimock, Jimmy Herring and John Kadlecik among them), it turns out that the pop star who wrote "Your Body Is A Wonderland" and has a dating history that rivals Leonardo DiCaprio's is the best fit. Who knew?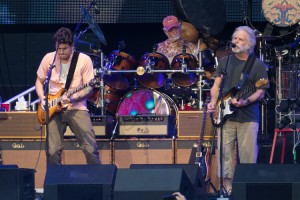 Over the course of last weekend's two-night run at Citi Field, the home of the New York Mets, Dead and Company doled out a heavy dose of summertime nostalgia, thrilling tens of thousands of Deadheads with classic selections like "Shakedown Street," "Casey Jones," "Ripple," "St. Stephen" and "Truckin'," but how the band played, not simply what it played, is what made the weekend special. This is a band clearly having a blast. You can hear it in Mayer's scat singing during "He's Gone" on Sunday. You could see it as bassist Burbridge, eyes closed and smiling from ear to ear, gently swayed to the music. You could sense it as Weir and company welcomed former GD backing vocalist Donna Jean Godchaux to the stage on both nights. You could even feel it as Chimenti playfully ground out a few lines from the stadium classic "Charge!" on the organ before Saturday's second set.
Scroll down for setlists and more photos.
Mayer's academic immersion into Grateful Dead music is paying off, as he is now going beyond learning the songs and finding new twists and flavors to add to songs like "Slipknot!," in which he injects ferocious, spiraling leads. His smoky vocals have also brought out nuances in tunes like "Althea." And Burbridge, who was the Allman Brothers Band's bassist until their recent retirement, and Chimenti, a decades-long Dead-scene musician, are just as important, honoring the material without simply providing cover-band recitations. Burbridge's jazzy, funky approach to the bass makes it easier for Deadheads to swallow the absence of Dead bassist Phil Lesh, who has retired from full-scale touring, and Chimenti's tremendous and tasteful piano work evokes the spirit of late GD keyboardist Keith Godchaux.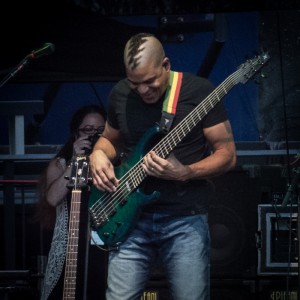 Also worth noting is the lack of needless noodling. Yes, this band likes to jam, and some of the songs unfurl into winding, serpentine journeys that might be lost on fans just looking to party and rock out. But that's nothing new. What is remarkable, and somewhat rare in the jam scene, is all of the improvisation feels purposeful. Saturday night's second set-opening "Dark Star" took several leisurely laps over the course of its 20 minutes before melting, surprisingly, into the down-home ditty "Friend of the Devil." And not a note of it was wasted or self-indulgent.
Another neat addition is Dead and Company's propensity to flat-out rock, which is especially key at a large-scale stadium concert. Tunes like "Passenger," "One More Saturday Night," "Samson and Delilah" "Bertha," "Goin' Down the Road Feelin' Bad" and "I Know You Rider" were taut and derived their power from their straightforwardness. Mayer likely deserves much credit for this, not only in his playing and singing, but in coaxing out more of Weir's rocking side.
Highlights from the two concerts would be difficult to pinpoint, which is a pleasant problem to have. But a look at the openers of all four sets — "Shakedown Street," "Dark Star," "St. Stephen" and "Truckin'" — would lead you to believe that each segment started off with a bang, and you'd be correct. NYC-centric lyrics like "just like New York City" in Saturday's "Ramble On Rose" were predictably well-received, but also a "you-had-to-be-there" moment; Godchaux's appearance seemed relatively symbolic, but her wailing with Weir during Sunday's "The Music Never Stopped" was goose-bump inducing, especially for a listener who had only heard them perform together on live recordings; well-worn combinations like "Help on the Way" > "Slipknot!" > "Franklin's Tower" and "Scarlet Begonias" > "Fire on the Mountain" felt just right; the Deadco debut of "Throwing Stones" was played with passion; and Weir-sung ballads like "Peggy-O," "Wharf Rat" and "Days Between," with a pleasant breeze blowing through the big ballpark, were the perfect airy counterpart to some of the more knotty, complex music.
Judging by the size of the crowds and internet chatter, it seems that many Deadheads who had got off the bus after Garcia died are jumping back on, and some younger fans, maybe drawn by Mayer, are checking out Dead music for the first time. It's a tricky thing, to play this music properly, to give it the proper respect while injecting some new life into it, but Dead and Company have proven to be up to the task, and then some. Here's hoping that this band, to borrow from a Dead song title, is built to last.      
SETLISTS
Citi Field, Flushing, Queens, N.Y., June 25, 2016
Set 1:
Shakedown Street (with Donna Jean Godchaux) (Bob Weir and John Mayer shared vocals)
Jack Straw (Bob Weir and John Mayer shared vocals)
Althea (John Mayer lead vocals)
Loose Lucy (with Donna Jean Godchaux)
Ramble On Rose
Sugaree (with Donna Jean Godchaux) (John Mayer lead vocals)
Passenger (with Donna Jean Godchaux) (Bob Weir and Donna Godchaux shared vocals)
Casey Jones (John Mayer lead vocals)
Set 2:
Dark Star >
Friend of the Devil (with Donna Jean Godchaux) (John Mayer and Bob Weir shared vocals)
Scarlet Begonias (with Donna Jean Godchaux) >
Fire on the Mountain (with Donna Jean Godchaux) (>)
Drums (with Oteil Burbridge on marimba) >
Space >
The Other One >
Wharf Rat >
Throwing Stones (live debut by Dead & Company)
Encore:
Ripple (acoustic) (Bob Weir and John Mayer shared vocals)
One More Saturday Night
Citi Field, Flushing, Queens, N.Y., June 26, 2016
Set 1:
St. Stephen (with "The Eleven" jam)
The Music Never Stopped (with Donna Jean Godchaux) (Bob Weir and John Mayer shared vocals)
Bertha (with Donna Jean Godchaux) (John Mayer lead vocals)
Black-Throated Wind
Peggy-O (Bob Weir and John Mayer shared vocals)
Box of Rain (John Mayer lead vocals)
Going Down the Road Feelin' Bad (with Donna Jean Godchaux) (Bob, John, Oteil and Donna shared vocals)
Set 2:
Truckin' (preceded by extended jam) >
He's Gone (with Donna Jean Godchaux) (John Mayer and Bob Weir shared vocals)
Help on the Way (with Donna Jean Godchaux) (Bob Weir and John Mayer shared vocals) >
Slipknot! >
Franklin's Tower (with Donna Jean Godchaux) >
Drums >
Space >
Days Between (preceded by long keyboard solo)
China Cat Sunflower (John Mayer and Bob Weir shared vocals) >
I Know You Rider (with Donna Jean Godchaux)
Encore:
Samson and Delilah (with Donna Jean Godchaux)
Setlists via setlist.fm