Photos and review by Keith Perks
Clutch, the "masters of riff," embarked on a giant, 38-date spring tour recently that made its way to the Sherman Theater in Stroudsburg, Pa., on May 1 with openers Nate Bergman and The Sword.
Formed in '91 in Germatown, Md., Clutch has been touring relentlessly and has released 12 studio albums, with its most recent being "Book of Bad Decisions" in 2018. The band performed 17 songs, including "X-Ray Visions," "Earth Rocker," "A Quick Death in Texas" and "Space Grass" and ended the performance with a three-song encore of "The Regulator," "Rats" and "The Face."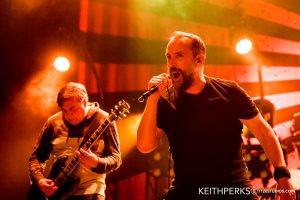 Neil Fallon is up there as one of the best frontmen of "rock." He paces like a madman engaging with the crowd. With every movement and every maniacal stare, he connects with fans and leads the heavy riffs and stomping rhythms of his bandmates. Guitarist Tim Sult, as usual, took his position on stage and performed like a machine, playing his way through sets of songs that are a fusion of metal, blues and funk with technicality and ease. Bassist Dan Maines and drummer Jean-Paul Gaster are the heavy anchors of the band that pummel crowds, giving the band and songs a solid structure of heavy and dirty progression. Needless to say, the crowd ate it all up that night. The energy was at an all-time high that night at The Sherman.
Clutch writes bar fight songs, songs that are soundtrack worthy, songs that you crank up in your car and fly down the highway to…songs to smoke, drink and stomp your feet to. That coupled with its down-to-earth presence and years of touring have gained the band a very large and loyal fanbase.
I've photographed Clutch a few times, and with each of its tours the band brings out some truly amazing openers. This tour was no exception with Bergman and The Sword. Bergman stepped out on the stage and commanded everyone's attention by walking up to the mic and belting out a bluesy and very moving a cappella song and then proceeded to shred through his setlist with his band. He got everyone's attention fast and set the mood for the night. It was my first time seeing him and he got himself a new fan. Pretty sure he picked up a sold out crowd of new fans that night.
The Sword was a band I've been trying to see for a long time, but it never worked out. I was thrilled to see the band opening for Clutch and it was one of the highlights of the night. The metal band from Austin performed a 10-song setlist starting off with "Freya" and ending with "Winter's Wolves." It was crushing from beginning to end. I got chills hearing about 1,800 people in the crowd doing the wolf howls as the band jammed out the remaining moments of the song. A truly incredible night.