"On some level as a musician, you want to release some kind of opus you're working on, but in a lot of cases it's better to have something people can relate to. And a good chorus is hard to come by."
That's Charles Davis of Cherokee Red, talking about the band's new dreamy single "The World Is My Oyster," which makes its exclusive debut here today. It will be available on cassette and via the group's Bandcamp page.
"I found that even as a listener with that song, when it was just Brittany and an acoustic guitar, the chorus really got me," he continues, referring to fellow Cherokee Red member Brittany Thomas. The band also includes Dirk Dekker, Andrew Sgarlat and Matt Rattigan; Christiana Bartolini is currently on a hiatus.
Davis and Dekker spoke with us by phone Wednesday night in Philadelphia before a tour kickoff show at Kung Fu Necktie. The tour includes stops in North Carolina, Virginia, Washington, D.C., Boston, New Hampshire, Brooklyn, Ithaca, N.Y., and a hometown show at The Other Side in Wilkes-Barre on Oct. 26.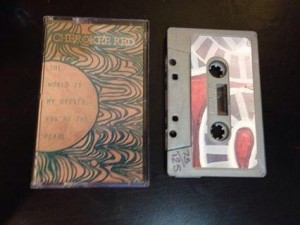 The band has noticed a growing response to its music as it hits cities it's played in previously.
Cherokee Red has played Northeastern Pa. sparingly, in order to not tap out that market.
"We don't play too much there," Dekker says. "There's a lot of local bands that play there every week and people aren't coming out as much."
Davis notes difference swithin the NEPA scene itself — specifically between its two chief cities of Wilkes-Barre and Scranton.
"Scranton is like a totally different city," he says. "On Sunday I went with  a friend to see Eww Yabboo and Family Animals and Suze play at The Bog, and I saw people I hadn't seen forever. I was thinking 'why haven't I been to Scranton, and why haven't you been to any Wilkes-Barre shows?' It's a complex scene, and you never really know. In Wilkes-Barre I've played like huge shows before – not huge shows, but shows with 200 people. We played a show at Canteen 900 (in Forty Fort in Luzerne County), that had like over 200 people two years ago, and since then we've played a show that had 35 people. I can't really explain it."
Off the stage, expect new songs from Cherokee Red in the not-too-distant future.
"I think we're going to do some recording this winter and get material together," Dekker shares. "We already have a plethora of ideas from everyone."