By Si Twining
Bruce Hornsby joined us for a phone chat to talk about Non-Secure Connection (and the record after!), life in lockdown and plenty more. Here are the highlights. 
Just like Absolute Zero, a little over half the songs have their origins as Spike Lee film cues. But the cues are, for the most part, fairly stylistically dissimilar to the cues from which I wrote the songs on ABZ.
But: the record starts in a similar way. The song Absolute Zero (that led off the record) starts off with a string orchestra all playing one note as a drone. And the first song on this record – Cleopatra Drones – starts off sort of the same way. So both records start off with drone music. Listening to the very first track of Non-Secure Connection, you'll think, "Oh, okay, this is certainly a sequel", but then it moves fairly far afield.This record ramps up the chromaticism quotient by a little more than double.
The ones I'm most proud of, of these more adventurous tracks, are the title song Non-Secure Connection, Shit's Crazy Out Here and Porn Hour. All of them deal in that black note, atonal, chromatic language. But the one I'm possibly most proud of is the title track, as far as this area of my song-writing goes, because it's the melody that's more dealing in chromaticism, it's not a white note melody at all.It's very angular, and that's fun to me. Non-Secure Connection was a cue which was used in season two of "She's Gotta Have It". I was amazed when that was picked. It was a composed improvisation, after listening to an Aaron Copland piano concerto. I thought, let me try my hand at this type of idea, which was basic chordal language with the left hand, but over the top of that, the melody goes in and out of tonality. That was a first for me. When I wrote the piece, I wrote it quickly – it was a one time through moment. I liken it to my old piece Song F, which was the same thing – just something I played, inspired by the third movement of the Samuel Barber piano sonata, with that certain movement in sixth chords.
So that was a new thing for me to write this way – I had this cue, and right away after I wrote it, I thought I need to write a song to this music. I'd been reading Wired magazine, with some amazing stories in there about computer hackers. It made me want to write this song, which is setting myself in the role of a cloistered-off computer hacker.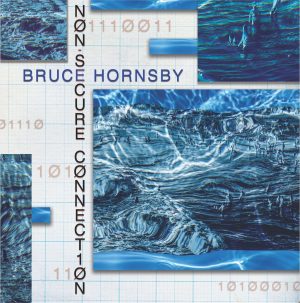 There's a song I'm working on now, on the next record after this one, that's inspired by the great Jonny Greenwood (Radiohead). He wrote a score years ago on The Master. I loved the music and love the score, and so this thing I'm working on now with deMatteo is a fairly crazy track called Bucket List. I'm playing fiddle on it, so that takes us into wild land, because I'm terrible at it – but I make a certain sound that has an effect, for better or worse. But sometimes really bad playing has its place.
There are no dulcimer tracks on this one, but very likely two on the next one. We're in the Covid-19 shutdown, so I decided to use my time wisely and started writing song after song. In the first six weeks of shutdown I wrote six songs, and I'm going to LA next week to work with Tony Berg.
Lockdown hasn't changed the approach – it's exactly the same between Absolute Zero and Non-Secure Connection. I start on my own in my studio.
The last few years really reminds me of the very beginning of my career, where it was just me and a drum machine in a room. I'd set up the drum machine groove, and write something over it, and play synth bass on my OB-X, and those would become the records. 
So this is not dissimilar to when I was in my garage in Van Nuys, California with my piano and drum machine. I'm not using a drum machine now – I'll record myself playing terribly again, and then have Chad play over that. And J.V. will play bass too, for instance on Voyager One – that was synth bass, but J.V. replayed what I did. Same with My Resolve – I had done that on synth bass, but J.V. played it in a much stronger way.
I've kind of moved on, now – I'm off to the next thing. Chip deMatteo wrote a song in July for our great friend Rob Moose, who's making a solo record. I just sang a duet with Tony Berg's daughter, the great Z Berg. And also I'm learning how to play the Non-Secure Connections songs on solo piano, because in the coronavirus era the only way to disseminate your music is to play these songs in your house. So I've kind of moved on, but it's been really nice because in the run-up to release, we've had two vaunted venues (Rolling Stone and SPIN) write major pieces. I was anathema to SPIN in my early days as "adult contemporary hitmaker", so for them to come around full circle and give me the nice warm embrace is unexpected and really nice.
I'm a long-time Shins fan and I love their record Wincing the Night Away, so I was a little influenced by a Shins song for My Resolve – the angular, melodic line that dots the landscape three or four times during the song. I thought to myself, "I don't know this guy (James Mercer) – maybe I'll just reach out to him. I'd love to sing this as a duet with someone, and here's my first choice". So I did, and he came in. James and I just recorded a remote video that's coming out soon – just a piano and two voices. He was fond of that song (My Resolve) and wanted to do it. Jamila Woods came in because I wanted a partner on Bright Star Cast. She got back to me saying that her dad was playing Rainbow's Cadillac to her when she was a kid, and she was in. That worked out so well; she enhanced the song so nicely with her voice.
Those are the two duet partners this time, and of course now the ubiquitous Rob Moose, just like last time, with his great group yMusic. He's on three of the songs on this record – My Resolve, Anything Can Happen and The Rat King – basically a piano and a one-man string orchestra. That's one of my favourites – it comes after Non-Secure Connection and all its chromatic language. I thought I'd give everyone a nice palate cleanser right after. It's a very simple, triadic gospel piano song. Rob Moose's (contribution) is gorgeous – I've finally found my Paul Buckmaster, who did the orchestrations on the early Elton John records. Rob is my kindred aesthetic spirit – I met him through Justin Vernon at the Eaux Claire Music and Arts Festival in 2016. I asked him to play at the Funhouse Festival and we just kept on going.
It's symbiotic – each learns from the other. It's a real gift to me. It's so interesting – one of the best parts of my early career, with all the commercial success, was all the attention I got from older, amazing artists who I'd admired when I was growing up. All of a sudden, I was getting reached out to by all these amazing people to work with them on their records. And for me, that was the most amazing part of that success. But then, at the other end of my career where I'm the elder, the same thing in reverse happened. The younger artists reached out to me. So I've had both situations, which have both been incredible in so many ways, and such an inspiration too.
Photo by Jeda Photography
Reprinted with permission from Bruuce.com. Listen to the interview here.