For 20 years, Kevin Griffin has fronted Better Than Ezra, the uber-tuneful, slightly quirky band that blasted out of the gate in the mid-1990s with hit songs like "Good," "In The Blood" and "Desparately Wanting" populating their first two albums, "Deluxe" (initially released on an indie label in 1993 but finding a large audience via its 1995 Elektra re-release) and sophomore effort "Friction Baby" in 1997.
The New Orleans-based band — and Griffin — have changed over the years. The group dipped into Radiohead-inspired experimentalism with 1998's "How Does Your Garden Grow?" and delved into more pop-based sounds with subsequent material, including 2014's "All Together Now," which birthed the Billboard Adult Contemporary hit "Crazy Lucky." Meanwhile, Griffin recently relocated to Nashville, where he has found a second career as a highly demanded songwriter, having penned songs with and for artists like Taylor Swift, Sugarland, Train, Christina Perri and Barenaked Ladies. "Stuck Like Glue," which he wrote with Sugrland, went to No. 1 on the country charts in 2010.
Despite the profitable songwriting work outside of BTE, Griffin has continued to make the band a major focus of his career. In fact, he values touring so much, he even takes on solo acoustic dates so he can stay on the road — including a show this Friday, Jan. 16 at Highline Ballroom in New York and a Saturday, Jan. 17 performance at Musikfest Café in the SteelStacks complex in Bethlehem, Pa.
We recently chatted with Griffin about what to expect at the solo shows, the current state of Ezra, his songwriting approach with outside artists, the glory days of '90s alternative rock and his favorite three-piece Canadian band.
H81R: You'll be doing two shows in our region. How would you describe the structure and the feel of these solo shows compared to Better Than Ezra concerts?
KG: I think what the solo acoustic shows allow me to do is not only play mostly a lot of album stuff, Better Than Ezra songs that we normally don't play with Better Than Ezra, and the hits, and I take a lot of requests, so people who could hear songs that are maybe fan favorites that Ezra wouldn't play live. Also I've written a lot of songs for other artists from James Blunt to Sugarland to Cristina Perri and others, so I do my versions of those songs, oftentimes kind of the way they were written. I do covers, I do a lot of talking, for better or for worse, but it's looser, more conversational. I like the size of ArtsQuest and Highline because they're not big rooms, it kind of feels like a guitar circle, what we call in Nashville a guitar pull, so it's kind of a fun, casual vibe where there's not, maybe, the posturing you have your electric guitar and your band.
H81R: Have you had to go back and re-learn any of your older songs for this run of dates?
KG: Oh yeah, oh yeah. I've already gone back to learn some Ezra songs, I learned this Barenaked Ladies song called "Odds Are," their last single that I wrote with Ed (Robertson). I got requests for that, and I was like, "What are the chords?" It's funny when you write a song and you record, and you move on to another project, so you have to learn a song that you've actually written. It's fun, though. It keeps me on my toes and I've always just liked performing, so this is a fresh way to go out and do it. Maybe people that have seen the band recently get to see a different side and maybe hear some songs they didn't know I had a hand in.
H81R: With the success of your songwriting for other artists, have you been tempted to give up Better Than Ezra and focus on the songwriting full time?
KG: You know what? There's a lot of guys that do that, they're only writers, and my publisher and manager and other people in the business kind of question why I still like to play with Ezra and be on the road. Yeah, it would probably be more lucrative to be at home writing all the time, but man, that's just not me. I like being out and performing, since second grade. You get this bug to perform, and you're screwed. What you did in your garage or at the talent show, if you're lucky you get to do for a career where you have a public where you're really big, and some people stay there, but most of us, we have a big title, we're the "new young thing," then we kind of keep doing it.  For me it's kind of therapy and it's fun and I love traveling and seeing people in different cities. So while it might make the most sense business-wise, I will always be out playing shows.
H81R: Many rock musicians have gravitated to Nashville recently. As one of them, were you immediately accepted, or is it more of an insular, country-dominated scene?
KG: I think you definitely have to put your time in and pay your dues. I think there's some people who still have a very provincial, insular view of Nashville and they're wary of carpetbaggers coming to cash in on pop country and all that stuff, but for the most part I think a lot of that is gone. It was the older people in the business. What I've experienced is that most country artists and songwriters were rock fans. So if anything, being in the band has gotten me in the door with some big writers who normally not write with me because maybe I haven't had a big enough country hit to warrant being in a two-way or three-way writing session. So it's been an asset to me.
The worst-kept secret was that Nashville is a great place to be for a musician. The infrastructure is here, all the rehearsal rooms all the way up to publishing and labels and staging and tour buses, it's all based out of here, so it's just a great place to be. And I think most people now are just seeing that the more musicians that come to Nashville, everybody wins because it's a healthier industry.
H81R: When you're writing for other artists, do you have to adapt your style to fit the needs of their music?
KG: Some writers are very much about their style; you hear a song that they wrote and you know the writer. Ryan Tedder is like that; you can tell a song that Ryan Tedder's had a hand in. My strength is listening to the artist I'm going to write with and figuring out what they do best and trying to say, "OK, this is great, what you're doing," and trying to put that hat on and make those strengths better, try to amplify what that person does really well. I prefer to write what that artists does.
H81R: Do you need to be a fan of an artists' previous material to write with them?
KG: I think you do. I'm a fan of almost all types of music. The only thing that I've done where it didn't feel sincere to me when I was writing it was, I worked with some really heavy band, who will remain nameless, kind of crossover pop/metal bands, and I said, "This is not for me," and I just couldn't do it. I did, I got the cut, but I said I can't do another song like that. It was just like, "no thanks."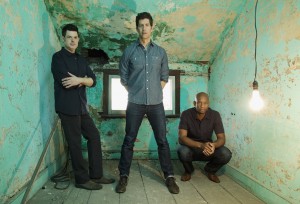 H81R: How would you describe the Better Than Ezra fanbase? Is it mainly the same fans from the early days, a lot of new faces or a mix of both?
KG: I think there's a lot of the same people because we've been around a while, but it's amazing what a song on the radio (can do). I think "Crazy Lucky" went to 25 on AC (Adult Contemporary) and that kind of breathes new life into the audience; there's people not reacting to the old songs and reacting to the new ones. It's an interesting phenomenon that we've hadn't had in a while. Mostly still familiar faces and what we think would be the Ezra audience, but suddenly a contingent of college kids is really cool. And then kids that are just getting into '90s music. My son and his buddies are all into Pixies and Cake and Radiohead.
H81R: Unlike a band such as AC/DC, which people joke have made the same album over and over, Better Than Ezra seems to change its musical style from album to album. How would you describe the progression of the band throughout its career, and was that a conscious decision?
KG: It's always been a conscious effort to not repeat ourselves. I've always liked bands that have evolved as music styles evolved and their tastes have evolved. I just couldn't make a record like "Deluxe" or "Friction Baby" because that's not where my heart's at. Some of those bands did it, AC/DC is great, but I can't imagine the same guitar rock. I love it, but doing that same kind of stuff…I'm just into different stuff. Yeah, our music's changed, and we've always lost fans and we've gained new fans. This album is a great example of that. Much different than our past record. Maybe if you had to compare it to something it would be our "Closer" record from 2001.
H81R: After the success of "Deluxe," you came out with "Friction Baby," which sounded quite a bit different, yet was still a success. Then you released "How Does Your Garden Grow" which was in many ways a complete departure from either album. Those all were pretty adventurous albums to be released on a major label. Were you looking at it that way? Did you have a lot of freedom?
KG: We've always had a lot of freedom. It's funny, "How Does Your Garden Grow" was so different, it had very differently treated guitars. We were listening to Bjork and obviously "OK Computer." Truth be told, it probably contributed to us getting dropped after that album because it didn't sell very well but it is one of our biggest fan favorites and a cult favorite. … It was a different time. It was a time when you were left to your own devices. You were left to thrive or fail, at least we were. It wasn't like now when everyone is writing with a hit songwriter, because it was about albums and there wasn't the premium on singles that there is today; it's a singles market, it's all Spotify and single sales.
H81R: There was a lot of diversity within what was called "alternative rock," with artists ranging from Hootie and the Blowfish to Primus having success. What do you think is the legacy of that era?
KG: I think there was an honesty and a rawness to that music. Because everything wasn't Beat Detective and Pro Tools. It was real bands playing, things weren't perfectly on the grid, you could have a song that was No. 1 like "Lump" or "Good" or "Sex and Candy" where production value was low and it could sell millions of records. I don't think that is the case anymore. There's bands like The Lumineers or Gotye but it was all across the board back then. It was a really cool time. People were trying to push the limits of what guitars did, with like Jonny Greenwood and Radiohead and Tom Morello and stuff like that. That's not happening now.
H81R: I saw a YouTube clip of Better Than Ezra playing a medley of Rush songs. Are you a Rush fan?
KG: Oh my God. I'm a massive fan. They inform everything I do. As a kid, from "Fly By Night" and "Caress Of Steel" all the way up to, I don't know, "Signals," maybe some of the later stuff, I knew everything. I was in Rush cover bands in high school. I got to meet those guys, Alex Lifeson showed me "Spirit of Radio" on guitar. And I've worked with bands like Barenaked Ladies and other bands that know those guys, so I've gotten to know Geddy via Ed Robertson and Geddy remembers meeting me back in the day, and that's a whole other interview Mike, but yeah.
H81R: Before you go, are there are any other projects you'd like to mention?
KG: Oh yeah. Me and a guy named Same Hollander, who is a New York native who lives in L.A. and is a big writer, he's written Train songs and Gym Class Heroes and stuff, we formed this Christmas group called Band of Merrymakers and we had a song called "Must Be Christmas" this past year. The profits went to MusiCares, the charitable arm of the Grammys, and it was kind of big, raucous, sing-along song with members of Fitz and the Tantrums, Neon Trees and Lady Antebellum. We put it out and got some great press and nice sales and chart numbers, and now we're going to put a full album out next Christmas and start doing it every year and start doing a touring group for the Christmas holidays, so keep an eye out for Band of Merrymakers.
Kevin Griffin will perform Friday, Jan. 16 at 8 p.m. at Highline Ballroom (431 W. 16th St., New York, 212.414.5994). Tickets are $25-$45. For more information, click here. Griffin will also perform Saturday, Jan. 17 at 8 p.m. at Musikfest Cafe (101 Founders Way, Bethlehem, Pa., 610.332.3378). Tickets are $17-$22 in advance and $20-$25 day of show. For more information, click here.