By Michael Lester
Photos by Jay Blakesberg
Name a low-paying, manual labor job, and singer-songwriter blues-based guitarist Anders Osborne has probably done it during his well-traveled, adventurous and heavily tattooed lifetime.
The native of Sweden known for his fiery improvisational performances has done it all — both musically and outside the industry, where he's made a successful career as a touring musician and prolific songwriter.
He once worked a restaurant job in California. At an art gallery in Beverly Hills. He picked avocados and olives in Greece. He even labored on a mink farm.
"I did all that good stuff. Odd jobs. I dug ditches. I did all kinds of stuff," Osborne, who turns 49 in May, said recently after returning home to New Orleans from Jamaica. He was there as a guest of Warren Haynes and Gov't Mule for the four-day Island Exodus festival that featured renowned slide guitarist Sonny Landreth.
Osborne left his home in Sweden at the age of 16 and wandered the world as a hitchhiker, working odd jobs and performing on streets and in taverns. Along the way, he's overcome drug and alcohol addiction and written over 1,000 songs, one of which was recorded by Tim McGraw and rose to No. 1 on the Billboard country charts.
Osborne spoke to Highway 81 Revisited just days before entering a studio to cut an album with the brothers Dickinson — guitarist Luther and drummer Cody — from the North Mississippi Allstars that will form the foundation of their 26-date, cross-country tour as North Mississippi Osborne later this month through early April.
The tour includes stops at The Capitol Theatre in Port Chester, N.Y., Feb. 27, and the Ardmore Music Hall in suburban Philadelphia Feb. 28.
North Mississippi Osborne has since released an 11-track album, "Freedom and Dreams."
When speaking with Osborne, you're immediately struck by the absence of even a hint of a Scandinavian accent. He actually speaks with a mild Cajun drawl having lived most of his life in his adopted home of New Orleans.
Osborne said his trio, which includes bassist Carl Dufrene and drummer Brady Blade, will take turns on stage with North Mississippi Allstars and shift into a set with all six members of both bands on stage. He said shows will start with a "stripped-down and intimate" acoustic set, reminiscent of his recent Southern Soul
Assembly tours with Luther Dickinson, JJ Grey and fellow Louisianan and longtime friend Marc Broussard.
Osborne described as a "good friend" legendary record producer Jim Dickinson, the late father of the Dickinson brothers. Osborne recorded with Jim back in the 1990s.
"I think maybe five, six years ago, I think I reached out to Luther," Osborne recalled. "I've been a fan of his for a long time. I think I called Luther to be part of a show I had for a Jazz Festival performance (in New Orleans).
"He was kind enough to accept the offer. After that, we struck up a friendship. We continued to talk. We put together a tour with my trio band and we added Luther."
That friendship helped lay the groundwork for the mostly acoustic Southern Soul singer-songwriter collaboration.
"I love it. It's so effortless," Osborne said of Southern Soul. "The other three guys are such phenomenal artists. It's a pleasure to sit up there and listen to it every night. They're really good guys. It's inspiring to be around. I've known Marc even longer. Being from Louisiana, we have that connection.
"JJ and I had been more acquaintances, saying hello at festivals, checking each other's shows out. They're outstanding gentlemen."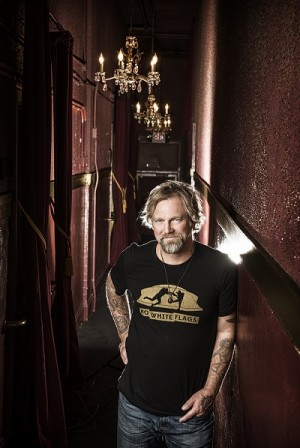 Making worldwide musical connections is what Osborne has been doing ever since he left home at 16, although he wasn't particularly revealing about why he left.
"The first thing you need is, you need to be a little bit unaware of things," he said of setting out on his own as a teen. "I was just soul searching. I was just ready to move on, find things out there in the world.
"So, I hitchhiked. Once you start moving around, one person leads to another, and one job leads to another job. It's not really that I had a plan. It's following the things you're presented with. Just being a teenager, I wasn't really happy with what I was doing. I wasn't getting much out of my group of friends.
"I woke up on a Tuesday morning and I knew I had to get the hell out of here right now," added Osborne, who has a son and daughter with wife Sarah. "On Thursday morning, I left. That's it. You meet some good people and some bad people. I had my acoustic guitar — I always wrote songs — and a few cassettes: Dylan, James Taylor, Joni Mitchell, The Eagles Greatest Hits.
"You sort of trade tapes with people. I ran into a Jim Croce tape. I'm sure there was a little Led Zeppelin mixed in there."
Osborne, whose father Ralph, a former professional jazz drummer, still lives in Scandinavia, recalled that his parents figured he'd return in two weeks.
"It turned into six months. I would check in with them. Before you knew it, I was living in Israel, going to Africa. I think they began to see this was going to be a little longer. I don't know that they were supportive. In retrospect, it must have been a little worrisome for them."
When Osborne reached his 20s, he settled down in New Orleans, where grandparents and cousins of his lived. He began touring with his music in clubs in the southeastern U.S.
In recent years, Osborne has collaborated with Phil Lesh of the Grateful Dead on his Phil and Friends tours, guitarist Derek Trucks and saxman Karl Denson, among others.
In addition to penning "Watch the Wind Blow By" for McGraw, Osborne wrote two songs for blues musician Keb' Mo's 1999 Grammy-winning album "Slow Down." Brad Paisley had Kim Carnes have covered some of Osborne's material.
"I was a staff writer for a few different publishing companies out of Nashville," Osborne explained. "I worked out of those offices from the mid-'90s to the mid-2000s. I worked for Hologram and Universal Music Publishing.
"I would go up there and write and co-write with other people. And then you basically become the writing crew for a recording artist. I was fortunate. Tim got into one of my songs. I don't really play it myself a whole lot.
"Sometimes, in solo shows, some singer-songwriter performances, I'll bring it out. It's more his song. I wrote it and I'm proud of it. It was an attempt to make an Otis Redding soul song. The way (McGraw) performed it, it sounded like a beautiful country tune.
"I'm an avid writer. I write a lot of songs. I send them out to a lot of people."
While Osborne doesn't dwell on his past with substance abuse, he doesn't shy away from addressing it.
"For me, it was six years ago. I got into a good program," he said. "Prior to that, I didn't have that. I didn't have that recovery program. I was just trying to not use and not drink. It wasn't enough. I didn't manage to do it on my own.
"Once I got introduced to (Narcotics Anonymous) and AA, I got a lot of miraculous help. You discover this network of people who have the same problems."
Meditating and getting outdoors have helped him keep clean the past few years and have inspired the latest album he's recording, "Space Dust and Ocean Views."
"There are two things I'm interested in — philosophy and the beach. I love skateboarding and surfing," said Osborne, who rides his bicycle about 12 miles a day.
"A lot of the music was written while I'm on the beach or riding my bicycle or meditating.
"It's that feeling of freedom that you get."