Musician couple Abby Ahmad and Mark Marshall have created a sizable and diverse catalog of music together, on their own and with other collaborators. Ahmad, a singer, songwriter and guitarist, is recording a new set of songs with the help of Marshall; a new single, "Because," will be the first release from those sessions. In addition to her teaching vocals and yoga, she's an actress who's most recently appeared in the Broadway Bound Theatre Festival.
Marshall, meanwhile, tours as a guitarist in Amy Helm's band (he'd also played with her legendary father, The Band's late Levon Helm), writes music for film and TV, including the History channel series "American Pickers," pens a column for Premier Guitar magazine and teaches guitar.
On Saturday, Aug. 18, Ahmad and Marshall will showcase much of that material in a duo show at Karl Hall in Wilkes-Barre. The Brooklyn residents, originally from Northeastern Pa., said the homecoming gig will give them an opportunity to showcase various material from both of their histories for local fans, friends and family.
Ahmad, who had a song featured in the 2006 Kevin Costner film, "The Guardian," and Marshall, who recently opened a string of shows for Elvis Costello while on tour with Helm, recently sat down on a sunny morning at a cafe in their Park Slope, Brooklyn, neighborhood to discuss the upcoming show and their longtime musical relationship.
What do you have planned for the Wilkes-Barre show?
AA: We've done iterations of my solo stuff at hometown shows before and we've done our joint project, which is a blues band, Fife & Drom, so this is kind of not a retrospective but a more intimate evening showcasing the breadth of our compositional stuff, so Mark's solo work, my solo work and our collaborative work.
MM: I think that we were coming home and playing for our family and friends and I think we've been engaging in all of our projects a lot more recently and just kind of thought about breaking down that wall of everything having to be separated — our band Fife & Drom, Abby's music, my film score music. We just thought we should just combine it all together and kind of look at it as a look at all of our collective work over the past several years.
You said you've put together the setlist. How was that experience?
AA: I feel like we wanted to cover a lot of ground but also have it be dynamically climactic and showcase also different arrangements, having us both do solo work, duo work and then some of our bandmates are going to come and join us, so it will be diverse on that spectrum.
How did you meet and being collaborating?
AA: A mutual friend of ours, Bob Lewis, a hometown hero. I moved here from Pittsburgh in 2005, and Mark moved here from NEPA in 2005, two weeks apart. Bob recommended that Bob check out my music, and a couple months later he reached out to me because he was booking a venue called the Crossroads Cafe, and I came and did a gig there. We really just hit it off, and Mark offered his services as an accompanist, so I hired him for a gig, and then we created this really deep musical bond over the next couple of years playing a lot of gigs and Mark co-produced by second record with me, and through that we realized that there was something more than just a musical relationship. I think we both stifled that energy for a while because the musical energy and professional relationship was one of the strongest that we ever had and so we didn't want to screw that up.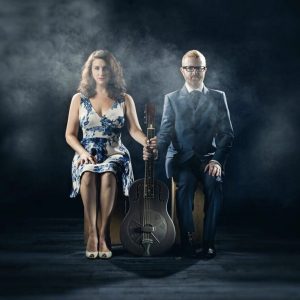 What are some of your musical differences and similarities?
AA: My personal style was built around being a solo artist, because for so long I didn't play with a band. So by being on my own and playing solo I kind of had to create the bass and the drums through the percussiveness of the instrument. So I was always a little wary of playing with other accompanists because a lot of people didn't understand that, but Mark is a songwriter's session musician. He is a songwriter himself, so he really understands how to enhance a song and not so much make it about putting his personal stamp on it — and he does, but he does it through the prioritization of the song and the songwriter, which not only has been a benefit to me but has been extremely beneficial to Mark and his career and working with a lot of incredible artists in his own right.
MM: It is interesting. We have a place that we both cross, which is Bob Dylan and Tori Amos and Fiona Apple, and Abby has a background in musical theater, so she has musical influences there that I hadn't been exposed to that she's exposed me to, and I think I have quite an eclectic taste, so I come from a bit of a punk background and also like film composition like Ennio Morricone and stuff like that, so I think we both have shifted in different directions a little bit, and not so much that they conflict with each other but we have that point where we're in the middle. So because we have that middle joint I think we can both bring elements in from all these different styles.
Abby, how has it been diving back into theater work?
AA: It's been about 10 years since I've done any theater work. It's been really incredible getting back into it. It's a huge part of my life that I kind of put on the backburner, even though performing music still has that element of theatricality, especially in our project, because I don't always have the guitar so I'm able to be much more free with my body. But theater is just something I always had natural inclination for and I went to school for music and was going to drop out because it wasn't the right program for me, and the theater department welcomed me with open arms and I got more of an education on how to be both a musician and a dramatist out of that.
Are you also working on new music?
AA: We're on the precipice of releasing a new single. This new record, it's been a really interesting endeavor because we're doing it completely on our own, which has been so creatively gratifying. It's kind of interesting because I'm old-school in that I like to listen to full records and have the full narrative and sit down with the the lyrics, so I had clung to that for a long time and I resisted the singles craze that's happening now, but I realized that being an artist it's kind of a great opportunity, because each song gets to be its own entity. You can create visual accompaniment to it that creates a whole new world for each song. So I'm actually pretty excited to start releasing these songs in song format rather than a collective.
Will it also be released as a full album?
AA: Yeah, when we can.
Mark, what has it been like performing with Amy Helm?
MM: It's really fun. It's challenging, because she's really a strong performer. She goes on stage, it's just 100 percent, there's never anything that ever shakes her, so to always be on stage with someone who's supercharged that way, it makes you check yourself a lot. It makes you bring more out of yourself and give more. We've been doing a lot of dates, so being on the road like that does a lot of good things for your playing. Just the songs, the songs are really great, the band's really great, so it's just been a positive experience.
Abby Ahmad and Mark Marshall will perform Saturday, Aug. 18, at Karl Hall (57B N. Main St., Wilkes-Barre, PA, 18702). Doors 7:30 p.m., show 8 p.m. All-ages, BYOB. For tickets and more info, visit the venue website.