In the same week that Ween announced its first live album since 2008, Dean Ween shared the first video for the upcoming debut album by The Dean Ween Group.
"GodWeenSatan Live," recorded on Sept. 14, 2001 at John and Peter's in New Hope, the duo's hometown, will be released Nov. 18, while "The Deaner Album" will be out on Friday, Oct. 21. Rolling Stone is currently streaming "The Deaner Album" in its entirety, and you can view the video for "Exercise Man" (NSFW language, FYI) below.
EXERCISE MAN by The Dean Ween Group from Monica Hampton on Vimeo.
The Dean Ween Group includes touring Ween members Claude Coleman Jr., Dave Dreiwitz and Glenn McClelland as well as Bill Fowler. It formed about two years ago as a way for The Deaner to get back into live performance.
"I got inspired about two years ago when I started this band and it hasn't dried up yet," he says.  "I'm starting to realize what I want to get out of the Dean Ween Group and it's just more of all the good things I've ever liked about the records I've made.  It's a solid record.  I don't care if people like a record or not. If I know I put a lot of work into it, then I can live with it forever. I have no regrets musically about anything I've ever done…  Ween, Moist Boyz, Chris Harford, whatever.  And I got there with my record. A lot of work went into it and I hope it translates when you hear it."
"After Ween stopped, I put my guitar down for almost a year," Dean says.  "I'll never do that again.  I'm so into practicing and writing and being good at my craft right now.   I'm back in playoff shape. I write and play and record all day, every day, and I'm going to keep it there for the rest of my life."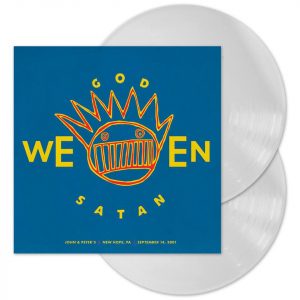 Ween appeared to come to an end in 2012 when Aaron Freeman announced that "Gene Ween" was retiring, but the group reunited for a few concerts in 2015.
Here's what The Deaner has to say about "GodWeenSatan Live":
"They say you only get one chance to make your first record and that's very true. The thing with Ween though, we had already been together for a while by the time our debut album, GodWeenSatan, was initially released, and had amassed a TON of tunes.  I hadn't thought of GWS as a new album, but more of a "greatest hits" of our first six years together.
"GWS was re-released by Restless Records on September 11, 2001 — a day that lives in infamy. We had planned a show at our local bar, John and Peter's in New Hope, PA, on September 14 to celebrate the reissue. If you are old enough to remember 9/11, you remember the feeling of dread and that things would never be the same, ever. We didn't know whether to cancel the gig or not, but ultimately decided that we shouldn't let the tragedy affect our plans.
"There was a sense of raw emotion the night of the show. It had been only a few days since the towers had fallen, and everyone in the world had been glued to their TVs. As we walked onto the stage the crowd was in a daze, but we came to play that night and needed to deliver in a big way. It was very cathartic on both sides of the stage, for both band and audience.  Remarkably, that night, we were able to conjure up the spirit we had when we originally wrote these songs – some dating back to 1985.
"I have never heard Gener sing as hard as he did that night. He was screaming, just like he did when we cut the record. I broke out my old 1958 Fender Musicmaster – the same one I had played on GWS.
"Up until our reunion in 2016, this show from 2001 would be the only time we'd ever perform a lot of these tunes. Luckily enough, we had the foresight to record this night to 24 track, and in all of these years have never leaked it to the public.  9/14/01 was a very special night for Ween, a time way before it was trendy for bands to perform an album live in its entirety. It seemed like a good idea at the time, and now we're pretty sure it was."