Billing himself as "the creative genius of Pink Floyd" (he's not wrong), Rogers Waters has announced the "Us +Them" North American tour, which will launch May 26 in Kansas City, Mo., and wrap up Oct. 28 in Vancouver. Waters, who with typical bravado promises, "It'll be spectacular like all my shows have been," will make stops at the Wells Fargo Center in Philadelphia on Aug. 8 and Aug. 9, the Prudential Center in Newark, N.J., on Sept. 7 and the Barclays Center in Brooklyn on Sept. 11 and 12.
"It'll be a mixture of stuff from my long career, stuff from my years with Pink Floyd, some new things. Probably 75% of it will be old material and 25% will be new, but it will be all connected by a general theme," Waters said in the tour announcement.
Tickets go on sale Friday, Oct. 21. For more information, visit Waters' website.
Mike Watt to Release Live Album Featuring Eddie Vedder, Dave Grohl
A live album from legendary punk bassist Mike Watt's "ring spiel" tour in 1995 will be released Nov. 11. What made the tour, in support of the former Minutemen bassist's debut studio album, "ball-hog or tugboat?," particularly notable was the backing band, which included Pearl Jam frontman Eddie Vedder and Dave Grohl, of the then-recently departed Nirvana and Foo Fighters. Pat Smear and William Goldsmith also join Watt on the live document, which was recorded at the Metro in Chicago.
In addition to 2-CD and digital versions, the live album will be available in 150g standard 2LP and a limited edition 2LP 12″ orange colored vinyl set.
Kathleen Hanna and Meredith Graves Chat for Talkhouse Podcast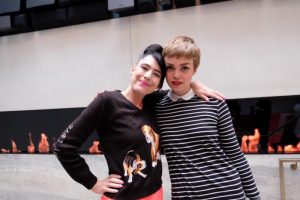 Kathleen Hanna (Bikini Kill, Le Tigre, the Julie Ruin) and Meredith Graves (Perfect Pussy, MTV News) — two generations of feminist punk icons — sat down for an in-depth episode of the Talkhouse Music Podcast.
According to a press release: "They're big fans of each other's music, and this fantastic talk covers capitalism, rocking gunnysacks, trolls, today's definition of punk, feminism, chronic illness, stalkers, the 'Etsy-fication of riot grrrl,' why we should vote for Hillary Clinton, and, as Kathleen says, how she and Meredith have 'been living parallel lives like twenty, thirty years apart.'"
Hanna also revealed a Le Tigre reunion, saying, "Le Tigre just got back together in the studio — you have the scoop — for a special song that we are going to release hopefully, like, early-to-mid-October."
You can listen to the full episode here.
Fred Armisen plots tour
Fred Armisen is known primarily for "Saturday Night Live" and "Portlandia," but he's also a long-time musician and has combined his comedic and musical talents to create satirical characters such as Ian Rubbish and The Blue Jean Committee, the latter with fellow SNL alum Bill Hader. During a short run of dates starting later this month, Armisen will "provide a tiny glimpse into the sounds that help define the lifestyle of one of America's most prolific and experienced satirists and avid music fans," according to a press release.
Check out a video for The Blue Jean Committee's "Catalina Breeze" and Armisen's tour dates below.

10/29/16 at Festival Supreme in Los Angeles, CA
11/1/16 at Grand Opera House Copeland Hall in Wilmington, DE
11/2/16 at 9:30 Club in Washington, DC
11/3/16 at College Street Music Hall in New Haven, CT
11/4/16 at The Town Hall in New York, NY
Roger Waters by Brennan Schnell/Eastscene.com/Wikimedia Commons