Photos by Angelo Santoro
NEW YORK, NY — Sandwiched between a show in which the band debuted songs from its brilliant new album, "A Deeper Understanding," and a highly anticipated, sold-out appearance at Central Park, Tuesday night's The War On Drugs show at Terminal 5 was set up to be a letdown, as fans, many just out of an early-week workday, slowly shuffled into the venue, about half filling the room for opening act Craig Finn's set. But as the lights went down, the synthesizers swelled, the knotty guitars took their place and the hypnotic drums and bass kicked in, those doubts were dashed as the band launched into "Deeper" track "In Chains."
In a 15-song set, the Philadelphia-based sextet, led by vocalist/guitarist Adam Granduciel, illuminated its well-crafted studio output, and while the group stayed close to the album versions, there was an extra jolt of energy and urgency, as well as some intense, stretched-out Granduciel guitar forays, that made the concert much more than a mere recitation.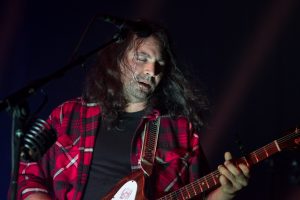 Following the mid-tempo opener, The War On Drugs served up "Pain," the breezy, quasi-ballad, Granduciel's melodic vocal phrasing serving as an instrument in and of itself. Jon Natchez's deep baritone sax added a drone-like sense of foreboding, and Granduciel's first big solos recalled the "The Three Ms" of indie rock guitar: Doug Martsch of Built To Spill, J. Mascis of Dinosaur Jr. and Stephen Malkmus of Pavement. The introspective yet open-hearted, free-rolling track was one of the evening's highlights.
The snappy "An Ocean Between The Waves," from 2014's "Lost In The Dream," navigated the jittery drums of Charlie Hall and appropriately watery guitars of Granduciel and Anthony LaMarca. As the song unwound, again with help from Natchez's mood-building sax, Granduciel unleashed a fiery and flashy solo, complete with slides up and down the neck.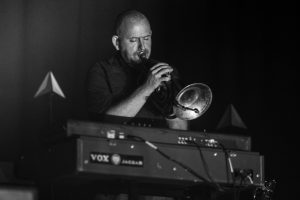 The stunning "Strangest Thing," another "Deeper" song, was another early-set highlight. An openhearted yet heart-wrenching ballad, the song brings to mind the later work of Jerry Garcia and lyricist Robert Hunter (think "Days Between" and "Standing On The Moon"), the type of tune that knocks you over with a feather rather than a shove.     
The prototypical War On Drugs numbers "Holding On" and "Red Eye" were followed by another ballad, "Knocked Down," which had a bit of a '70s jazz-rock feel. "Up All Night," the opening track on the new album, found Granduciel sounding quite a bit like Jakob Dylan. Hall's drums and David Hartley's bass, as they did all night, provided an airtight foundation for Granduciel and company to build upon; the keyboard work from Robbie Bennett and LaMarca helped flesh out the song. "Burning," from "Lost In The Dream," began with synths and ended with guitar feedback, and Granduciel added harmonica to "Eyes To The Wind," also from "Dream." If you tried hard enough, you could detect some E Street Band in there, especially thanks to Natchez's saxophone.
After briefly leaving the stage, the six-piece returned for a three-song encore, churning out a big, ominous chord before Granduciel's guitar noodling led to the well-known "Under The Pressure," a third consecutive song from the 2014 album. It was a triumphant version of the song, with big, dirty sax and guitars, a tension-and-release segment led by Granduciel's guitar, and a return to the main theme, Granduciel getting caught up in the moment and yelling, "Under the pressure, woo! All right!" It was a nice, in-the-moment treat from a bandleader and band that plays its cards pretty close to the vest.
The light and airy "Clean Living," from the new release, and "In Reverse," the meandering, nearly 8-minute "Dream" album closer, wrapped up the night.
Finn, The Hold Steady's frontman, and his backing band, The Uptown Controllers, got things started with an amiable, eight-song set that ranged from classic singer-songwriter fare to straight-forward rock to indie/alternative. Finn's distinctive voice is, of course, a calling card of The Hold Steady, but his solo material is quite a refreshing departure from his main gig. Finn and his Controllers opened with "Apollo Baby," from his first solo album, 2012's "Clear Heart Full Eyes." Steven Orenstein's haunting, brooding slide guitar added to the song's airy feel. Falcon Valdez's big tom-tom beat introduced "Maggie, I've Been Searching For Our Son," from Finn's 2015 release, "Faith In The Future." The tune grew into a New Wave-y, Elvis Costello-ish affair.
Finn then noted The Hold Steady bringing The War On Drugs on tour back when the latter was a three-piece in a minivan, "and things have changed since then. It's been amazing to watch. I love their music."
The set also included "Jester & June," "Preludes" and "Be Honest," all from his 2017 album "We All Want The Same Things," the driving "Newmeyer's Roof" from "Faith" and the set-closing "Trapper Avenue," with its opening line, "If you want to know the truth," an important notion today, which Finn touched on during his introduction of "Be Honest."
Finn will perform at Milkboy in Philadelphia on Oct. 28 and City Winery in New York on Oct. 31.