For Vanessa Collier, a live show is more than a set delivered by a performer to an audience. No, for the Maryland-based singer and saxophone player, it's much more intimate and interactive than that.
"If you're going to be an audience member, be prepared to feel something," she says enthusiastically during a recent phone interview. "That's sort of my aim. I want you to enjoy yourself but also feel the emotion behind every song. I want you to be part of it.
"I think it's a very powerful, strong, energetic show, and it's kind of always been that way, but I'm basically an introvert. For me, I get a lot of my energy just being alone. It's kind of been a growth experience to figure out how to be myself of stage, the introverted and extroverted part as well."
Collier, who released her second solo album "Meeting My Shadow" this year and performed at last weekend's Briggs Farm Blues Festival in Pennsylvania, seems to be having no problem finding that balance.
"Basically, I'm more able to express the emotions singing as well as playing saxophone. There's kind of no holding back anymore," she says. "Now it's kind of, I love performing and I love connecting with people. And it's driven me to what I do now. Most people walk away and want to hug me because we've had that connection."
"Meeting My Shadow," which Collier tracked at Music + Arts Studio in Memphis with co-producer Kevin Houston, is the follow-up to her acclaimed debut, 2014's "Heart Soul & Saxophone." Her rookie effort led to her being named a Best of 2014 Blues Breaker on Dan Aykroyd's syndicated "House Of Blues" radio show, a top-three finalist slot in the John Lennon Songwriting Competition, an appearance in the 2016 International Blues Challenge in Memphis and bills with the likes of Willie Nelson and Annie Lennox.
Collier's approach to her second record wasn't all that different — she likes to work quickly in the studio, she says — but there were some changes from her first time around.
"This time I came in with the demos," she said. "I learned a tremendous amount [from the first album], and I think my voice matured a lot from being on the road. Also, there are two females in the main band, which was very different for me because I'm used to working with guys."  
Following her studies at the Berklee School of Music in Boston, she earned a spot in the band of blues icon Joe Louis Walker, further expanding her musical reach and exposing her to a loyal and savvy audience. Walker is one of many musicians to have had an impact, direct or indirect, on Collier's musical approach.
"I'm always watching whoever is on stage," she says. "I'll go see a Gary Clark show, and I want to take something from him. I learned a lot from Joe Louis Walker from touring. And like Matt Schofield, Bonnie Raitt, all those people, I just really respect."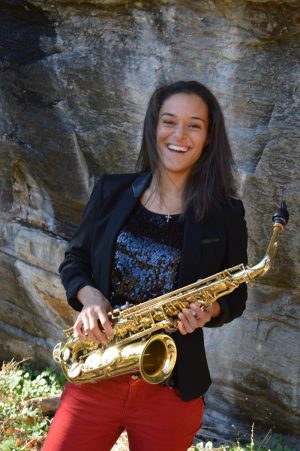 Growing up, she said, "In my family there was a lot of The Eagles and a lot of Fleetwood Mac, a little but of Toto, the Top 40, and of course Aretha and Etta James. I kind of found jazz on my own from taking up private lessons, and blues was in there as well. I found Ray Charles and Weather Report, that was all around when I started sax around age 9."
The wide range of influences has naturally led to a diverse, multi-genre sound for Collier, which in turn has drawn a wide swath of music lovers to her shows.
"I think it is very based on where we are," she says when asked about the audiences. "Some of the first shows I played were at a barbecue festival and a blues cruise. People there are very Southern and very warm, and they love their blues, straight-up Delta blues, right up the middle, and I was surprised they liked my music, which has sax and funk and r&b.
"So there's that side, and I just had a couple young kids come out in San Francisco, and they dragged their parents to the show, they were 8 maybe to 14, so it seems to be that you get the blues crowds that come out to all the festivals but also the 24 and 25 year olds in Florida, more my kind of age group, seem to turn out, supporting the real live music."