What was initially supposed to be an album-release show for Scranton metal band Threatpoint will be something much bigger, thanks to what could've been a dose of bad news: the group's album isn't ready.
If the album delay putting the kibosh to the release show was life giving the band lemons, Threat-Fest, the festival this Saturday at the Camp Rattler beer garden at Border Bar in Pittston, Pa., is lemonade. Lots of it. More than 10 bands, from Northeastern Pa. and beyond, will take the stage.
Along with Threatpoint, the bill features Beyond Fallen, Vedic, The Agean, Corners of Sanctuary, Drama Scream, These Idol Hands, Slapjaw, Prosody and Royal Hell.
The metal community in NEPA tends to stick together, partly due to necessity, with less places to play in the region.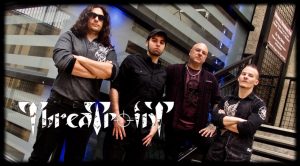 "We're good friends with all the bands on the bill," says Threatpoint lead singer Chris James. "Some of them are newer bands that are James' friends that we got to know," he added, referring to James Callahan of Border Bar and local concert presenter Camp Rattler.
The acts cover a wide spectrum, both stylistically and geographically. For example: Beyond Fallen has been around for 15 years and has performed extensively in Europe and has signed several record deals with European-based labels. Locals Slapjaw celebrated a 20th anniversary in April. Drama Scream, meanwhile, is a female-fronted, Binghamton-based group James compared to Halestorm and In This Moment. Vedic, from the Philly area, features members from Single Bullet Theory and Pissing Razors.
"We tried to do a bill of close, local guys with the outsiders," James explains.
Threatpoint, meanwhile, has been working on its new CD since 2016 but has taken longer than planned thanks to "divorces, people moving" and the former bass player deciding to focus on a new full-time job. The follow-up to 2016's "R.I.P.," will be "thrashier, heavier."
"We wanted faster tempos and more catchy hooks in it; I think we've come up with it," says James.
The band recorded the album with Joe Loftus at JL Studios, they've sent the tracks for mastering to Imperial Mastering in California and James points out the artwork was done by Liz Kezer of Talk Shirty to Me.
Classic thrash and metal bands like Testament, Annihilator, Overkill and Armored Saint are common influences for the members of Threatpoint.
"But it's not just metal," James says. "We go into a hard-rock feel sometimes. Some of those thrash bands like Armored Saint and Metallica, they would be fast the they'd slow it up, like 'Enter Sandman,' that's more of a rock song than it is thrash. So we mix it up."
Threatpoint: "The Age of Godlessness" & "Vultures of Prey" (live)
Beyond Fallen: "Hatecrown"
Drama Scream: "Walk The World"
Threat-Fest is Saturday, Sept. 22, 6 p.m. at the Camp Rattler Beer Garden at Border Bar (170 Laurel Plaza, Pittston, Pa., 18640. 18 and over, $7. More info here.