String Cheese Incident all-purpose string player-vocalist Michael Kang was sitting at home in Santa Cruz, California, Friday taking media calls amid prepping for his 2-year-old son's birthday party later in the day when his phone began "blowing up" with word that legendary Allman Brothers frontman Gregg Allman had cancelled upcoming tour dates due to health issues.
The sudden cancellation meant Friday night's headlining "Gregg Allman Incident" collaboration pairing Allman with Kang's bluegrass-rooted sextet would not go on as planned at this weekend's Peach Festival on Montage Mountain near Scranton.
"I found out literally just an hour ago," lamented Kang, who plays a mix of mandolin, guitar and violin.
He acknowledged being "bummed" he wouldn't have the opportunity to jam with one of his musical "heroes."
"You probably know more than I do. My first response was, 'I hope he's OK.' He's a road warrior. He's been doing this a long time."
Editor's note: Later this week, it was announced that the Gregg Allman Incident at Peach will be replaced by the Allman Brothers Family Incident featuring SCI and ABB members Butch Trucks, Jaimoe, Oteil Burbridge and Marc Quinones as well as Gregg Allman band members Bruce Katz and Scott Sharrard.
In addition to a pair of Friday night sets from String Cheese Incident, presumably one with a replacement for Allman, the four-day Peach Festival will include sets from Trey Anastasio Band, Umphrey's McGee, moe., Gov't Mule and The Claypool Lennon Delirium, a combination of quirky bassist Les Claypool and Sean Lennon, the son of late Beatles legend John Lennon.
Peach Festival announced Friday night that acts would be added to the festival lineup due to Allman's absence.
The unfortunate news about Allman's health was so fresh, Kang, 45, was not about to speculate about who might replace Allman. But he promised the band still planned to welcome a guest for a collaborative "Incident" set Friday night before the band embarked on a two-night weekend residence at the ornate, 1-year-old Kings Theater in Brooklyn, a venue Kang said he was anxious to see and experience.
Kang paused during a phone interview with Highway 81 Revisited Friday to scan the Peach Festival lineup he admittedly was not especially familiar with.
He saw that moe. and The Motet were both on Friday night's Peach bill. String Cheese knows the Motet guys quite well, Kang noted. Perhaps a last-minute Incident could even be arranged with one of those already-scheduled bands, Kang suggested.
"With a day, or even a few hours of rehearsal, we can make it pretty passable (with any band). It sounds OK most of the time," Kang said, adding the band had not yet begun rehearsing with  Allman. (SCI rehearsed about five hours with the Doobie Brothers prior to taking the stage for last year's "Doobie Incident" at the Lockn' Festival in Virginia, Kang recalled.)
Born in Colorado's Rocky Mountains back in 1993, SCI have soldiered on the jam band scene over two decades, and their appearance at Montage this weekend will be their first at the venue.
SCI will have a difficult time, though, matching the unplanned drama that played out during their only other visit to Scranton back in 2005 at the Scranton Cultural Center, when a "cuckoo" fan — as Kang  described the man — stormed the stage, grabbed a guitar tech's genitals and was reined in by SCI guitarist-vocalist Billy Nershi.
"We were just joking about the last time we were in Scranton," the South Korean-born Kang said with a laugh. "It was many years ago, an epic show for the wrong reasons.
"He was on his way up to the mic to say something. He wanted to make up with his girlfriend or something. He was kind of cuckoo. It turned into a 'situation.' We were more concerned about the guy letting go of our guitar tech's nuts. 'Dude, you gotta let go of his nuts!' The band never stopped playing."
Kang described the diminutive Nershi as patient yet tenacious.
"If Nershi had an animal spirit, he'd probably be a badger," Kang remarked.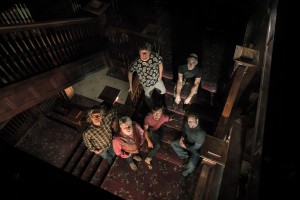 Sure enough, a listen to that Oct. 13, 2005 show  confirmed the band continued playing on even while the guy wandered onto the stage during "Under African Skies."
No mention of the the stage rusher is made by band members while he emerged, but the crowd can be heard roaring its approval of the band taking him down and booting him from the venue.
Showing they have a sense of humor, the band followed up "Under African Skies" with an instrumental jam, titled "Get Boogie by the Balls."  
"Welcome to WWF," Kang says later during the show. "It's the ultimate fight night. That'll teach you. See what Billy did. You guys want to get up on stage, Billy's taking you out."
Nershi then chimes in, "I can beat the shit out of anybody in here that's being held down — by somebody else. Don't forget it."
Kang and his bandmates obviously haven't.
They've been touring much less frequently as SCI since those formative days, including a touring hiatus between 2007-09, to focus on family and side projects. The band has gone from playing well over 100 shows a year back in the '90s and early 2000s to a scaled-back schedule of about 40 shows per year, which annually includes a 3-night run at Colorado's Red Rocks.
In addition to their 2-year-old son, Kang and girlfriend Emily are raising a 6-year-old daughter.
"Some guys (in the band) would like to tour more," Kang acknowledged. "(Keyboardist) Kyle (Hollingsworth) has kids a little older than my kids. The number of shows we're playing is indicative of what we want to do. Right now, we're pretty settled in into what we want to do."
The extended time off from the road hasn't  afforded Kang the wealth of time he'd like to pursue his American citizenship. He's lived all over the world — locales like Guam, England and New York — while his father Won moved around as an executive with the diverse Hyundai corporation's large construction division.
Kang has been living in the U.S. with a green card since the 1980s when his parents bought a house in Mill Valley, California, where they continue to live.
"It's a lot of paperwork. It's not as easy as it might sound," Kang said of seeking American citizenship. "And I'm kind of lazy. INS (the U.S. Immigration and Naturalization Service) is the most unpleasant group of people you want to deal with. They once lost my application."
To hear Kang speak passionately about his complex non-musical side project, he hardly comes across as a slacker.
Kang, who studied environmental science in college, is a partner in a Nevada-based environmental firm, Algae Systems, whose goal is to convert algae into diesel fuel and extract potable water from the sewage treatment process. (To learn more about the complex venture, visit: http://tinyurl.com/k64dld9.)
Among his partners in that venture, which built a pilot processing plant in Alabama, is John Perry Barlow, the longtime right-hand lyric-writing partner of the Grateful Dead's Bob Weir.
Algae Systems received $15 million in backing for the project from a Japanese firm, in addition to a $4 million grant from the U.S. Department of Energy.
Kang said a financing partner backed out of the project about a year ago "in the 11th hour, so we're scrimping to find new partners. It's not easy.
"It's a large industrial game changer. In 20 years, everybody is going to be doing this. It's more of a wastewater play. There is so much algae already. You can plug into any sewer plant, take the shit water and put it through a machine, and the byproduct is clean water and biochar. This is the kind of stuff that needs to happen for us to make it."
Kang said he met Barlow well over a decade ago, probably when SCI members were sitting in for Phil Lesh and Friends gigs.  (A link to a 1999 Red Rocks show, where members of SCI performed as members of Phil Lesh & Friends: http://tinyurl.com/zd78p2a.)
Barlow and Kang struck up a friendship, and Barlow has since co-written about 10 songs with Kang and Nershi, including SCI's "These Waves" and "It Is What it Is."