Review and photos by Pati Bobeck
It had been almost four years since String Cheese Incident played New York City, and fans flocked from all over to see the 6-piece band wrap up its fall tour with a 2- night run at the Theater at Madison Square Garden. The entrance to MSG was filled with folks meeting up before the show, some all decked out in costumes ready to rage, some holding their finger up in the air in hopes for a "miracle" to get into the show. The anticipation of what to come buzzing through the air while the rest of Manhattan went about the regular business was quite an awesome feeling.
The "Roadtrip to Hulaween" fall tour was full of surprises and some of my all-time favorite songs, many to be found on SCI's new album release "Rhythm of the Road: Volume 2, Live in Las Vegas." The band teamed up with Conscious Alliance and artist Zeb Love to create a beautiful screen printed Fall Tour poster to benefit the flood victims of South Carolina. The team's effort raised about $9,000, SCI's Bill Nershi announced during the second night at MSG.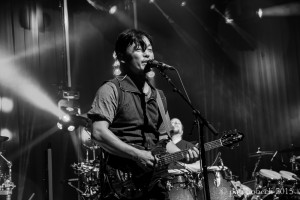 The two-night run at MSG continued with the trend of breaking out some old favorites and blew me away with intense improv jams as well as some great covers. Night one, the band came out strong with "Can't Stop Now" and jammed its way into more rarities like "Skat" (now called "Xai-Xai") and "Cottonmouth." Aaron Johnston, of the Brazilian Girls, sat in for "Drums," which was another sweet surprise. But when SCI moved into Talking Heads' "This Must Be The Place," the crowd singing along brought the whole room together in unity. It was beautiful! As I looked around the crowd at all the smiling faces and wide open mouths belting out the lyrics to each other and to the band, "Hi yo! You got light in your eyes" I literally got goose bumps. It's what I love about this band and its fans. There's a sense of peace and harmony, a strong feeling of love among total strangers from all walks of life. Everyone has come together to celebrate life in one form or another. Some people bring their children decorated in glow sticks and adorned with some form of ear protection. Some come in costume ready to celebrate life and let go of all that society puts on us to be "normal." Some come in groups of five, or 10, or even more of their closest friends, many of these friendships born in a concert hall, to reunite and experience the music and the love together. The night ended with "Outside and Inside" encore leaving us all wanting more.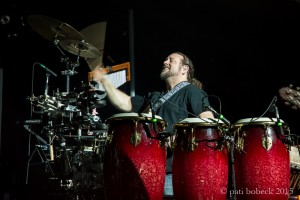 The second night was even more exceptional for me. This band has been noted for its clever ability to jump between genres of music with such grace. It's just another reason I love String Cheese so much. The band packs in a whole lot of something for everyone, old and young, hippies, bluegrass, electronic, pure funk, they are a true jam band. And they flow through each set with such passion. There's nothing better than a performance full of musicians who are in love with what they do and thrive off the joy they bring to their fans.
When the band came out on stage, Bill Nershi took his shoes and socks off while Michael Kang stepped to the microphone and said, "You bring it, and we'll bring it." And that we did. String Cheese Incident fed all night off the crowd's enthusiasm which grew more and more with every song. Starting with "Let's Go Outside" you could feel the level of energy rising way above the first night already. Segueing into The Weeknd's "Can't Feel My Face," the younger crowd seemed to explode into dance mode. This vibe carried through right to the end of the first set packed full of incredible transitions between genres like from the beautifully electric "Hotel Window" to the foot-stomping bluegrassy tune "Black Clouds" and ending the set with one of the funkiest jams I've ever seen live with "Rosie."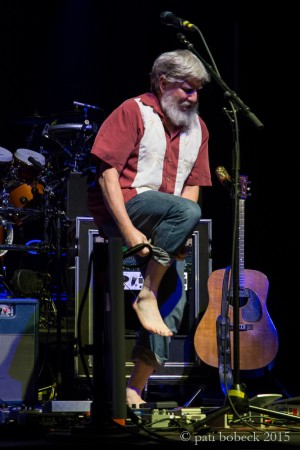 Second set was on fire, full of improv jams and classic tunes. Still reeling from the first set, the crowd erupted when String Cheese Incident came out with one of my favorites, "Texas."  And it just kept getting better and better. "Rivertrance" was definitely a highlight for me. It brings my love for bluegrass and passion for electronic dance music together in the only place I feel safe to let my freak out. By the roar of the crowd, it was clear I am not the only one. "Live and Let Die" was another great cover that brought the audience together again with some serious backup vocals. Fans all throughout the theater were arm-in-arm together singing along to the classic lyrics of Paul McCartney.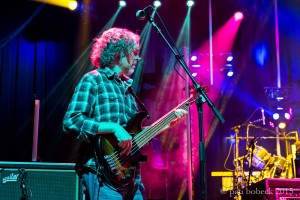 String Cheese Incident's lighting designer Andy Cass has also been the talk of almost every show this tour. The constantly changing display is purely mesmerizing, and by far one of the best I've ever seen. The set closer featured beautiful images of the Colorado flat irons on either side of the stage's big screens. "Colorado Blue Bird Sky" pulled on some heartstrings for the band's origin in Boulder, Colo. With a stellar encore performance of Johnny Cash's "Ring of Fire," String Cheese Incident ended its fall tour in New York City and set home to take a nice break before Suwannee Hulaween, the band's three-night festival in Live Oak, Fla.
Setlists [via FriendsOfCheese.com]
10/23/2015 THEATER AT MADISON SQUARE GARDEN, NEW YORK, NY
Set One: Can't Stop Now, Got What He Wanted > Drums1 Xai, Cottonmouth > This Must Be The Place > Beautiful > Don't Say > Restless Wind
Set Two: Just One Story > Drums1 > Song In My Head, Sometimes A River > Sand Dollar > Stop Drop Roll, Shine > Just One Story
Encore: Outside And Inside
Notes: 1 with Aaron Johnston
10/24/2015 THEATER AT MADISON SQUARE GARDEN, NEW YORK, NY
Set One: Let's Go Outside > I Can't Feel My Face > Let's Go Outside, MLT, Give Me the Love, Hotel Window, Piece of Mine, Black Clouds, Rosie
Set Two: Texas, Howard, Rivertrance, Sweet Spot, Way Back Home, Live and Let Die, Colorado Bluebird Sky
Encore: Ring of Fire