Steven Page, who rose to fame as a co-frontman of Canadian hitmakers Barenaked Ladies, has been out of the group for nearly a decade, performing as a solo artist, working on everything from a classical covers album with the Art of Time Ensemble to hosting the reality food show, "The Illegal Eater."
We recently chatted with Page as he prepares to hit World Cafe Live in Philadelphia tonight (Monday, Sept. 24) and the Highline Ballroom in New York on Tuesday, Sept. 25, in support of his new album, "Discipline: Heal Thyself, Pt. II," released earlier this month. Here are a few highlights from the wide-ranging discussion.
On new album, "Discipline: Heal Thyself, Pt. II
"When I released 'Heal Thyself, Pt. 1' two years ago, that was initially almost 30 songs and I was trying to decide how to release it. Putting 30 songs out all at once is both an easy way to make sure nobody ever hears it because records disappear so quickly these days, and I felt that it was a lot to ask of an audience to digest all that music. So I cut it in half and released the first half a couple of years ago. But over the course of the two years, some songs started to fall off the record as they fell out of favor and I also would write new songs, and the face of the record changed a little bit. It became a lot more of a sprawling collection of different styles and genres that maybe it wasn't to begin with."
On the adjustment to playing BNLs songs alone.
" The first thing I did when I left the group was I called my agent and said can you book me on festivals across Canada, because if I stayed home I would overthink what my next move should be. You can get inside yourself and think… I mean, it takes a while to realize that not everybody cares that much, they just want to hear music that they enjoy. So I came out on the road right away with an acoustic guitar and I brought Kevin the cellist with me, instantly I was playing new songs but also blocks of old Barenaked Ladies songs, and it was a way to show myself that I could do it but also show the audience what my voice in the band was. I think sometimes when you listen to a band, especially when there's two lead singers, not everybody goes, 'Oh, that's what that guy sings,' they don't necessarily differentiate it. So it was a way for me to show people what my contribution was.
When you record new material, of course you want to be able to experiment and do all the things that maybe would've gotten vetoed in a band situation. I was lucky enough, really early on I recorded a record of covers with a classical group called The Art of Time Ensemble, where we got to do songs by Leonard Cohen and Magnetic Fields and Radiohead and so on, a real range of different artists. So an opportunity came for me to stretch out and work with different musicians and different disciplines, so I think by the time my first real solo record came out, somebody might expect that I'd be doing something like 'Metal Machine Music.' I was able to do stuff from big band jazz to something that sounded like the Pet Shop Boys, but at the core of it was my voice and my songwriting style that is part of who I am and the core of that is pop songwriting structure."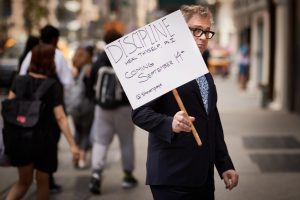 On the freedom of going solo and what 'going solo' really means
"Even in a band, if you write the song yourself, you present the song to your bandmates, and there's the first filter — they might not like the song at first blush. Then if you decide to go forward and work on the song together, everyone comes up with their own parts, the arrangements are done as a band unit. When you're on your own, you have a choice to do that all yourself. I can write and play my own bass part, I can write it and have someone else play it, or I could work with other musicians. One thing I learned about being a solo artist is you don't have to be by yourself all the time. Most of what I do is still a collaboration, it's just that I can choose whom I want to collaborate with and when and on what."
On the BNLs' seemingly overnight U.S. success in the '90s
"When 'One Week' became a hit in '98, we had already been together for 10 years and had been touring pretty well non-stop all the time. So we'd become a really good live band. We were on the HORDE Festival playing for people that might not come to see us, because we had a Top 40 hit at the time, then realize that we had this kid of breadth and depth to our live shows as well as our song catalog. In Canada we became really big in the early '90s and Canada seems to get sick of its own artists pretty quickly. We had a couple albums that were really big and then it became a real slog, so for us the best plan was to start working in the U.S. more and more, so we were on the road at one point for 18 months straight, playing all over the U.S., and in a lot of cities, particularly Boston and Detroit and throughout the Midwest and so on, we were really building up a big audience. So even before 'Stunt,' the big album, came out, we were playing arenas in a lot of these towns, but to mainstream America and places like L.A. where the record companies are based they seemed surprised when the record came out and it did so well. It seemed like this overnight success but we had both the musical skill and the experience to deal with it, where I think a lot of bands tend to spontaneously combust in those moments."
On the decision to leave BNLs.
"It was definitely difficult. Anytime you break up, whether a divorce or band breakup or anything else, a business relationship, you try and make it as amicable as possible but it doesn't make it any less painful and traumatic. It was really difficult. I had been a Barenaked Lady since I was 18, so my entire adult life my identity had been tied to that group, and to try to imagine a life outside of that took a lot of work."
On his current relationship with his former bandmates.
"Better than it's been. We just saw each other for the first time in years. In the winter we were inducted into the Canadian Music Hall of Fame, and that was the first time all five of us had been in a room together since I left the group, and I think we were all a little nervous about it in advance but it went really well. I was very happy to see the guys and we enjoyed playing some songs together."
On being inducted into the Canadian Music Hall of Fame by Geddy Lee of Rush.
"That was pretty awesome. I didn't grow up the Rush maniac that some of the other guys in the group did, but their music was so ubiquitous and I have seen them live so many times, they're really like heroes of Canadian rock 'n' roll. And also because they're monster players, especially for the other guys, for Geddy to comment so favorably about how well the band plays and the quality of the songwriting and so on, it means a lot and it really was thrilling for us. "       
Photo credits: David Bergman, www.davidbergman.net