For NEPA band Stay Loud!. the meaning behind their new single "One Shot" is pretty simple.  "It's just about drinking with your friends," said drummer John Kamor.
That straightforward sense of fun is what drives the pop punk/alt rock band and has served it well since they got together in 2017.
Singer and guitarist Chris Cashmere and guitarist Gerry Tulao met the year before that when both were playing guitar for "American Idiot," the Green Day musical, at the Phoenix Performing Arts Center in Duryea.
"We both volunteered to play guitar for that. We both loved Green Day," says Tulao. "Chris has Green Day tattoos. We just had that love for Green Day, and those were pretty fun shows." After the shows wrapped, Tulao saw a post by Cashmere on Facebook, who was looking for a band to join, and he got back in touch.
Other influences on the group's sound run the gamut from emo to heavier alt rock.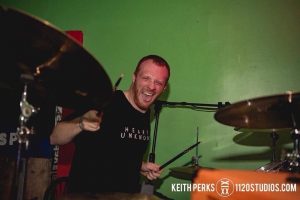 "We have a wide variety," says Kamor. "Our bassist CJ [Davenport] and me are big pop punk fans, like The Wonder Years and All Time Low, we share that kind of common interest. Other than that, I'm a huge metalhead, as well as Chris, with Breaking Benjamin especially. I've been following them since I was younger, almost hard rock/nu metal, basically a metal sound."
The band has about 25 songs under its belt — enough material to play headline shows, the members note. They're working on a new album, but "One Shot" won't be on it because "it didn't fit the groove" of the album, Kamor explains. "This one is going to remain a single, and we've agreed on that, because this one stands on its own four legs and its ready to run," he says of the energetic, ska-flavored song, which features horns by Derek and Dylan Nowak.
Stay Loud! has shared bills with likeminded artists in the area, like E57, Alma Mater, The Maguas and The Frost Duo. They've also played Vans Warped Tour in Pittsburgh in 2018 and opened up as a duo of Cashmere and Tulao for William Ryan Key of Yellowcard at One Center Square in Easton and Stage West in Scranton.
"It's just a whole lot of fun," Cashmere says of those bills. "It's really great to play with your friends and see familiar faces. It's also really fun to know, let's say we're playing with E57, we'll come and play different songs with each other."
"To me, this is a really, really supportive music scene," Tulao says. "We're all supportive of each other. When we see our friends be successful, we think, 'Wait, if they're successful then we can succeed.' It's a brotherhood."
Last year, the band played an album-release show at Karl Hall, an all-ages venue in Wilkes-Barre, one of its favorite places to play.
"We're down to play anywhere anytime, but Karl Hall is a special place with a special vibe," Kamor says. "It's kind of like a basement, really that old-school, underground kind of thing. The sound guys that work there are outstanding, as is the management. Stage West is another great one. We played a couple times at Border Bar [in Pittston], which is an up and coming place. They're really kind and try to support local music. We'd still ike to check out V Spot [in Scranton]. … We are so damn grateful for all of those places."
Photos by Keith Perks