With elements of Gypsy jazz, klezmer, vaudeville and a zany sense of humor, Squirrel Nut Zippers were an unlikely success story in the '90s, when the 1996 sophomore album, "Hot" became a staple on radio and MTV, thanks to songs like the hit "Hell."
After a break, the Chapel Hill, N.C., collective reunited in 2007. In 2016, band leader Jimbo Mathus put together a revival, not a reunion, with a new lineup for a 20th anniversary "Hot" tour. Last year, the 9-piece new-look Zippers — Mathus, Dr. Sick, Cella Blue, Leslie P. Martin, Eddie King, Dave Boswell, Henry Westmoreland, Tamara Nicolai and Neilson Bernard III — released "Beasts of Burgundy," a studio album, and a new one, called "Lost Songs of Doc Souchon," will be out in June 2020, Mathus says. Next year will also find the Zippers embarking on a tour to celebrate the 25th anniversary of debut album "The Inevitable."
First, though, is the band's Holiday Caravan, which showcases the group's 1998 "Christmas Caravan" album and hits Musikfest Cafe in Bethlehem, Pa., on Sunday. We recently chatted with the Mississippi native Mathus about all things SNZ.
How do you work a song like "Hell" into a Christmas show?
(Laughs) Well, only a band like the Squirrel Nut Zippers could do that. Ya know, some of the Christmas material is kind of heavy, a little more sentimental and whatnot to what we do at our shows — we try to keep it pretty subversive and crazy. We build a set up to a climax where the song makes sense. We do all the material on the Christmas album and it's really quite lovely with the 9-piece. I guess to answer your question, we do it very carefully. 
Do you have a favorite Christmas song or album?
I love the Elvis Christmas record he did back in the '60s. It's not something that's really on my radar like it's been an influence on my artistic career. We made that record because we made a quid pro quo (laughs) deal with the record label. How about you all make us a Christmas record, and we'll do this for you all, and we said OK. Rather than go through the motions we invested our talents. It's probably my favorite record we ever did. I get a lot of feedback on it. When I was a kid, when we'd pull out the Christmas tree we would play Bing Crosby or The Chipmunks (sings "Christmastime is Here"). These days seasonal music overdone. I'm over it by the time we get started on the shopping centers and gas stations (laughs).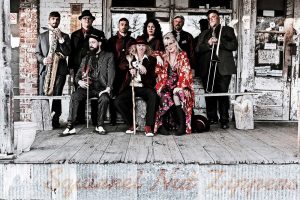 Is it financially or logistically challenging to tour with a 9-member band?
It absolutely is. There's 11 of us that travel together. So you've got to really get along and have no kind of issues with everyone. When I put the revival together, everyone had to be incredibly talented and incredible human beings. You got to really have your life in order to pull off anything like that. It has gotten harder since the heyday, since the '90s, when the clubs had more resources. It really all falls on us a lot of the time to make it happen. It's harder logistically, but once the doors open and the shows start, nothing has changed. That's why we're there. They pay us to travel, we play for free.
Did you try to put the old lineup together when you relaunched Squirrel Nut Zippers?
Not really, because two of the main members had really screwed the pooch and turned out to be not very nice people in the end, so that was not going to be an option. I did as Katharine [Whalen, original member and Mathus' ex-wife] , she declined. She never had the stomach for it. I needed an active crew that were up to the challenge.
Was there a plan to record with the new lineup right off the bat?
It wasn't but once I got the band on the road it became a no-brainer for me. A lot of the songs in the Zippers' catalog are kind of self-referential, based on the different situations we found ourselves in. Once we got (the current lineup) I just started to write something for Cella or Dr Sick or something for Hank. I'm a utilitarian writer. It became obvious that it needed to be done if it's vital.
Squirrel Nut Zippers on the web: http://www.snzippers.com/
Jimbo Mathis on the web: https://www.therealjimbomathus.com/