By Cal Setar/ Photos by Angelo Santoro
Seeing a "bigger" act, one that's well-established, whether as a bona fide star or just a consistently quality performer that's been making the rounds for long enough that their set has become a finely tuned endeavor, is a usually hermetic experience. On its face, it's a positive, this sense as though the act had been packed up and shipped from place-to-place like an action figure with rigid, finite range of motion, the setlist an identical rundown of the same perfectly positioned songs, ordered for maximum emotional effect and honed to a nearly flawless perfection.
But here's the thing.
Those same shows lack a certain sense of reality. They lack grit that can be so endearing, so honest and that can allow the listener to connect with the performer on a much more intimate level.
Really, there's something so undeniably interesting, something so very real about seeing an act that hasn't quite "made it" yet. The band's probably not as tight, whether from nerves or excitement, the on-stage persona(s) still a work-in-progress (which can make for some truly intriguing meta-moments wherein, as an audience-goer, you find yourself wondering if this is when it all falls apart, when the spinning plates go toppling over one another to the floor); the distance between performer and audience is somehow narrower, as if the people on stage had been plucked from the crowd a few minutes before and had a guitar or a microphone shoved into their hands.
But that's the beauty of unvarnished live performance. Especially in our digital age, that honesty and that grit give music a life, an air of truth that compressed files and over-produced larger acts simply can't touch and, really, probably couldn't touch even if they still wanted to.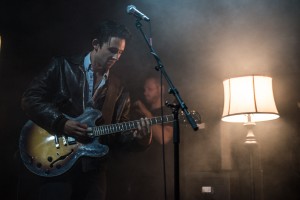 Some things, once lost, can't again be found.
So it was on an emotional Thursday night at Bowery Ballroom for Son Little's New York City stop on his current Black Buffalo Tour.
Accompanied by fellow Anti- Records performer Andy Shauf, the evening was a rollercoaster ride of stirring lows (an anecdote about George Zimmerman and Trayvon Martin that preceded an electrifying rendition of Little's "Cross My Heart") and a pounding handful of highs (Little likes it loud, and for an artist who can be so poignant, so deft with the flourishes in his music, he clearly likes to have a good time), with some unexpected bits of fun sprinkled in (Drake, Bob Dylan, Travis Scott and Rolling Stones covers all in one show? You bet).
Shauf, with his gentle, at times grim storytelling, got things started off on an endearingly awkward foot when he launched into a cover only to sheepishly halt after a few bars, ask the crowd if they knew the words, and then, to good-natured laughter, admit that he wasn't just asking for fun, he really didn't know the words.
Despite his shaky beginnings, Shauf's performance was a pleasant one, as much for his interactions with the crowd as his playing, down to his deadpanning that an audience member should "be careful what [they] ask for," when calling out for a one-man "Freebird" rendition.
By the time he left the stage, trailing commentary regarding the "garbage smells" he experienced while hoofing it from Penn Station down to Delancey earlier in the day – oh, the beauty that is New York City in summertime – the crowd was buzzing.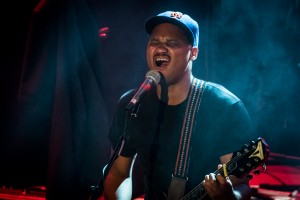 And Little, aka Philly's Aaron Livingston, was clearly ready to give them what they came for – after about a 30-minute wait, of course, while the smoke machines filled the stage and the area in front of the speakers and the restlessness of the crowd mounted.
While Little's often soulful r&b, at times doo-wop-esque sound would seem to lend itself to a quiet, downbeat performance, it was clear from the jump that Livingston was intent on bringing the Bowery to his level.
Dynamics be damned, Little's set was an atmospheric, yet emotive, beautifully bass-heavy affair. Wah and octave to the ceiling, to the walls – Little filled the Bowery with heavy, hard-hitting blues that kept the crowd on the move well past midnight.
A wall of electronic fuzz preceded Little onto the stage, where he and the rest of his four-piece ripped off a hard-hitting version of "Toes" from 2015's self-titled album. They took a little step back to hit "Joy," a plaintive piece from the EP "Things I Forgot" that put on display Livingston's ability for tugging on even the most hardened of heart strings, while at the same time utilizing a unique structure and adding an electronic element that keeps the listener piqued. But from there, it was a parade of pulsing, insistent hits, some belonging to Livingston, some belonging to others.
The rawness of his sound, the newness of his rising star – Livingston's prodigious talents and not-yet-eliminated flaws were evident both early and often.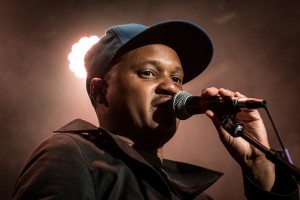 Livingston, who had family in the crowd, seemed intent on making this show some kind of coming-out party. He was lit, and so was the sound – well, it was eventually. Like Shauf, Livingston brought everything to a halt three songs in – this would be a recurring theme – to agree with an audience member who had shouted that it just wasn't loud enough.
Livingston wanted "everything turned up."
And so it would be.
Livingston seems a born entertainer, enjoying his place in the spotlight. He felt little discomfort while off on tangents about his Mets fandom or what Yankees backers can do – "fuck off," in case you were wondering – or to crack a joke or three about his drummer being the next Ringo Starr. Or about how Bob Dylan, who Livingston would then honor with a much-appreciated rendition of "The Man in Me," known best from the enigmatic Coen brothers movie "The Big Lebowski," could also "fuck off."
(Livingston apologized for his profanity at several points. We won't.)
But as always, Livingston's jokes and off-kilter crassness were balanced with the real and the true.
On a dark and lonely night in upstate New York, a night he spent drinking and creating beats on his phone, Livingston happened on the story of Zimmerman's acquittal following his murder of Martin.
"Cross My Heart" was the result. And on a dark and not-so-lonely night in NYC, Livingston played the song like it was the most important thing he'd ever done in his life.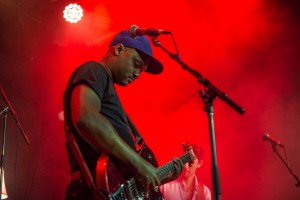 There was a similar moment shortly thereafter when Livingston launched into "Lay Down," the most recognizable piece off his most recent album, only to stop and admonish the crowd for several minutes for talking. Livingston was perfectly at ease bringing the momentum of the show to a screeching halt for nearly 10 minutes, waiting with a smile on his face until the time was right – and the crowd was quiet enough – to start again.
But the atmosphere wasn't broken, at least not entirely, and Livingston's machinations didn't come off as overtly showy. At no point did he lose the crowd. He simply seemed a man intent on delivering the song – a hushed, simple song that evokes images of hazy summer afternoons, the setting sun filtering in gently through wind-whispered curtains – the way it was intended.
With the encore began a parade of covers, including Drake's "Hotline Bling," Travis Scott's "Antidote" and the Stones' "Play With Fire."
While they seem a strange combination, if you were looking to unlock what Livingston's at-times eclectic sound is all about, the aforementioned grouping of tributes is the perfect key.
Livingston is unabashedly American. His music is soulful, heartfelt, unafraid to deal with the great troubles of the world. But it's also about fun, about being unequivocally yourself – Americans like to get turned up after all.
At the Bowery, it was obvious that Son Little remains rough around the edges. But there's also no denying that the talent, the showmanship, are there in spades.
Whether Livingston can keep the truth to his sound as the stages and the crowds grow, remains to be seen.