Hot off a Grammy win — the band's fifth — Snarky Puppy is on the road, with dates in New York and Philadelphia this week. For bandleader and bassist Michael League, each album release or concert is an opportunity, a chance to do something the band hasn't done before.
"We don't just go on stage and do our dance moves and play the hits and leave," he says. "There's a real feeling of exploration and risk and the unknown that goes on stage with us every night." 
It's a philosophy that has served the multiracial, multicultural instrumental group well since its inception at the University of North Texas in 2004, with up to 25 musicians in rotation. Snarky Puppy also serves as a hub for its own record label (GroundUp Music; League says upcoming releases include a Dawes single) and festival (the GroundUp Music Festival in Miami) and a springboard to outside ventures, such as the individual members' work with the likes of Erykah Badu, Snoop Dogg, Kendrick Lamar and D'Angelo.
League recently chatted with us over FaceTime from his home in Catalonia, Spain, about the Best Contemporary Instrumental Album win for "Empire Central," a live-in-studio record made at Deep Ellum Art Company in Dallas, memories of Snarky Puppy's earlier small-scale shows in New York and his collaboration and friendship with the late David Crosby. The band will perform at the Beacon Theatre on Thursday, April 13, and Union Transfer in Philadelphia on Friday, April 14.
How does it feel to win a fifth Grammy?
I'm definitely not complaining about it. It's incredible to be a group that's recognized by the Recording Academy, that we're on people's radar, that they listen to what we do. There are a lot of incredible artists in the world that don't have that luxury, so I think we count ourselves very grateful for that. I do love that this record won primarily because it's a record that celebrates the very, very, very deep music culture of Texas and was also the last major recording of our mentor Bernard Wright, our collective mentor and my individual mentor so it was really wonderful to be able to dedicate the award to him.
Can you describe the making of "Empire Central?"
We wanted to go back to the format that we established our thing with, a live-in-the-studio with audience [wearing] headphones recording format, just because I feel that it's still the best way to represent the band on an album. I feel like you get the perfect combination of studio sound and live energy and also the visual element where you can see the band interacting. I think it opens the world of our band up to the audience in a specific way. Doing it in Dallas was significant. We wanted to go back to where the group started and where our sound came from and pay homage to that very beautiful and rich musical legacy of the state and that city, and on a more practical level it was great to be able to give so much room to the members of the band to write so much new music. 
There are many band members and moving parts in Snarky Puppy. What is your approach to leading the band?
Well, I think the most important currency in the band is respect, for sure. You have to treat all of the individual members of the band and crew and administration with respect and give them space to do what they want to do and to make sure that they feel heard and recognized. And also just making sure that you set a kind of culture in the band that doesn't reward people who don't grow. There's a constant feeling of "what have you done today to move this music forward?" We don't just go on stage and do our dance moves and play the hits and leave. There's a real feeling of exploration and risk and the unknown that goes on stage with us every night.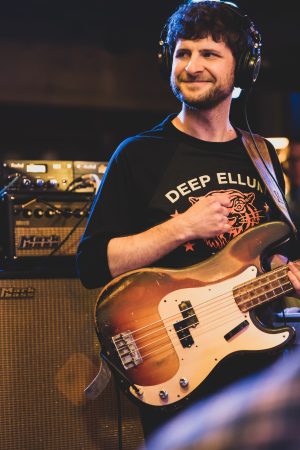 You'll be at the Beacon Theater on April 13. What are some of your favorite memories of playing in New York?
The Irving Plaza New Year's gigs have always been a lot of fun. I would say those are the ones that I remember the most. Aside from the much smaller gigs, which are actually my favorite, when we used to play the Family Dinner series that we did at Rockwood Music Hall where we made the first album with Lalah (Hathaway) before that first Grammy, playing there Friday night from 1 a.m. to 3 a.m., I think it was, or 12:30 to 2:30 or something, and that was just a giant musician hang. It was incredible: no rehearsal and three guest artists every night and the place packed with our friends on the New York musician scene. That was really one of the best kind of years in my life. 
What were some of the best moments at this year's GroundUp festival?
This year was my favorite and it gets more interesting and smoother every year. I think people who have been coming for seven years now feel really comfortable, they feel at home there, they know the grounds, they know what to expect and what not to expect. So you really have a feeling of hominess when you're there, because it's a small festival, we don't have more than 1,500 people a day. It just feels like you're in somebody's backyard, I love it. Madison Cunningham blew my face off this year, that was one of the highlights for me. Also Silvana Estrada, who is kind of like a little sister to me, I've known her since Charlie Hunter introduced her to me when she was like 17 or something. Those were two of the standout gigs for me. There were a lot. I mean, I loved everything, I do the booking, so of course I love everybody, I booked them to play the thing.    
How did you initially connect with David Crosby?
The keyboard player showed him some videos of ours on YouTube and he just became like a super fan and started tweeting our videos all day, every day for like a week, and I finally just sent him a message on Twitter, like "Hey man, that's my band if you want to talk," and he messaged me back with his phone number and we chatted and we talked for about an hour about nothing in particular. And then I invited him to be on "Family Dinner 2" and he said of course and we became friends there. We stayed for an extra couple days after that session and recorded a couple songs for one of his records, one that I was not producing, and he enjoyed it so much that he hired me to produce his next record, "Lighthouse," and then I brought in Michelle Willis and Becca Stevens, who he met at "Family Dinner 2" — so he already knew and trusted them and was a fan of theirs — I brought them in to do the last song on that record. When that record came out he said let's tour and let's bring the girls, that's our band, it's like CSNY but different. We could cover a lot of different parts vocally and instrumentally.
So David would alternate between producers with his son James Raymond, so I would produce a record, James would produce a record. So James and I each did three and the third one is not out yet but it's done.  
What are some things you have taken away from spending time with Crosby personally or professionally?
David has effectively killed any excuse I could possibly have for not being productive in any moment of my life. At 79, 80 years old, the guy was writing more songs than maybe ever and writing better songs than ever. Making a record at 80 years old, that's insane. So that's a big one for me. 
Obviously he taught me a million things. We spent like seven or eight years like family, basically. I was his music director on the road with the Lighthouse band and was his producer for the records and his friend. We have a very, very close relationship. We shared a lot. He taught me a lot about life, he taught me a lot about music, a lot of studio stuff, mixing the low harmonies higher and the high harmonies almost inaudible; panning the low harmonies out to the sides. Just little things, little tricks but very interesting ones. But above all, when you experience someone who's that magnitude of musician, you're taking in so much influence that you can't really put your finger on it or put a name on it. It's just happening and you just turn out different. I really owe a lot to him.    
Why did you move to Spain?
I have a friend who owns a home in a little village here in Catalonia, about an hour from Barcelona. She was one of the members of the Metropole Orkest, so when they hired me to write "Sylva," the record we made with the Metropole, my friend told me, "Don't write that in New York, it's too crazy, write it in this little village, so here's the keys to my house, have fun." So I went and I loved it so much I just kept coming back. I spent every Christmas there for the last nine years, and I'd come for the summer for Fiesta Mayor. Then a few years ago, I think 2018, I just decided, I'm not even in New York, why am I paying this rent? So I bought a house and moved. We had the house finished, the renovation, during Covid, during the start of the quarantine, so good timing.
Lead photo by Francois Bisi
Michael League photo by Brian Friedman