Sam Amidon had an idea for his new album. But the album seemed to have another idea for him.
That sounds a bit weird, so let's back up a second. Amidon, a singer, songwriter, guitarist and player of the banjo and fiddle, went into the studio to make what would become "Lily-O" (released Sept. 30 on esteemed label Nonesuch) with the intention of creating a mostly instrumental record inspired by his work with legendary jazz guitarist Bill Frisell.  He came out with, essentially, a song-driven folk record.
We were wondering how that happened – and what it's been like to work with Frisell and record in Iceland – so we asked the Vermont native that and more in a recent e-mail interview.
Amidon plays at Fringe Arts in Philadelphia on Friday, Oct. 17 and Music Hall of Williamsburg on Saturday, Oct. 18.
H81R: Tell me about the concept behind "Lily-O," and why you selected these particular songs for the album.
SA: I didn't select them so much as realize I had them. What happens is that first, alone, I write music – guitar parts, melodies, riffs, things like that – and the  melodies and lyrics of the folk songs end up getting woven into the music I'm making, sometimes at the last minute.  By the time the folk song is woven into the music, I kind of forget that it ever existed anywhere else other than within the music I am playing.
With Lily-O, I had a very clear concept for the album, but I ended up completely abandoning it once we got into the studio. My concept had been to make a very experimental album full of instrumental music and fiddle playing and overdubs and layered tracks. When we got into the studio, it just felt so good to play the songs live with the band which had come together. So we did that instead.
H81R: How important was it to maintain the essence of these songs? Did you give yourself a lot of leeway to bring some new musical flavors to them?
SA: I don't really make either of those distinctions. Kenny Wheeler has died. The great trumpeter and composer, and with such a pure tone on his horn. Shit man. The improvisers are all leaving us.
H81R: How would you describe the vibe and the approach in the studio for this album?
SA: The studio is Valgeir's creation. He built it from the ground up and every detail is in place as he intends it to be. Greenhouse Studios is located in the suburbs of Reykjavik. This is the third album I have recorded there. When I first imagined going there years ago, I thought we would be in a cabin in the woods surrounded by waterfalls and volcanos and fields. But it's actually this nondescript building in the suburbs. It doesn't look that big from the outside. But as you wander into it, it seems to continue forever – hallways curve around into big live room recording spaces; then around the corner from there is the kitchen, then up the stairs from there are some simple bedrooms to sleep in. It is all integrated and you never seem to see any wires anywhere. A pure space for jamming.
The format was simple.  I would teach the band the structure of the song, we would start playing a bit, we would make a couple adjustments to the arrangement, and then we would record two or three takes and move on. We did this for three or four days. Chris played drums and live electronics; Bill had his guitar and loops, Shahzad played bass. We recorded it all live and there are only a few overdubs.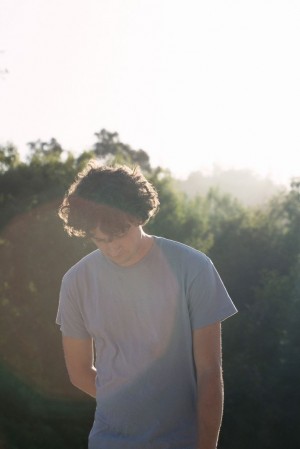 H81R: What type of impact did growing up in a musical family have on you?  
SA: It meant that we were almost constantly listening to, discussing and playing music of all kinds. My favorite part was the listening and discussing part – putting stuff on the stereo during dinner and listening and debating it.
H81R: How has the jazz world and traditional jazz listeners reacted to your music?
SA: I have no idea! Have they heard my music? I hope they listen!
H81R: Working with Brill Frisell would be a dream for most guitarists.  What drew you to his playing?
SA: It has been a dream! He is a master improviser and a profoundly structural player. His playing is both atmospheric and structural. Balance, weight, space, tone – all of these things are realms that he explores in his playing.
H81R: How would you describe your collaborative relationship with Bill?
SA: Open.
H81R: What are some of the biggest lessons you've learned from Bill?
SA: Be yourself.
H81R: You've collaborated with some other heavy hitters, like Glen Hansard, Blind Boys of Alabama, Beth Orton, etc.  How do you approach collaborations or guest spots on albums?  Does the artist generally give you a lot of direction, or are you for the most part to create your own parts?
SA: People say to me, "can you play more like Jimi Hendrix?"  And then I say "not really," and then they look frustrated.
H81R: Who are some other artists you would like to work with?
SA: I recently approached Jimi Hendrix about a possible collaboration. His initial email response was very positive so I made the mistake of getting my hopes up. Since then he has not written back to any of my emails, which have increased steadily in urgency and desperation despite my attempts to remain cheery and optimistic in tone. So I guess it's probably not going to happen after all.  (sighs)
H81R: What is the best concert you have ever seen?
SA: The best concert I have ever seen was a 15-minute long set at Tonic, around 2004, by the saxophonist and songwriter Arthur Doyle. He mumbled songs, played blistering free jazz on a recorder, and played simple melodies on his saxophone. It was somewhere in between an ancient blues folk dude sitting on his porch, and a nihilistic no-wave performance piece. Also I am very glad I went to that concert, because he died last winter so I will never see him play again.
H81R: What is the last album you listened to?  What do you think about that particular album?
SA: I have to answer this question honestly. In general, I am a deep lover of jazz albums, especially all those beautiful albums made in the 1950s and 60s by people like Thelonious Monk and Paul Desmond and Don Cherry. And today I lay down on the couch and listened to the new album by saxophonist Mark Turner, which is very good, but I fell asleep.
So to answer your question, the most recent album that I sat down and really listened to, is "Benji" by Sun Kil Moon, whose music I had never heard before, and it totally blew me away. Wow. I am very excited to listen to that album again.
H81R: What other projects do you have planned for this year?
SA: Finishing work on my forthcoming album, which is entitled "King Speechy: Audio materials relating to my novel-in-progress – featuring contributions from fictional British Grime Rapper Eet Nibble."