Royston Langdon, known for fronting the British band Spacehog, which had a massive hit with "In The Meantime" in the mid-'90s, is doing his own thing these days under the name LEEDS, an homage to his hometown in England.
Last year he released his first solo record, "Everything's Dandy," with the help of long-time producer comrade Bryce Goggin (Pavement, Phish) and contributions from Black Crowes founding guitarist Rich Robinson. He's out on a co-headlining tour with Jimmy Gnecco, who fronts the band OURS.
This week, LEEDS and Gnecco will perform at the City Winery Loft in New York on Thursday, Feb. 8 and MilkBoy in Philadelphia on Friday, Feb. 9. Langdon answered some of our questions via email in advance of the shows.
The "Someone To Die For" tour will be hitting 25 cities across the U.S. and Canada (including New York, Philadelphia, New Orleans, Atlanta, Memphis, Dallas, San Francisco, Los Angeles, and Toronto).
American music fans hear a lot about Manchester and Liverpool. What should we know about Leeds?
Soft Cell, Red Lorry Yellow Lorry, Jimmy Savile, Henry Moore, Eric Wise, Alan Bennett & David Hockney.
The opening track on "Everything's Dandy" is "You Can't Go Home Again." How has your relationship with your hometown changed over the years?
As I've changed, so is my relationship to it.
Where have you lived since you moved to NYC when you were 21? Are you still living in the States?
East Village, Columbia Campus, Midtown, Cobblehill, West Village, Chelsea & Williamsburg.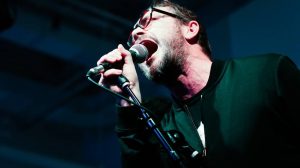 What was the inspiration behind the songs on "Everything's Dandy?"
My relentless critical spirit.
How did you connect with Rich Robinson?
Via my vulnerability and his alignment of it.
How would you describe your working relationship with Bryce Goggin?
Ineffable.
How has that relationship changed from the Spacehog days?
As young men we know the rules, as older men we know the exceptions.
In addition to songs from "Everything's Dandy," what other albums are you pulling songs from for this tour?
All four of them.
I saw on Facebook that your guitar was stolen. Has it been found?
Not yet.
When did you get that guitar, and what does that guitar mean to you?
Means the world to me. It has been my main go-to instrument & has been by my side since 1995. It's featured on all those Spacehog recordings and on my new record. We've traveled the globe together. It's a loss.
How long have you known Jimmy Gnecco?
Met in Seattle at our first show of the tour but he feels like an old familiar friend.
You and Jimmy have both done the major label/ major producer thing. Do you two swap stories about those days?
Sure.
What are your favorite places in NYC?
The Hungarian Coffee Shop opposite St. John the Devine.
What is the current status of Spacehog? Are there any planned releases or shows?
Doubt it.
Was the '90s/alternative era, with MTV and radio support, as great as it seems to those of us on the outside looking in?
Don't know.
What impact (positive and negative) did the success of "In The Meantime" have on you?
Gosh! That's difficult to put into words, not sure I really want to. Am very grateful to have written a classic.