Fiddler, guitarist and sultry vocalist Rani Arbo "wrote" half of the 12 tracks for her band's latest album in her head during regular walks inside a 19th century cemetery and a tranquil state park near her New England
home.
"Being outdoors — preferably in nature, but even around our semi-urban neighborhood of Middletown, Conn., — is a big place of peace and inspiration for me," said Arbo, a 47-year-old breast cancer survivor who has toured and recorded with folk legend Joan Baez.
Fresh off the April 1 release of their latest album, "Violets are Blue," Arbo and her harmonizing folk and roots string band, daisy mayhem, close out Bloomsburg University's 2014-15 Celebrity Artist Series season Friday, April 17, at the newly-renovated 550-seat Gross Auditorium inside BU's domed Carver Hall.
Daisy mayhem includes Scott Kessel on a unique drum kit of cardboard and wooden boxes and tin cans; Andrew Kinsey on bass, banjo and ukulele, and Anand Nayak on electric and acoustic guitar.
Upon returning from her inspiring 3-mile walks to the Connecticut River Valley home she shares with Kessel and their 11-year-old son Quinn, Arbo would grab a pen and note pad and empty her head of lyrics she "caught" along the way.
"While I'm walking, my head gets clear and lyrics can start to float in. Verses and choruses keep time with my feet. I can remember them, tinker with them and almost hear the band with me as I walk," explained Arbo, who studied geology in college.
"Violets are Blue," the band's sixth album since its formation in 2000, is a collection of songs about "partnership, love and idealism," Arbo explained.
"I feel like we're a truth-telling band. We're unafraid to talk about stuff."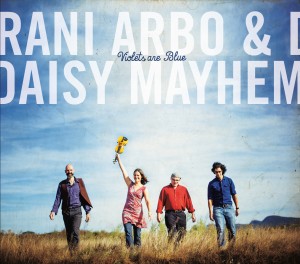 In addition to original songs, the band performs traditional tunes and covers of folk and rock royalty.
"Everyone gets to solo. I love having a band for that reason," said Arbo. "It's a body. If you take one limb off you're not a full body.
"I feel like we're a family, the way we do it. It results in humor and a general depth of emotion. We're unafraid to talk about stuff."
Arbo mentioned Bob Dylan's obscure 1960s song, "Farewell, Angelina," a song Baez recorded, and Bruce Springsteen's "Reason to Believe" from his 1982 album "Nebraska," as "adventurous" covers in the band's live repertoire.
"We combine a lot of threads of American roots music. Bluegrass. We love the old gospel (music). It's so melodic," said Arbo.
"I love traditional songs because they've lasted for a reason. Because they've lasted so long, they have a life of their own. I have a real relationship with music that's old."
Arbo, who grew up in New York City singing in a church choir and playing classical cello, describes the band's more recent material as "celebratory," which she acknowledged is partly inspired by her successful bout over breast cancer a decade ago as a young woman in her 30s.
"It's no fun. It's no picnic," Arbo said. "There's a cliché with cancer — 'You never look at the world the same way.'
"When you're young, you don't think it can happen to you. You don't have a lot of time."
For tickets to Rani Arbo and daisy mayhem at Bloomsburg University visit www.cas.buzz.