Photos by Jason Riedmiller
Poster art by Tom Graham
Singer-songwriter Tom Graham's fifth album, "Underneath A Rusting Roof," is big. It's his first studio record since 2007. That's a pretty big deal. It's got 12 songs. That's kind of big. And it comes in a case large enough for a DVD.
Graham also has some appropriately sizable plans for the album, out Feb. 10. On Friday, Feb. 6, he'll present an event at The Bog in Scranton that will combine a poster art show — he's been designing a different poster for every show he's played the past two and a half years — and an exclusive streaming listen to the album for those in attendance, a twist on the tried-and-true CD-release party (hard copies of the album will be available for sale there; it's available for pre-sale on iTunes now).  The next day he'll perform at the Backyard Ale House in Scranton. A few weeks later, he'll continue the "Underneath A Rusting Roof" run at the River Street Jazz Cafe in Plains, Pa., on Feb. 21 alongside Coal Town Rounders and with special guests including Justin Mazer of Leroy Justice and American Babies.
"It's been seven years," Graham says, referring to the last time he had reason to celebrate such a milestone. "I figured, 'Go big, or go home.'"
What will greet listeners at The Bog, Backyard Ale House and River Street Jazz Cafe, and everyone else who checks out the album at home, is an album that encompasses a variety of styles and textures, from hushed Americana to livelier rock and everything in between. Despite the varied genres that are visited, the album boasts a cohesive feel throughout. It's most definitely an "album" album, and not a collection of unrelated songs.
You can hear "The Bar Broke My Heart," which makes its debut here today, below:
Graham explains that the two major components of creating the album — the writing and recording — were very different experiences, with different levels of difficulty.
"The writing process is pretty straightforward," he says. "I attempted to write bunch of songs and changed them around and reworked them. Writing songs wasn't really the hardest part of the record, because when it comes to writing songs, it's something that I do in spurts if it's needed. But recording the record was something that took time. Because life happened."
That is, he tore his Achilles tendon, which kept him off his feet for the better part of a year. The downtime gave Graham the opportunity to listen to a lot of music, and maybe as a result of that listening, he also decided to make some changes to the songs that would become the final tracks on the new album. Graham played most of the instruments on the album himself; the other players on the record are Jimmy Reynolds (who produced and recorded the album with Graham), Zachary Cole and Brian Brophy.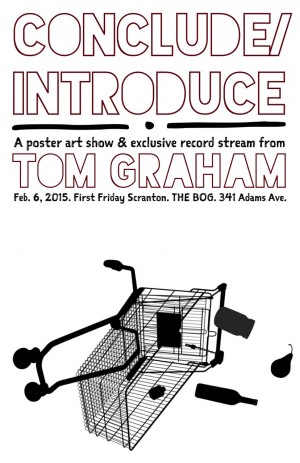 "I like to think my listening tastes always change," he says. "I go all over the place. It's not necessarily trend or anything. . . . I spent half of (the downtime) revisiting music that maybe I forgot about."
You can get a glimpse of the all-over-the-map musical approach Graham takes when he answers a query about which artists he'd love to tour with: The Hooters (his first concert was a Hooters show), Shakey Graves, David Bazan, The Decemberists, Bob Dylan, Paul Simon, Ministry, Tom Waits and Les Claypool.
There are also the artists he has actually shared the stage with; one frequent pairing finds Graham opening for Cabinet, the Northeastern Pa.-born bluegrass act whose rising profile includes high-profile gigs like the Lock'n Festival, Mountain Stage, the Warren Haynes Christmas Jam and a recent opening slot for Haynes' Gov't Mule at the Tower Theater near Philadelphia. Graham was a support act for Cabinet at the Sherman Theater in Stroudsburg last Halloween, and he'll share a stage with the group again on March 6 at the Blairstown Theater in Blairstown, N.J. There aren't a lot of musical similarities between Graham and Cabinet, but there are some rootsy confluences that make the partnership work for the audiences. The Cabinet fans, Graham says, have responded positively to his sets.
"After you play with the Cabinet boys, there's a lot of love in the room, and a lot of people that thank you for the music, which is part of the vibe with them and Bill Orner and all those Coal Town Rounder Guys. We're all friends," he says. Orner, Cabinet's manager, is a long-time friend of Graham who sometimes performs on drums with Graham in a duo setting.
Back in recording mode, Graham makes it sound like the wait between "Underneath A Rusting Roof" and album No. 6 won't be nearly as long as the gap that followed "Sea Legs." But for now, there's the matter of getting the most out of the labor he put into "Underneath A Rusting Roof."
"The goal is to have this record reach as many people as possible," he says. "I'm pretty excited, and it's not going to stop after this. But I worked really hard so I'm going to push this and enjoy it."