Photos by Pati Bobeck
SCRANTON, PA — Gregg Allman's absence from last weekend's Peach Festival on Montage Mountain figured to create a void that would leave festival organizers and headlining acts scrambling to cobble together a Plan B.
Colorado-born, bluegrass-based String Cheese Incident found themselves with the unexpected and unenviable task of presenting an authentic-as-possible set of Allman Brothers Band music as the Allman Brothers Family Incident — without the legend himself.
But the eight-song Allman Brothers tribute String Cheese delivered, in conjunction with members of the Allman Brothers and Allman's solo band, to one of the founding fathers of the jam band circuit appeared to go off seamlessly.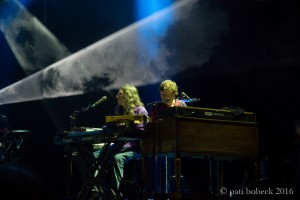 A passionate and sometimes poignant "Get Well Soon" greeting card of music to Allman included a "Statesboro Blues" opener, mixed with "Midnight Rider," "Sweet Melissa" and a "Jessica" set encore that bookended a four-man drum clinic by String Cheese drummer Michael Travis, 51, and percussionist Jason Hann, along with founding ABB percussion duo Butch Trucks, 69, and Jaimoe, 72.
String Cheese guitarist Billy Nershi, who provided vocals during much of the Allman set, spoke of his and bandmates' concern for Gregg Allman's health, noting how the Allman Brothers are an influential "big part of our lives," before "sending love" to Allman.
The gesture drew a roar from the crowd and preceded a cover of Bob Dylan's "Quinn the Eskimo," a song first popularized by British band Manfred Mann in 1968.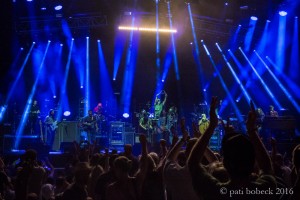 The Allman Brothers Family Incident included one String Cheese original — "Outside and Inside"  — a song that proved fitting for what became an oppressively humid, stormy Peach Fest.
SCI returned to the main stage later Friday for a set of their own music. See both SCI setlists here: http://tinyurl.com/hmba6re
Multiple times throughout the weekend, the crowd assembled on Montage Mountain was urged by festival personnel to take cover below the big tent hovering above the amphitheater's main stage for protection during severe scattered thunderstorms drifting across northeastern Pennsylvania  skies.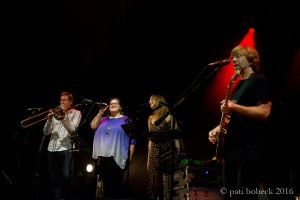 Phish frontman Trey Anastasio abruptly announced during his solo funk/big band's set Saturday night that his seven-person ensemble would be exiting the stage due to approaching storms.
That resulted in a mass exodus from the lawn seating area to the camping areas or the big tent over the main stage.
The announcements had the crowd scrambling and huddling close for cover below the amphitheater tent to helplessly take in a downpour and lightning show before Anastasio and his band, which included a three-person horn section, returned to the stage for a restart of a t-storm interrupted version of Phish's "Sand."
Trey Anastasio Band's set was relatively standard for his solo project, consisting of mostly original solo material, in addition to a second Phish tune, "Gotta Jibboo," and a cover of the Gorrilaz' "Clint Eastwood."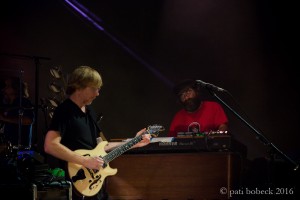 But the music — and the cooling rain —  clearly energized a dehydrated crowd getting amped for late-night Saturday sets from Cabinet and Umphrey's McGee.
Festival goers with the stamina to hang for the late-night sets can brag they saw a post-midnight moe. set of mostly Pink Floyd covers Friday, including  "Shine On You Crazy Diamond," "Fearless," "Have a Cigar" and five songs from 1979's "The Wall" album.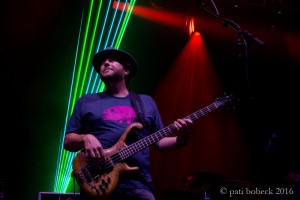 Bassist Les Claypool and Sean Lennon, son of the late John Lennon, began their Saturday evening set with a Floyd cover as well — a more obscure one in "Astronomy Domine," from Floyd's 1967 debut album, "The Piper at the Gates of Dawn."
As anticipated, the Claypool Lennon Delirium set only got weirder from there with Claypool and Lennon talking over one another at one point during a set that briefly evolved into what resembled circus music.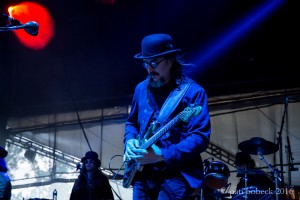 "That pretty much concludes the comedy portion of the show," Claypool announced after his and Lennon's simultaneous ramblings.
Wearing sunglasses, a police hat and long sleeves, Lennon pranced on stage, lunging to his knees with his guitar, and at one point flexing his arm muscles.
Claypool, wearing a bowler hat and long sleeves, traded in a traditional bass guitar at one point for an electric stand-up he played with a bow.
The outlandish duo, who were joined onstage by keyboardist and former Beastie Boys collaborator Mark Ramos Nishita and drummer Paulo Baldi, closed their bizarre set with the funky "Mr. Wright," from their album "Monolith of Phobos."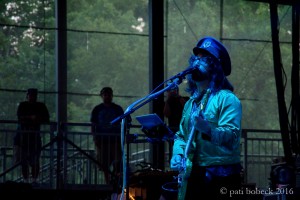 Drummer Joe Russo and his frequent keyboard collaborator Marco Benevento emerged as Peach's ironmen, performing back-to-back sets Saturday on the main stage, first with their four-man instrumental Led Zeppelin act, Bustle in Your Hedgerow, followed a set of Grateful Dead by Joe Russo's Almost Dead.
Hedgerow opened with "Kashmir," jammed through an extended "Nobody's Fault but Mine," and encored with "The Song Remains the Same," during a nine-song set.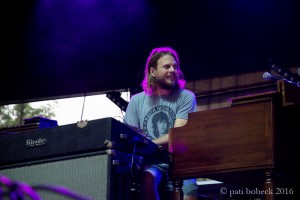 The JRAD performance was highlighted by an "Eyes of the World" that included a "Dancin' in the Streets" tease and transitioned into "The Music Never Stopped," leading into a "Terrapin Suite" encore.
Benevento and Russo returned for Sunday's lineup, performing as a one-off trio with bassist Oteil Burbridge, who sat in on Friday's Gregg Allman Incident with SCI, called RB&B.