By Michael Lester
Photos by Sarah Holler courtesy of Bucknell University
Midway through a two-hour show Friday night that mixed hard-charging country blues and stripped-down a cappella harmonies, four members of the North Mississippi Allstars descended the stage and marched the aisles of Bucknell University's Weis Performing Arts Center like a colonial fife-and-drum corps.
Brothers Luther and Cody Dickinson and bassist Lightnin' Malcolm had each strapped on snare or bass drums for "Granny, Does Your Dog Bite," an Otha Turner-arranged song included on NMA's latest album, "World Boogie is Coming."
Shardé Thomas, the 24-year-old granddaughter of Turner, the late Mississippi fife legend, joined them in their march with a wooden flute.
After circling the energized crowd of about 600, the quartet headed back toward the stage.
Cody, the band's slender and rambunctious drummer, detoured through the front row, continuing to thwack his snare drum mere inches from a few admiring fans clapping to his beat.
Before returning to his drum kit on stage, Cody, wearing a black muscle shirt, unstrapped the snare drum from around his neck and surrendered it to the crowd.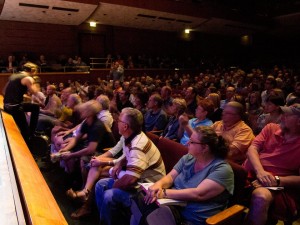 A man seated in the front row grabbed the drum and politely set it on the edge of the stage, where it stayed for the remainder of the show.
The addition to the live NMA lineup of Thomas, who lent vocals and melodic woodwinds to the new album, made this a far-from-typical performance from the Allstars, traditionally known more as a blues power trio. Yes, the band performed some of its live original staples, including "Po Black Maddie/Skinny Woman," "Mean Ol' Wind Died Down," and "Goin' Down South."
But few were played with their traditional arrangements.
That's undoubtedly due in part to the band's transition from its original bassist, Chris Chew, to Malcolm, who have different playing styles.
Luther has said Chew and Malcolm have much different methods of improvisation: Chew employs more of a gospel slant to his playing, while Malcolm is more "straight hard blues."
Luther, 41 and three years older than Cody, is the unquestioned leader, frontman and lead vocalist of the band, which formed in the 1990s. Yet the soulful slide guitarist who spent a four-year stint as lead axman for the Black Crowes clearly doesn't mind surrendering the spotlight. And Friday night's 25-song set resembled a game of musical chairs with band members rotating on instruments.
Six songs into the set, Luther traded his guitar for Malcolm's bass during "Lord Have Mercy." Malcolm assumed the role of lead vocalist for a few songs. Both Thomas and Malcolm sat behind and played Cody's drum kit. Cody took the spotlight for a couple guitar solos. Cody, also a record producer and movie soundtrack composer, energized the crowd with a solo on his electric washboard, a staple of every NMA show.
Luther introduced the crowd to his quirky two-string coffee can guitar on "Rollin 'n Tumblin" from "World Boogie," which features Led Zeppelin legend Robert Plant playing harmonica on two tracks.
After the band left the stage, a man in the front row grabbed the snare Cody had left in the audience and began beating the drum. Some in the crowd clapped along to the beat, hoping to coax the Allstars back on stage.
When the band re-emerged after about a 10-minute breather, it launched into a four-song encore that ended with a bluesy cover of the Grateful Dead's "And We Bid You Goodnight."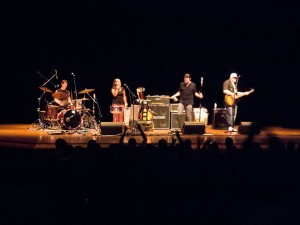 During the encore, Luther invited a young guitarist to the stage by the name of David Sessions for a teacher-pupil "session," as Luther fittingly called it. Luther traded lengthy noodling solos with his guitar-playing pupil, who appeared fidgety and nervous, occasionally reaching for the slide from his left pocket as he tried to keep pace with Luther.
Sessions repeatedly flashed excited grins as he watched Luther at work and tried to match his picking and sliding.
Luther seemed just as excited to tutor the young man, sending Sessions an occasional grin and nod of encouragement.